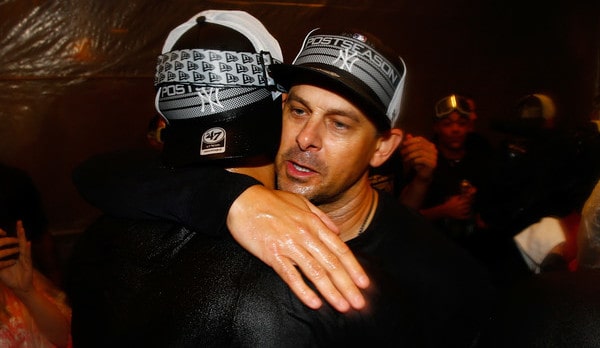 In his first season as a manager or coach at any level, Aaron Boone finished fifth in the AL Manager of the Year voting. MLB and the BBWAA announced earlier tonight that A's skipper Bob Melvin has been named the 2018 AL Manager of the Year. Not a surprise given their improvement from 75-87 last year to 97-65 this year. Red Sox manager Alex Cora finished second in the voting and Rays skipper Kevin Cash was third.
For all intents and purposes, the Manager of the Year award is the "manager of the team that most exceeded expectations" award, and that doesn't fit Boone or the Yankees at all. The Yankees came into the season as World Series contenders and they were very good, going 100-62 and finishing with the third best record in baseball. Generally speaking, they met expectations, and meeting expectations doesn't win this award.
Boone received received two third place votes and finished behind Melvin, Cora, Cash, and Astros manager A.J. Hinch. This is the tenth straight season the Yankees' manager received Manager of the Year votes. Joe Girardi did not receive any votes in 2008, his first season with the team, but he received votes every year from 2009-17. Girardi won the NL award with the 2006 Marlins and topped out with a third place finish in 2009 with the Yankees.
The full voting results are available at the BBWAA's site. As a reminder, these are regular season awards only. Ballots are cast before the postseason. No one asked me, but I would've voted for Cash. Cash got his team to buy into the "opener" strategy and it was a big reason they won 90 games. The opener machinations are one of the few tangible pieces of evidence we have of a manager making a difference on the field. Shrug.