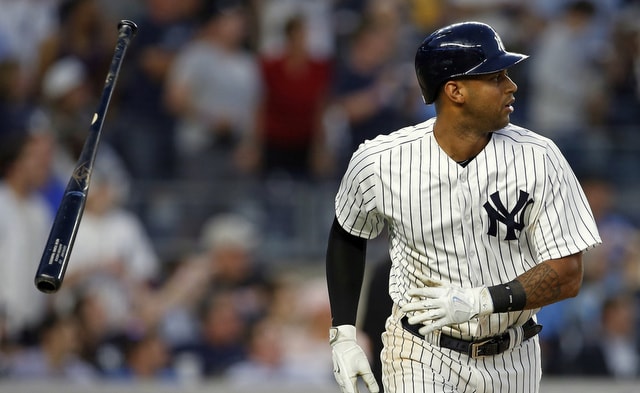 Three years ago the Yankees and Twins made an old fashioned one-for-one baseball trade that created a lot of buzz within the game because, well, it was an old fashioned baseball trade. It wasn't a salary dump, it wasn't a rebuilding team hoarding prospects, it wasn't a rental being moved at the deadline. It was a baseball deal. My guy for your guy. Talent for talent. John Ryan Murphy for Aaron Hicks.
The Yankees have since emerged as the clear winner in the trade. Murphy didn't work out in Minnesota and, after a hot start to the season, he limped to the finish with the Diamondbacks this year. Hicks, meanwhile, stumbled in 2016 before cementing himself as one of the most productive outfielders in the game the last two seasons. Eighty-seven outfielders batted at least 800 times the last two years. Hicksie's ranksies:
AVG: .255 (55th)
OBP: .368 (11th)
SLG: .470 (33rd)
wRC+: 127 (18th)
HR: 42 (32nd)
BB%: 15.0% (4th)
Baserunning runs: +9.6 (10th)
WAR: +8.2 (12th)
Hicks had 942 plate appearances from 2017-18. Rhys Hoskins is next at +5.1 WAR among outfielders with fewer than 1,000 plate appearance the last two years. The batting average is a little lower than you'd like, but everything else is pretty good, especially since Hicks is a center fielder putting up corner outfielder numbers.
Nagging injuries have slowed Hicks the last two years — last season it was a pair of oblique issues, this year it was an intercostal and hamstring trouble — but he still finished this season at .248/.366/.467 (127 wRC+) with a career high 27 home runs. Hicks also posted better than league average strikeout (19.1%) and walk (15.5%) rates, ran the bases well (+7.0 BsR), and played strong center field defense. He's become the player prospect experts believed he could be.
During his three years in pinstripes Hicks has gone from reclamation project to unproductive fourth outfielder to starting center fielder to key contributor. Ninety-nine times he batted 1-2-3-4-5 in the lineup somewhere, including batting third in his first two postseason starts before the hamstring acted up. Hicks still seems a little underappreciated to me, but that doesn't matter. The Yankees know how good he is. Let's review his 2018 season.
The Great Plate Discipline
Coming up through the minors Hicks was always known for his plate discipline. I mean, the tools and athleticism stood out the most, but his military style plate discipline led to a 14.4% walk rate in the minors. It was patience bordering on passivity. Sometimes Hicks let hittable pitches go by and that's taking plate discipline too far. It's okay to jump on that fastball over the plate early in the count, you know? The 2018 chase rate leaderboard:
Joey Votto: 17.2%
Andrew McCutchen: 17.8%
Alex Bregman: 18.1%
Mookie Betts: 18.5%
Aaron Hicks: 19.4%
Only four of the 140 hitters with enough plate appearances to qualify for the batting title swung at pitches out of zone at a lower rate than Hicks. Also, among the players with the 17 lowest chase rates, Hicks had the highest rate of swinging at pitches in the zone at 62.8%. He's found the sweet spot. He's laying off pitches out of the zone but also hunting and attacking those hittable pitches in the zone.
Here, for no good reason whatsoever, are two heat maps. On the left are Miguel Andujar's swings. On the right are Aaron Hicks' swings. Check out the difference: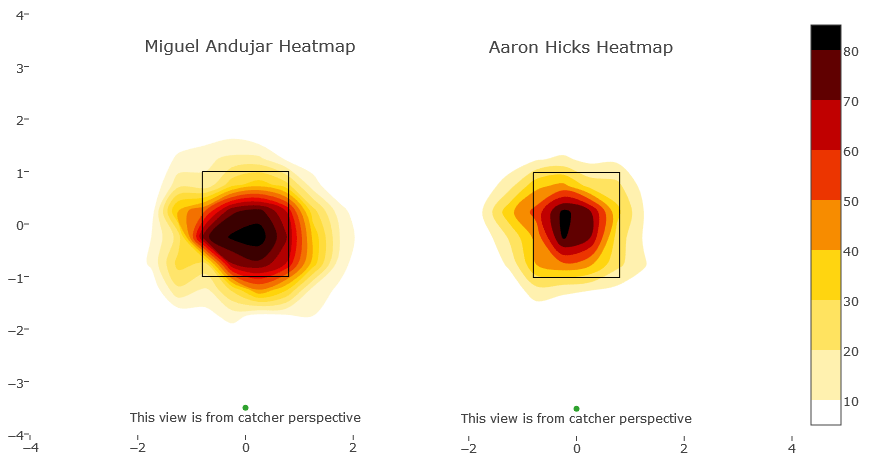 Heh. This isn't intended to be a knock on Andujar. He's awesome. He swings at everything (39.3% chase rate and 70.0% in-zone swing rate) and it works for him because has that innate ability to get the fat part of the bat on the ball. Hicks' swings are much more concentrated on pitches out over the middle of the plate. He and Andujar are very different hitters, yet they still provided the same offensive value this year (128 wRC+ and 127 wRC+). Pretty neat.
Anyway, offensively, it all starts with plate discipline for Hicks. He consistently works long at-bats and puts himself in good hitters counts, and now he's driving the ball with more authority than ever. His 39.5% hard hit rate this year was far and away a career high. His 40.0% ground ball rate this year was also a career low. I mean:
2016: 28.9% hard contact and 45.6% grounders
2017: 30.8% hard contact and 44.1% grounders
2018: 39.5% hard contact and 40.0% grounders
A good trend, that is. Those career high 27 home runs — Hicks' previous career high was 15 homers last year — weren't a fluke. Hicks hit the ball hard and he hit the ball in the air more than ever before, and that put him in position to not only sock long dingers, but also take advantage of the short porch.
The Possibly Good, Possible Mediocre Defense
To the eye test, Hicks is a very good defensive center fielder in my opinion. It seems like he glides to balls in the gaps. There have definitely been some issues on balls hit right over his head, but everyone seems to have trouble with those, so I can't crush Hicks for it. Add in his arm and, to me, Hicks is real good in center field.
The numbers say otherwise. Defensive Runs Saved say Hicks went from +12 runs in 440.2 innings in center field last year to … -3 runs in 1,138.1 innings in center this year? Really? Ultimate Zone Rating says he went from +5.0 to -0.2. UZR puts it all on his range too. The UZR breakdown say Hicks' arm and ability to avoid errors held steady from 2017 to 2018. But his range component went from +4.4 last year to -0.8 this year.
Among the many Statcast tools that exists but is hard to find is directional outs above average. It tells us how good an outfielder is at making plays in each direction, meaning going to his left, going to his right, coming in on the ball, going back, etc. Here is Hicks in 2017 and 2018:
Just to be clear, the center fielder is the dot in the middle. The bottom pie slice is coming in on the ball and the top pie slice is going back. Left and right is going to the left and right. The only difference between 2017 Hicks and 2018 Hicks is going to his right (left field). He was a run better than average going to his right last year and multiple runs below average going to his right this year. Hmmm.
I'm not really sure what's going on here. Perhaps it's nothing more than sample size noise since defensive stats usually need a few seasons worth of data to become reliable? Or maybe it had to do with positioning and the way the Yankees shaded Hicks in center? Or maybe he lost a step — the hamstring injuries may explain that — but only when going to his right? I dunno.
Whatever it is, the numbers say Hicks went from comfortably above average in the field last year to about average if not a touch below this year. He turned 29 earlier this month, so between his age and overall ability, I'm not convinced the defensive decline is permanent. It might be, for sure. But defensive stats can fluctuate year-to-year the same way batting average can, and I'd bet on the defensive numbers liking Hicks more in 2019 than they did in 2018.
Aaron's Cool Baseball Things
In addition to being a strong two-way player who switch-hits and has power and patience from both sides of the plate, Hicks did some very fun baseball things this year. Much more than any other Yankee, I think. Let's review them chronologically.
April 13th vs. Tigers: In his third game of the season — remember, he missed some time early with an intercostal injury — Hicks managed to hit both an inside-the-park home run and an outside-the-park home run. They were his first two homers of the season. Check it out:
Hicks hit the Yankees' first inside-the-park home run since Curtis Granderson in 2011 and he's the first Yankee with an inside-the-park/outside-the-park two-homer game since Hank Bauer in 1956. He was the first player with an inside-the-park/outside-the-park two-homer game since Nick Castellanos, who, coincidentally enough,
did it against the Yankees last year
.
Because one inside-the-park home run wasn't enough, Hicks hit another one on May 19th against the Royals. He's the first Yankee with multiple inside-the-park homers in a single season since Mickey Mantle had three in 1953.
July 1st vs. Red Sox: On the morning of July 1st the Yankees were one game up on the Red Sox in the AL East. That night they clobbered David Price for eight runs and five home runs in 3.1 innings. They hit six home runs in the game overall. Hicksie had three of them.
Hicks went deep from both sides of the plate and hit the first home run the other way, the second to dead center, and the third to the pull field. Both sides of the plate and to all fields. Hicks also became the first Yankee with a three-homer game since Alex Rodriguez in 2015 and the third Yankee with a three-homer game against the Red Sox, joining Lou Gehrig (1927) and Mark Teixeira (2010). Now that is pretty cool.
July 26th vs. Royals: An otherwise nondescript win over the Royals had a very exciting ending. Hicks threw Alex Gordon out at the plate to the end game for a walk-off outfield assist. Check it out:
No, the situation was not dire (the Yankees were up by five), and yes, the Royals made it easy (Gordon ran through the stop sign), but still, you've got to execute the throw, and Hicks did. Besides, since when does throwing someone out at the plate need to be difficult or dramatic to be fun? What a neat way to end a ballgame.
September 22nd vs. Orioles: The Yankees stumbled through much of the second half this year, and while they were never really in danger of losing a postseason spot, homefield advantage in the Wild Card Game did get a little dicey at times. The Yankees officially clinched a postseason spot on September 22nd and they did it in one of the coolest ways possible. Hicks walked it off in the 11th inning. To the action footage:
As best I can tell, that was the first time the Yankees clinched a postseason spot on a walk-off hit since Alfonso Soriano's first career big league hit was an
AL East clinching walk-off homer in 1999
. Either way, that's still pretty awesome. A walk-off hit to punch your ticket to the postseason is as fun as it gets.
What's Next?
The 2019 season will be an important one for Hicks, personally. It's his final year of team control (projected $6.2M salary) and another strong season sets him up for a considerable free agent payday. Dexter Fowler (five years, $82.5M) and Lorenzo Cain (five years, $80M) are the contract benchmarks here, and, when he hits free agency, Hicks will be one year younger than Fowler and two years younger than Cain at the time of their free agencies.
It's unclear whether the Yankees will pursue a long-term extension with Hicks this offseason — doing so would raise his luxury tax hit considerably next year and who knows what the team's plans are financially — but it sure seems like something that should happen. Switch-hitting center fielders with power and patience and good defense aren't easy to find, and it's not like the Yankees have a center field replacement in the pipeline. (Estevan Florial is still a few years away.)
Extension or no extension, I have a hard time believing the Yankees would trade Hicks this winter, so he's all but assured of starting next season in pinstripes. And, with Didi Gregorius out indefinitely, there's a pretty good chance Hicks will be the Opening Day No. 3 hitter to split up the two big righties in Aaron Judge and Giancarlo Stanton. The Yankees gambled on Hicksie's tools and upside three years ago and have been rewarded handsomely.