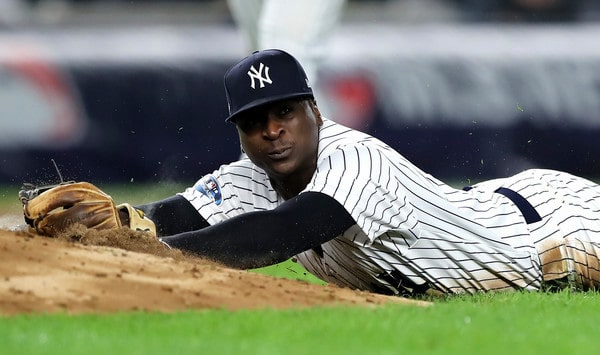 The 2018-19 offseason got off on the wrong foot for the Yankees. During the annual end-of-season press conferences, the team announced Didi Gregorius tore his ulnar collateral ligament and needed Tommy John surgery. He had the surgery almost a month ago now, and it will sideline him early next season. It's unclear when Gregorius will return. May? June? September? 2020? No one really knows.
Had the injury happened a year or two earlier, the Yankees would've signed the arbitration-eligible Gregorius to a one-year contract and moved forward with him like nothing ever happened. That isn't the case now. Didi will be a free agent next offseason and he's projected to make $12.4M in 2019. That's a lot of money to pay a rehabbing player who could leave next winter. It could end up being money for nothing, or close to nothing.
"We'll hopefully keep him for a long time," said Brian Cashman to Ken Davidoff last week. "I'm not focused on it right now. I'm a big fan of the player. I don't think Tommy John will be a career-ending issue for him, like it typically isn't. It's a problem that we all have to deal with. How we deal with it remains to be seen. But he's wired the right way. So he's the type of person you like to surround yourself with, not run from."
The Yankees operate on a budget because every team operates on a budget. Their current budget seems to be smaller than it has been in the past — "Is it a definite line in the sand? I wouldn't say that's the case. I'd say it's a preference," said Cashman to Billy Witz last week when asked about staying under the $206M luxury tax threshold — so every dollar counts. We all love Didi, but paying him $12.4M to rehab may not be the best idea.
The non-tender deadline is a little more than two weeks away and I don't see the Yankees non-tendering Gregorius. That would allow other teams to jump in the mix, and, even though he'll spend at least part of next season rehabbing, I get the sense there would be a bidding war for a 28-year-old two-way shortstop, and the Yankees would end up paying even more to keep Didi than they would by simply tendering him. A non-tender is possible, but unlikely.
Barring a trade, which seems incredibly unlikely for many reasons, I see five possible outcomes for Gregorius' contract situation this offseason. Here are the five outcomes listed in order of what I think is most likely to least likely:
One-year contract at his projected salary (or thereabouts).
Two-year contract with a reduced 2019 salary.
Long-term contract that keeps Didi in pinstripes another four or five years.
An arbitration hearing, which results in a one-year contract.
One-year contract at a reduced salary, meaning smaller than his 2018 salary ($8.25M).
Starting at the bottom, what reason does Gregorius have to sign a one-year deal at a reduced salary? He doesn't owe the Yankees anything. Gregorius and his representatives can tell the Yankees that, if they want a reduced salary, either non-tender him and see what the market says, or file salary figures and try to get the arbitration panel to side with you. No player has ever had his salary reduced through arbitration. The best case for the Yankees is a smaller raise than expected. The arbitration panel bases their decision on past accomplishments, not future projections.
A one-year contract at the projected salary is the simplest and most straightforward solution, and also the least cost effective for the Yankees. They get no long-term control and no discount. They'd pay Gregorius what the arbitration system says he's worth, monitor his rehab, and potentially open long-term contract talks at some point next year, which is exactly what they would've done had he been healthy. This is the path of least resistance. Lots of difficult salary arbitration situations are resolved with a one-year deal that kicks the can down the road.
The two multi-year contract scenarios have the most appeal, both for the Yankees and Gregorius, I imagine. The Yankees get control of a talented player at a hard-to-fill position beyond his rehab year in 2019. Gregorius gets himself a nice little guaranteed payday right after suffering a potentially career-altering injury. A two-year deal gives the Yankees that extra year of control but also allows Gregorius to test free agency fairly soon. That could be a good compromise. (It's what I did in my offseason plan.)
As for a long-term extension that keeps Gregorius in pinstripes well into his 30s, the Yankees have been pretty stingy with multi-year deals for arbitration-eligible players — they've signed only two such players (Brett Gardner and Robinson Cano) to extensions in the last decade — and giving one to a guy coming off a major injury would represent quite a shift in team policy. If you're going to do that though, meaning sign an injured player long-term, isn't Didi the kinda guy you do it with? He's pretty rad.
The downside is obvious though. Gregorius did just suffer a major injury that required surgery, and while we all expect him to recover well, there's always a chance he doesn't. What if there are setbacks? Mets infielder T.J. Rivera had Tommy John surgery last September and wasn't able to make it back this year. What if Gregorius loses some skill? Perhaps he loses so much arm strength that second base, not shortstop, is his long-term home. At this point, a long-term contract carries much more risk for the Yankees than it does Gregorius.
Didi said he's open to a long-term contract earlier this year and I imagine that is still the case. I don't think blowing out his elbow has him thinking about going year-to-year, you know? Get paid while you can. As crass as it sounds, the injury could give the Yankees a bit of a discount, especially in the short-term. There's a fine line between a discount and taking advantage of Gregorius, and potentially upsetting the relationship. It's not the way anyone wanted it to go down, but, right now, a multi-year marriage seems very possible this offseason.