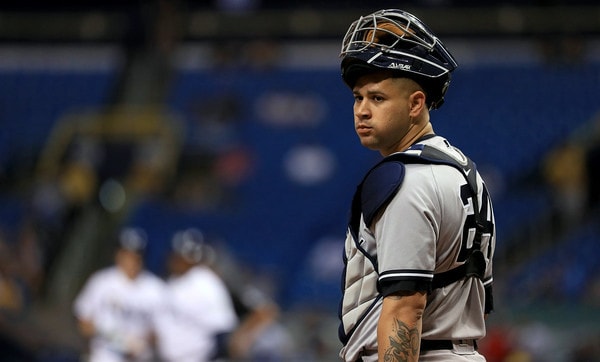 Thursday: Sanchez had his surgery today, the Yankees announced. It was performed by team doctor Dr. Ahmad in New York and the Yankees say it went "as expected." Get well soon, Gary.
Wednesday: Another important Yankee is having offseason surgery. Brian Cashman told reporters at the GM Meetings tonight that Gary Sanchez is having debridement surgery on his left shoulder, and he's expected to be ready for Opening Day. The surgery comes with a three-month recovery, so it will cut significantly into Gary's offseason routine. Sucks.
"We could continue with the conservative treatment and play it out, hope that it would get better, but we're going to go the other route and just get ahead of it," Cashman said (video link). "Downtime is three months. He'll be ready to go obviously by Opening Day, I'll say, instead of Spring Training even though (the timetable says) Spring Training. All systems should be go by Opening Day."
Cashman said the shoulder has been bothering Sanchez since 2017, and he's been able to play through it while receiving cortisone shots and other treatment. It's still bothering him though — Cashman said Sanchez was in Tampa working out recently when he mentioned he still has discomfort — so they're getting it repaired this winter.
The good news: The injury is to Sanchez's non-throwing shoulder. The bad news: The injury is to Sanchez's left shoulder, his front shoulder when hitting, and that's the power shoulder. Gary had a bad season this year but the power numbers were still there. If the shoulder was hurting, it was hard to tell. The power output was very good.
Aaron Judge had surgery on his left shoulder last offseason, his front shoulder when hitting, and he showed no ill-effects this year. That said, it was a different procedure, so this isn't an apples to apples comparison. Judge had arthroscopic surgery to remove a loose body. Sanchez is having damaged tissue removed from his shoulder.
Cashman said the Yankees are comfortable with Austin Romine behind the plate should Sanchez not be ready for Opening Day, but what's he supposed to say? Even before Sanchez's surgery, I expected the Yankees to look for an Erik Kratz type to stash in Triple-A with Kyle Higashioka. I guess they'll look for someone like that with a little more urgency now.
The offseason is still young Sanchez is already the second Yankee having major surgery. Didi Gregorius will miss the start of next year with Tommy John surgery. Now Gary needs his non-throwing shoulder repaired. Gah. No more of these offseason injuries, please. Everyone stay healthy the next few months.