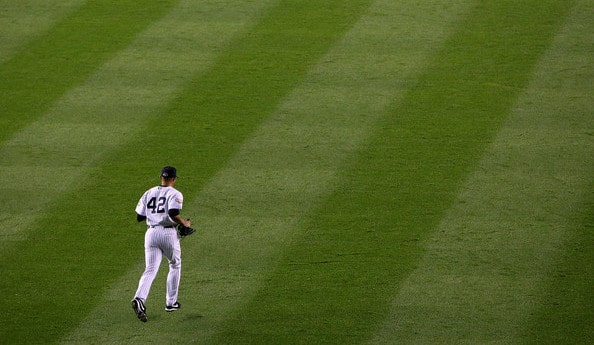 In about eight weeks the 2019 National Baseball Hall of Fame induction class will be announced. The ballot was announced last week. Barry Bonds, Roger Clemens, Edgar Martinez, and Mike Mussina are the notable holdovers. Martinez is on the ballot for the tenth and final time and should get in after receiving 70.4% of the vote last year. Mussina is on the ballot for the sixth time and received 63.5% of the vote last year. He might get in this year.
Among the first time eligible players on the ballot this year is Mariano Rivera — has it really been five years since this already? — who is of course a lock for induction. Rivera will clear the 75% threshold needed for induction with ease. He is the greatest closer of all-time and no one is close. Trevor Hoffman? Please. Rivera allowed 38 fewer runs in 194.1 more innings, and their postseason records do not compare. A strong case can be made Rivera is the greatest postseason performer ever. Eleven earned runs in 141 innings? Good gravy.
Rivera will sail into the Hall of Fame on the first ballot. He will not be the first unanimous Hall of Famer, however. I can say that with near certainty right now. Here, before we move any further, are the highest voting percentages in Hall of Fame history:
Ken Griffey Jr.: 99.32%
Tom Seaver: 98.84%
Nolan Ryan: 98.79%
Cal Ripken Jr.: 98.53%
Ty Cobb: 98.23%
George Brett: 98.19%
No other Hall of Famer received at least 98% of the vote. Not Hank Aaron (97.83%), not Babe Ruth (95.13%), not Willie Mays (94.68%), not Ted Williams (93.38%). Could you imagine not voting for one of those guys? What sort of logic pretzel do you have to twist yourself into to justify not voting for Aaron or Mays? Good grief.
Anyway, Rivera will (probably) not be voted into the Hall of Fame unanimously simply because the odds are so stacked against him. There are 400-something Hall of Fame ballots each year — there were 422 last year — and chances are at least one of those 400-something voters will exclude Rivera. I see four possible explanations for not voting for Rivera and I'd rank them in this order in terms of likelihood:
There are only ten spots on the ballot, and, since Rivera is a lock, a voter with a full ballot opts to use one of those ten spots on a player who is on the bubble and needs more help, like Mussina.
Rivera being "only a one-inning reliever" is held against him. This is an old school way of thinking but it does still happen nowadays. There are currently only six relievers in the Hall of Fame, including starter-turned-reliever Dennis Eckersley.
An old school voter clings to the belief that if guys like Cy Young, Yogi Berra, and Joe DiMaggio weren't first ballot Hall of Famers (it's true!), no one deserves to be a first ballot Hall of Famer, and doesn't vote for Mo. ("If this guy wasn't unanimous, no one should be unanimous" fits here too.)
Ignorance. A voter doesn't believe Rivera's body of work is worthy of induction. Silly? Absolutely. Possible? Also absolutely. I'd like to see someone make a genuine case against him. I'm not sure it can be done.
There is close to a zero percent chance No. 4 happens. Hall of Fame voters and awards voters aren't as stupid as fans seem to believe. There are 400-something ballots and I refuse to believe a single one of those 400-something voters will genuinely believe Rivera's body of work is not worthy of inclusion in the Hall of Fame. I can't see it.
No. 1 is far and away the most likely reason Rivera will not be a unanimous Hall of Famer. "Gaming" the ballot absolutely happens. In 2015, Mike Berardino did not vote for Randy Johnson or Pedro Martinez because he was comfortable assuming they would get voted in anyway, and he opted to use those two spots on his ten-player ballot on other players, specifically Alan Trammel and Larry Walker. I'm sure other voters have done something similar over the years.
Every few years we go through the "this guy should be the first unanimous Hall of Famer" thing and it never pans out. Rickey Henderson should've been unanimous. Greg Maddux should have also been unanimous. Griffey should've been unanimous. Rivera should be unanimous. Lots of guys should be unanimous but none have been so far for various reasons. Some reasons are more justifiable than others. (I personally don't agree with "gaming" the ballot but I respect the strategy.)
Ultimately, Rivera is going to cruise into the Hall of Fame this year with a voting percentage well north of the 75% threshold. I would be surprised if he doesn't receive at least 90% of the vote, in fact. Rivera's getting in and, at the end of the day, that's all that matters. Unanimous? First ballot? Who cares. There's no special wing in Cooperstown for first ballot guys and they won't build one for unanimous players. Voting percentages aren't even included on the plaque because that would be silly. The Hall of Fame is about the player, not the voters. You're either in or you're out, and those players are in.
Would I like to see Rivera be the first unanimous Hall of Famer? Of course. It would be cool as hell and it's hard to come up with a more deserving player. Rivera wasn't just great, he was historically great. He's so far ahead of every other reliever in history that it's not even funny. I mean, look at the career WAR leaderboard among players who made at least 80% of their career appearances in relief:
Mariano Rivera: +56.3 WAR
Hoyt Wilhelm: +50.1 WAR (in almost 1,000 more innings than Rivera)
Goose Gossage: +41.9 WAR
And that doesn't even include the postseason! Rivera is an all-time great and he carried himself with class throughout his career. He was a great ambassador for the game. You couldn't pick a better player to be the first unanimous Hall of Famer, potentially. But it won't happen though. The odds are against Rivera only because the numbers suggest it won't happen. There are so many voters and every single one has to vote the same way for it to happen.
Rivera not getting into the Hall of Fame this year would be a travishamockery. That would be worthy of all the scorn and fury the internet has to offer. The voters get the slam dunks right though and Rivera is a slam dunk. He'll be voted into the Hall of Fame this year, likely not unanimously, but that's okay. Voting percentages and induction years are forgotten in time. The important this is we got to watch Rivera's brilliant career and, as of next summer, he'll find himself in Cooperstown alongside the all-time greats, right where he belongs.