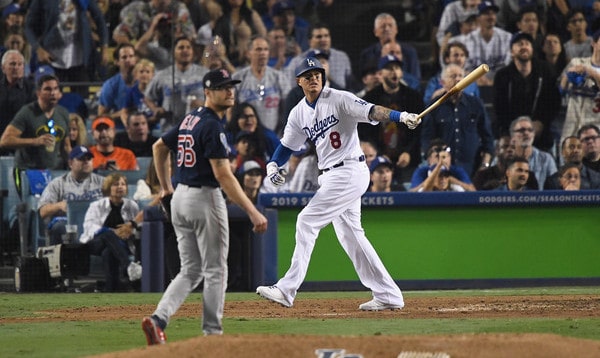 Now that December is less than a week away, we're getting into the heart of the offseason. Things have been relatively slow so far — in fact, the Yankees have been one of the most active teams to date — but they started to pick up yesterday with the Braves adding Brian McCann and Josh Donaldson. That's fun. Anyway, here are some scattered thoughts.
1. Every time I think we've reached peak stupid with the "Manny Machado doesn't hustle" stuff, it gets a little stupider. Last week Reggie Jackson, a man who nearly fought his manager in the dugout because he didn't hustle after a ball in the outfield, told Wally Matthews that not hustling "ain't going to play here," which is silly. There was the Reggie incident with Billy Martin. Paul O'Neill jogged out ground balls all the time. So did Robinson Cano. And you know what? People loved them. Why? Because they raked. Teams and fans alike will overlook a lot of things — things more awful than not hustling — if you produce and few can produce like Machado. Hal Steinbrenner told Ken Davidoff that Machado's comments about not hustling were "troubling" and that he'll have to explain himself, but please. Spare me. The Yankees don't get to be sanctimonious about hustle — hustle! — after exploiting a domestic violence investigation to get a good trade. This is all an act. The Yankees will sign Machado if the dollars are right. End of story. If they sign him, they'll say they believe Machado is a changed man and that he's very remorseful. If they don't, they'll say they didn't want to commit big money to guy who acted like that. Any team with serious interest in Machado will ask him about the non-hustle and any answer he gives will be scripted (because his agent is no dummy). Actions speak louder than words, etc. etc. To me, kicking Jesus Aguilar at first base is far worse than jogging out some grounders and loafing a double into a single. That's what Hal and Reggie and whoever else should comment about. Not the non-hustle. Comment on what seemed to be intent to injure an opposing player. The non-hustle stuff? It has jumped the shark. Save the outrage for something meaningful.
2. I've been saying this for months, probably years, but I need to see the Yankees exceed the luxury tax threshold next year to believe they're actually going to do it. Ownership has been laser-focused on winning on a (admittedly ample) budget. "We're going to keep adding pieces until we're sure we are where we need to be," said Hal to David Lennon recently when asked about exceeding the threshold, whatever that means. I don't buy the Yankees exceeding the luxury tax threshold. At the same time, part of me thinks the Yankees didn't go through all the trouble of getting under the threshold and resetting their luxury tax rate this year only to walk away with a guy like Patrick Corbin this offseason, you know? Corbin's good! But there are two 26-year-old superstars on the market this winter — flawed players? yes, but superstars in every sense of the term — and those are players you don't pass up. Machado and Bryce Harper are balance of power players. They can swing a division race all by themselves. And they're only 26! It's not like you're giving 32-year-old Albert Pujols a ten-year contract. Given the Didi Gregorius injury and their current roster needs, Machado is the better fit for the Yankees. I think Harper will be the better player the next five years though — Mike Trout is the only player I comfortably expect to outproduce Harper the next five years — and I hope the Yankees are lying in the weeds here a la Mark Teixeira in December 2008. Weeks of silence then bam, Harper is in pinstripes out of nowhere. Would be cool.
3. I don't know what to expect with the inevitable (and imminent?) Sonny Gray trade. The range of possible outcomes seems pretty wide. I wouldn't be surprised to see the Yankees go the McCann route and trade Gray for two lower level prospects. I also wouldn't be surprised to see the Yankees trade Gray for a big league piece, or a youngster on the cusp of the big leagues. A change-of-scenery trade (one year of Sonny for one year of a similarly out-of-favor player) would make sense but I don't know who that similarly out-of-favor player would be. Eric Thames is the most common name out there but that's all speculation, not a hard rumor. Jason Kipnis? Jedd Gyorko? Jonathan Schoop? I dunno. This is a very unique situation. We've been through a few offseasons in which the Yankees had a player we all knew they would trade (McCann and A.J. Burnett jump to mind) but it was never anything like this. The Yankees are advertising Gray's availability and the general manager is dumping on the guy every chance he gets. It's … weird. I get the feeling this will all wrap up fairly soon — Thanksgiving may have slowed talks down — and that's probably for the best. Get it over with so it's not hanging over the Yankees all offseason, you know? Eliminate the distraction and move forward. I am very curious to see the trade return. I think Gray will fetch a decent return but I have no idea whether that means prospects or a big leaguer.
4. The non-tender deadline is this Friday and the Yankees do not have any obvious non-tender candidates. I don't think they'll non-tender Gray (if he's still around) and I don't think they'll non-tender Gregorius even though it would be justifiable given his projected salary ($12.4M) and injury. The Yankees could swing the non-tender/re-sign move with a few players — by non-tender/re-sign, I mean non-tender a player and then re-sign him to a minor league contract, which allows you to remove him from the 40-man roster and keep him in the organization without exposing him to waivers — most notably Ben Heller and Kyle Higashioka. Those two stand out as non-tender/re-sign candidates. Heller is rehabbing from Tommy John surgery and guys working their way back from elbow reconstruction are classic non-tender/re-sign candidates. The Yankees did it with Domingo German and Vicente Campos back in the day. Higashioka is the quintessential up-and-down third catcher who clearly has some fans in the organization. The Yankees wouldn't have stuck with him this long otherwise. He's worth keeping around because he knows the pitching staff and you can never ever have too much catching. At this point though, Higashioka probably isn't worth a 40-man roster spot. Non-tender him, re-sign him to a minor league deal, and if he's needed at some point during the 2019 season, opening a 40-man spot will be a piece of cake because Gregorius and Jordan Montgomery (and Jacoby Ellsbury?) will be 60-day DL candidates. Heller is a prime non-tender/re-sign candidate. I could see the Yankees going that route with Higashioka as well.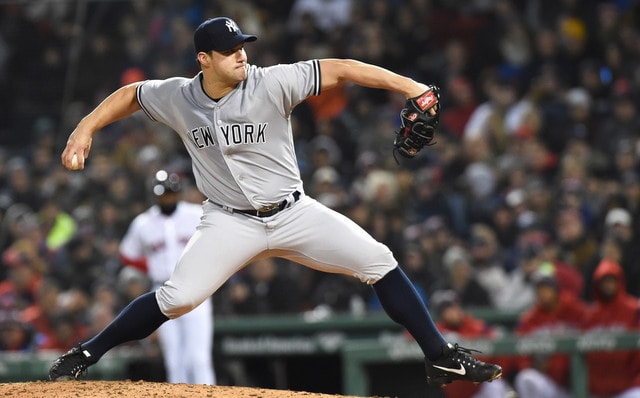 5. One more potential non-tender candidate: Tommy Kahnle. Kahnle went from 98-100 mph and untouchable in 2017 to 94-96 mph and unplayable in 2018. He's projected to make $1.5M next season and, if the Yankees don't think he can get back to where he was last year (or reasonably close to that level), non-tendering him wouldn't be the craziest thing in the world. "I want to be able to come in and prove that I'm still that guy that they saw two seasons ago. That's what I'm going to be working toward, getting back to what I was the year before," said Kahnle to Brendan Kuty earlier this week. Further complicating things is the fact Kahnle is now out of minor league options. He'll have to pass through waivers to go to Triple-A next year. Even at $1.5M, I'm inclined to think the Yankees will keep Kahnle and give him every opportunity to win a bullpen spot in Spring Training. He's only 29 and you needn't look back that far to see the last time he was dominant. Not just good. Dominant. Kahnle had the shoulder injury early this year and I think it's worthwhile to bring him to camp to see what he looks like after an offseason of rest. That said, Kahnle could be a non-tender candidate. The Yankees have seen his medicals and may not feel good about his shoulder, and the non-tender would mean a clean break with no 2019 payroll strings attached. We'll see. My guess is the Yankees go the non-tender/re-sign route with Heller and Higashioka while everyone else stays, including Kahnle.
6. The Yankees added righty reliever Joe Harvey to the 40-man roster last week to protect him from the Rule 5 Draft — he's the only player they added to the 40-man before the protection deadline — and that both did and did not surprise me. It did surprise me because Harvey's not a top prospect and, despite his strong Triple-A season, I'm not sure there's enough there to be anything more than an up-and-down shuttle arm because reports indicate his secondary pitches (curveball, changeup) are just okay. It didn't surprise me because I thought Harvey had a good chance to be selected in the Rule 5 Draft — relievers with Triple-A success are prime Rule 5 Draft fodder — so it's understandable that the Yankees kept him. You don't have to try hard to see some team stashing him on their big league roster next season as the last guy in the bullpen. There's nothing exciting about an up-and-down last man in the bullpen type but teams do need those guys, and if you have someone you think could maybe be more than that, it's worth keeping him as one of last guys on the 40-man roster. I'm not really sure where I'm going with this. I'm curious to see Harvey in Spring Training because I'm always curious to see these fringe 40-man guys. Every once in a while they turn into something useful. Maybe Harvey will be the next.
7. There are two pitching prospects on the 40-man roster who are facing very important 2019 seasons: Albert Abreu and Domingo Acevedo. Both have top shelf stuff, especially Abreu, but they've been limited by injuries the last two seasons. Abreu, 23, has thrown 166.1 innings (five above High-A) the last two years around a variety of injuries, including elbow trouble. Acevedo turns 25 in March (for real) and he's been limited to 202.1 innings the last two years. They both have two minor league option years remaining and they don't check IDs on the mound — if you can get outs, you can get outs, no one cares how old you are — so it's not put up or shut up time for these two the way it is for, say, Domingo German, who's out of options. It is time to start making progress though. Acevedo still doesn't have a reliable breaking ball (he's a fastball/changeup guy) and Abreu's control can be all over the place, and they both have to stay on the field. Another injury interrupted season could push both out of the picture. Forty-man roster spots are a finite resource and I'm not sure how long the Yankees can tie up two roster spots with two undeniably talented but not yet ready to contribute pitching prospects. Hopefully Abreu and Acevedo both take that step forward next year and put themselves in the big league mix for 2020, if not sooner.