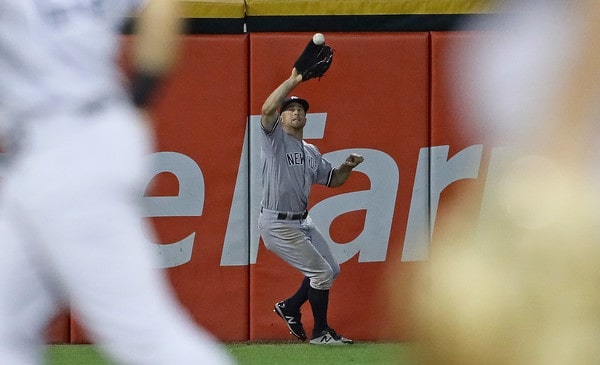 The Yankees handled their first piece of offseason business yesterday when they brought Brett Gardner back for 2019. Officially, they declined his $12.5M option and paid him a $2M buyout, then signed him to a new one-year deal worth $7.5M. Gardner takes home $9.5M but the luxury tax bill is only $7.5M next year. Here are some thoughts on Gardner's return.
1. Gardner's playing time should be reduced next season and I think the Yankees realize that. That's why they re-signed him at a lower salary. If they thought he was still an everyday player, they would've picked up the $12.5M option and been done with it. (The $2M buyout means it was a $10.5M decision and that's a good price for an everyday outfielder.) Heck, in Spring Training this year Aaron Boone said plan was to reduce Gardner's workload, but that didn't happen because Judge got hurt and Stanton had the hamstring problem in the second half. They needed Gardner to play. I think that, in a perfect world, Gardner would be a bottom of the order guy who gets 350-400 plate appearances against righties and also comes in for defense in the late innings. He needs the regular time off his feet — Gardner's always played all out and that tends to take its toll once you get into your mid-30s — and he needs to be sheltered against lefties. That should be the plan, I think. Bottom of the lineup guy who faces righties. Nothing more.
2. In order to lower Gardner's workload, the Yankees will have to play Giancarlo Stanton in the field more often next season. I was surprised at how little he played the field early in the season. I know he had the hamstring in the second half, but only 47 starts in the outfield in 94 games in the first half? It probably would've been fewer too had Aaron Hicks not missed two weeks with an intercostal strain in April. Stanton's a good defender! He looked a little lost in left field at first, but was fine out there by the end of the season. He just needed a little time. I thought Judge would get more time at DH than he actually did in the first half. With Gardner needing to play less, more Stanton in left field is the way to make it happen. I didn't like that Giancarlo was close to a full-time DH when his hamstring was healthy in the first half. Feels like a waste of his defense. I hope to see him out there a little more often. It means more DH time for everyone else and a little less wear and tear overall.
3. You can never say never when it comes to big market team and a star player in his mid-20s, but it sure seems like Gardner's deal closes the door on a Bryce Harper signing. The Yankees have four big league outfielders (Gardner, Hicks, Judge, Stanton) plus two unknowns (Jacoby Ellsbury, Clint Frazier) and I don't see where Harper fits. The Yankees didn't re-sign Gardner only to trade him. That's a video game move, not a real life move. (Gardner has five-and-ten no-trade protection anyway.) Judge isn't going anywhere. Stanton's not going anywhere either. Trade Hicks for a pitcher? Okay, maybe, but who plays center field? Surely not 35-year-old Gardner on an everyday basis. Harper or Judge out there doesn't seem like a good idea either. Unless they exceed the luxury tax threshold next year, the Yankees don't really have the payroll room for a monster signing anyway. If they do make a huge signing though, it seems to me it would be Manny Machado over Harper. The outfield is full and the infield has a great big opening with Didi Gregorius out. Machado makes more sense given the roster.
4. So what were the alternatives to Gardner? Harper is a special case, obviously. The best non-Harper free agent outfielders are Michael Brantley (probably a DH going forward), A.J. Pollock (hurt all the time), and Andrew McCutchen (I like him, but I don't multi-year contract like him). Those three are better players than Gardner, unquestionably in my mind, but those dudes are all getting much larger contracts. The Yankees are working on a budget — we don't know if it's the $206M luxury tax threshold or something else, but there's a budget — and it stands to reason most of it is going to pitching. Spending big on what amounts to a fourth outfielder ain't the best use of resources, you know? Free agent outfielders in Gardner's price range include … uh … Carlos Gonzalez? Adam Jones? Lonnie Chisenhall? Curtis Granderson? Granderson is forever cool with me and I would've been a-okay with him as a Gardner replacement. The other stopgaps options don't excite me. On one hand, replacing Gardner would've been a piece of cake. There are always corner outfielders available. Sign Jon Jay or Denard Span, for example. On the other hand, I don't think there's a big difference between these guys in bottom line production, and there's no transition here. The Yankees know what they're getting and Gardner knows what he's getting into. It's a relatively cheap one-year contract. I have no problems with it as long as the plan is to reduce his workload.
5. I don't think the signing tells us anything about Ellsbury's and particularly Frazier's status. Ellsbury's dead weight at this point. I don't think he's a factor in the team's decision-making at all. Nothing the Yankees can do about him. Frazier is a young player with upside though, and now Gardner is ostensibly blocking his path to playing time next year. I don't buy that at all. First of all, we don't even know if Frazier will be healthy come Spring Training. He's recovering from the post-concussion migraines and the Yankees say he'll be ready for camp, but you can never be too sure with these things. We need to see Clint healthy before we start worrying about where he plays, you know? And, once Frazier is healthy, I think the Yankees will find a way to get him in the lineup. If that means less playing time for Gardner, so be it. Right now Frazier has four veterans ahead of him on the outfield depth chart. These things always take care of themselves though. Always. Last year Clint getting hurt is how the outfield logjam was cleared up. Hopefully he gets healthy this winter, reports to camp as a full player without restrictions, and forces the Yankees to put him into the lineup.
6. Truth be told, Gardner might not have been brought back had Frazier stayed healthy and aced a big league audition this past season. Give the Yankees a truth serum and I think they'd tell you the perfect world scenario for next season is Frazier coming to camp healthy, getting a few weeks worth of at-bats in Triple-A to get up to speed, then gradually taking playing time away from Gardner in the second half before taking over left field for good next year. That would be the ideal transition out of the Gardner era and into the Frazier era. Things never go that smoothly, of course, but that's what I think the Yankees want to happen. Barring an unexpectedly massive season, I think next year will be Gardner's last as a Yankee, and if Frazier is able to replace him, great. If not, the Yankees will find someone else.