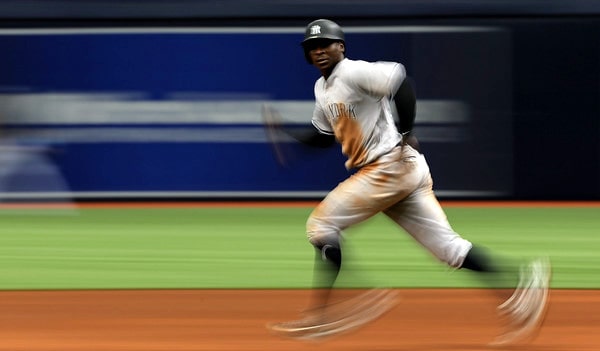 Today is the annual non-tender deadline and the Yankees did indeed tender 2019 contracts to all their pre-arbitration and arbitration-eligible players, the team announced this afternoon. Players who do not receive contract tenders become free agents. The Yankees are keeping everyone though.
Most notably, this means the Yankees will hang on to Didi Gregorius even though he'll miss at least part of next season rehabbing from Tommy John surgery. He's projected to make $12.4M next year and that's a big chunk of change to give a rehabbing player who won't play much and could leave as a free agent next year.
There had some thought the Yankees would non-tender Gregorius and try to re-sign him to a smaller contract, but that never seemed all that realistic to me. He's a 28-year-old shortstop who is comfortably above-average on both sides of the ball. Even with the elbow injury, I think Didi would have landed (much) more than $12.4M had the Yankees let him hit the open market.
I should note the Yankees and Gregorius can still agree to a 2019 contract at a reduced rate. He made $8.25M this past season and, by rule, the Yankees can not cut his salary more than 20%. The absolute lowest they can pay Gregorius next year is $6.6M. Here's what I think are the five possible contract scenarios in order of likelihood:
One-year contract at his projected salary (or thereabouts).
Two-year contract with a reduced 2019 salary.
Long-term contract that keeps Didi in pinstripes another four or five years.
An arbitration hearing, which results in a one-year contract.
One-year contract at a reduced salary, meaning smaller than his 2018 salary ($8.25M).
We'll see what happens. For what it's worth, Brian Cashman told Pete Caldera he plans to reach out to Gregorius, Aaron Hicks, and Dellin Betances about long-term contract extensions this winter. Hicks and Betances can become free agents next offseason like Gregorius. Kinda have to talk to them about extensions at this point, no? Maybe something gets worked out.
Aside from Gregorius, the Yankees didn't really have any non-tender candidates. There's too much trade interest in Sonny Gray to simply let him go. Tommy Kahnle stunk last year but is only projected to make $1.5M next year, which will hardly bust the budget. Ronald Torreyes would've been a non-tender candidate had he not been traded to the Cubs earlier this week.
I thought the Yankees would non-tender Ben Heller, who is rehabbing from Tommy John surgery, and re-sign him to a minor league contract. They've done that with a few Tommy John guys in the past, most notably Domingo German and Vicente Campos. That gets the player off the 40-man roster without exposing him to waivers. Instead, Heller remains.
As a reminder, tendering a player a contract offer before today's deadline does not mean these guys have signed contracts for next season. It just means the Yankees still control their contract rights. The two sides still have to agree to a deal and put pen to paper. That ausually doesn't happen until much later in the offseason though. For now, everyone remains and the 40-man roster stays full.