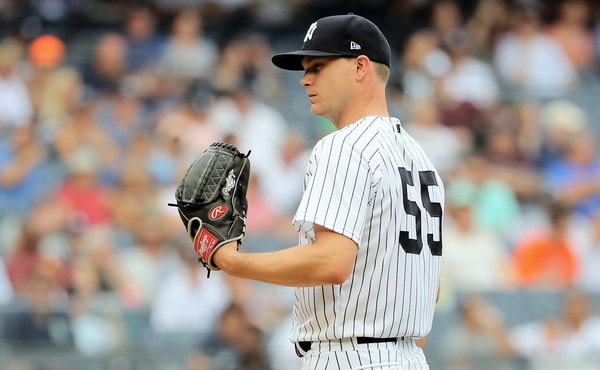 The 2018-19 offseason is still very young and we're all still waiting to see how the Yankees will replace Didi Gregorius and upgrade their rotation. How they'll do it, we don't know. It's still a mystery and that's part of the fun. There is one part of the offseason that is not a mystery, however: Sonny Gray's future. He's getting traded. Brian Cashman couldn't have made it any clearer.
"We are going to move him if we get the right deal because I don't think it is going to work out in the Bronx. I don't feel like we can go through the same exercise and expect different results," said Cashman to Joel Sherman earlier this month. "There are enough teams that think highly enough of him … He is not a buy-low guy. All the data says he is not. He'll be a good pitcher wherever he goes."
Despite what Cashman said, Gray is a buy-low guy — a pitcher with Sonny's resume coming off a bad year is the quintessential buy-low guy — and Jon Morosi reports the Athletics and Reds are trying to buy-low on him. The Yankees have spoken to both Oakland and Cincinnati about Sonny. Andy Martino adds there are "multiple offers" on the table and Cashman & Co. are currently sifting through them. Let's talk this out a bit.
1. Does this pass the sniff test? Yeah, it does. When you first hear a rumor, it's always good to take a step back and ask whether it makes sense, and this does. The A's desperately need rotation help. They didn't have anyone to start the Wild Card Game and, with Trevor Cahill a free agent and Sean Manaea likely to miss next season following shoulder surgery, their rotation depth chart looks like this:
Mike Fiers
Daniel Mengden
Frankie Montas
Chris Bassitt
Andrew Triggs
Yup, the A's need rotation help. They're not winning a free agent bidding war for Patrick Corbin or Dallas Keuchel and they're probably not going to empty the farm system for James Paxton or Corey Kluber. Gray might be their best hope to acquire a potential impact starter. Oakland certainly knows Sonny and I've heard they asked about him at the trade deadline, but the Yankees weren't ready to move on. There's a fit now. Definitely.
As for the Reds, they don't seem to make sense as a trade partner on the surface. The A's won 97 games this past season and could contend next year. The Reds lost 95 games this past season and aren't a move or two away from making a run at the NL Central title. Trading for one year of Sonny Gray doesn't seem to fit the long-term plan, but GM Dick Williams recently said he wants to add two pitchers and he's ready to be aggressive.
"I think we need to add two pitchers," said Williams during a recent radio interview according to Bobby Nightengale. "I think this year we feel like we need to be a little more aggressive than (sitting back and waiting for bargains late in the offseason). By no means does it mean you can make sure you get a deal done but you have to be in front of these agents and these other teams talking more aggressively."
The Reds definitely need rotation help and they may see Gray as an opportunity to add a just turned 29-year-old with upside that they may be able to sign long-term. Also, their new pitching coach Derek Johnson was Sonny's pitching coach at Vanderbilt. Johnson left the Brewers for the Reds a few weeks ago, so there's a connection there. The Reds have some added insight into Gray. Trading for one year of Gray may seem weird, but it's not the craziest thing in the world.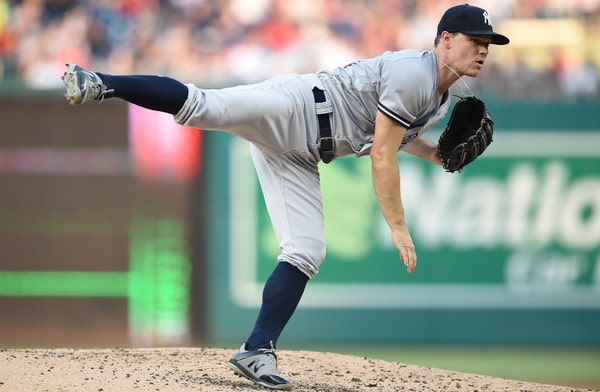 2. Tomorrow may be a "soft" deadline. Tomorrow is the deadline for teams to set their 40-man roster for the Rule 5 Draft. The Yankees have two open 40-man spots right now and no significant prospects to protect. Justus Sheffield, Chance Adams, and Stephen Tarpley were added to the 40-man during the season. Erik Swanson, Kyle Holder, and Nick Green are the notables who could be protected tomorrow. Maybe there will be a surprise a la Jonathan Loaisiga last year.
If the Yankees need to clear 40-man space tomorrow I imagine Ben Heller, Hanser Alberto, and Kyle Higashioka are most at risk of losing their spots. The Yankees could also kill two birds with one stone with Gray. He's getting traded at some point, we know that, and trading him before the roster deadline tomorrow gets the trade out of the way and also clears a 40-man roster spot for someone else. See? Nice and easy.
Except it's probably not that simple. There's a decent chance the Yankees will get a 40-man roster player back in the inevitable Gray trade, so it's hardly a lock a trade opens a roster spot. The Yankees have to get the best talent back regardless of roster status. They shouldn't take non-40-man roster players in return just to make the 40-man situation easier. Trading Sonny won't necessary open a 40-man spot.
That said, it takes two to tango, and the teams that want Gray may have some players on the 40-man roster bubble they want to move. It could be a player they're considering cutting to clear a 40-man spot or a player not on the 40-man who is Rule 5 Draft eligible. Did you catch the Aledmys Diaz trade over the weekend? The Blue Jays sent Diaz to the Astros for a Rule 5 Draft eligible pitching prospect Houston was probably going to leave exposed. Something like that could play into the Gray trade. We'll see.
3. The non-tender deadline probably doesn't matter. Gray is projected to make $9.1M in 2019 and that's a lot. More than I expected given his $6.5M salary in 2018. He has his career accomplishments to thank for that projected raise, not his 2018 performance. The non-tender deadline is next Friday, November 30th, and I suppose it's possible the Yankees could non-tender Gray if they're worried about getting stuck with his salary next year. That salary could create some headaches if they want to stay under the $206M luxury tax threshold.
I don't think that's going to happen though. There seems to be enough trade interest in Sonny right now that, even if the Yankees don't get a deal worked out by next Friday, they could hang on to Gray and feel confident in getting a trade done later in the offseason. Serious non-tender candidates rarely draw trade interest because teams know they can wait and scoop them up as free agents. That's not the case with Gray. There's real interest from multiple teams. Tomorrow's 40-man roster deadline could push things along. I don't think the non-tender deadline will. Sonny's not getting non-tendered.
4. Hooray for a bidding war! The more teams involved, the better. Gray's value isn't sky high but I do think he'll fetch a better return than you might think given his terrible season. He's young, he's healthy, he has a strong track record, and he pitched much better away from Yankee Stadium in 2018. The Reds and A's are interested and I reckon other teams are as well. The more teams with interest, the better it is for the Yankees. It can help drive up the price.
What do the A's and Reds have to offer, specifically? I've had a few people ask me about Gray for Scooter Gennett and I just can't see that. Surely the Reds could do better than one year of a reclamation project starter for their All-Star second baseman, right? Cincinnati has some interesting bullpen arms (Amir Garrett, Cody Reed) who could fit. I'm not sure Oakland has any MLB players to entice the Yankees. That might have to be a Gray for prospects deal. Point is, at least two teams are involved, so there's something of a bidding war. That is nothing but good news for the Yankees.