Friday: The Yankees announced the Brothers signing earlier today. He did indeed receive an invitation to Spring Training. Joel Sherman report Brothers will earn $800,000 at the big league level and, if he's not on the MLB roster by July 31st, a team in Japan or Korea can purchase his rights for $100,000.
Wednesday: According to Jon Heyman, the Yankees have signed journeyman lefty reliever Rex Brothers to a minor league contract. I assume he received an invitation to Spring Training. Brothers is the third depth player the Yankees have signed to a minor league deal so far this offseason, joining catcher Ryan Lavarnway and infielder Gio Urshela.
Brothers, who turns 32 today, was a pretty big deal with the Rockies a few years ago, but injuries and control issues have hampered him this last few years. This past season he pitched to a 6.20 ERA (4.84 FIP) with 27.5% strikeouts and 21.6% walks in 40.2 innings split between Double-A and Triple-A with the Braves. That is 56 strikeouts and 44 walks in 40.2 innings, plus 17 wild pitches. Yeah.
The Yankees signed Brothers despite those control issues because he's a lefty with big velocity, and lefties with big velocity have more lives than a cat. In his two-batter stint with the Braves this year — he walked both batters, naturally — Brothers averaged 97.0 mph with his fastball and topped out at 98.3 mph. This is kinda interesting: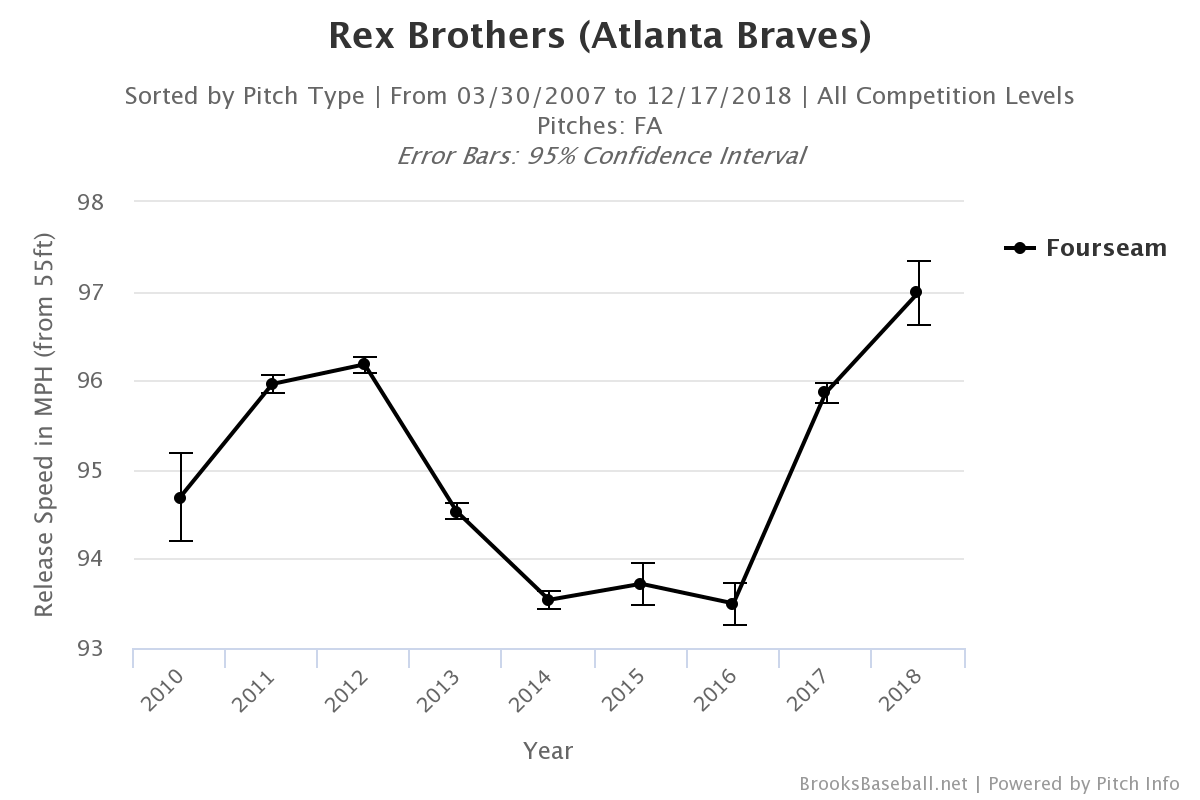 At the moment the Yankees are looking for two relievers, and while I'm sure we'll see Brothers during Grapefruit League play, I don't think he has a real shot at cracking the Opening Day roster. Consider him a reclamation project and a depth arm. A veteran to soak up some innings in Triple-A to help keep the actual prospects from being overworked.
If that newfound velocity sticks and Brothers is pumping 97-98 mph with some semblance of control with Triple-A Scranton early next season, great! The Yankees will make room for him. If not, well, no big deal. It's a no risk minor league signing. As far as I'm concerned, a lefty with some MLB success to his credit and this sort of velocity is always worth a minor league deal.