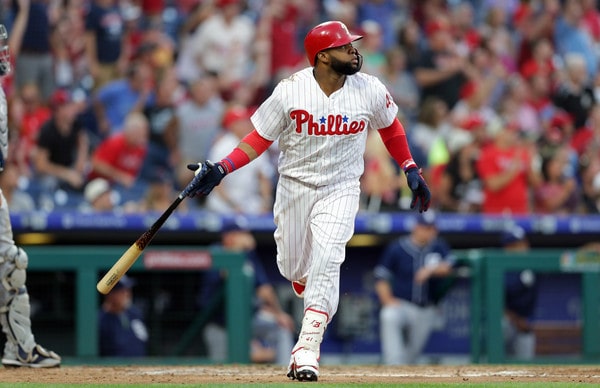 I'll say this much: Mariners GM Jerry Dipoto is acting very decisively this offseason. The Mariners are tearing their roster apart and yesterday Dipoto completed his fifth trade of the winter, sending Jean Segura and two relievers to the Phillies for J.P. Crawford and Carlos Santana. Similar to the Yankees and the Justus Sheffield/James Paxton trade, the Phillies sent a potential future Segura to the Mariners in Crawford for the actual Segura.
As for Santana, he was included in the trade to offset salary — he's owed $35M the next two years whereas Segura is owed $60.4M the next four years — and because he and Rhys Hoskins on the same roster in the non-DH league just doesn't work. The Phillies get a big upgrade at short, some bullpen depth, and they also get to move Hoskins back to his natural first base. The Mariners get Crawford and salary relief and … that's it? That's it, I guess.
This past season the 32-year-old Santana mustered a .229/.352/.414 (109 wRC+) batting line with 24 home runs and more walks (110) than strikeouts (93) in his first year with the Phillies. That is clearly down from his sustained 125 wRC+ or so peak from 2011-17, though a miserable April (63 wRC+) overshadowed what was otherwise a typical Carlos Santana season (119 wRC+ after May 1st). A player struggled in his first month with his new team. It happens.
In all likelihood the Mariners will trade Santana at some point before Spring Training. Dipoto is going hard after this rebuild and there's no real reason to keep Santana. Santana turns 33 soon after Opening Day and first base only guys usually don't gain trade value at that age. Seattle will eat some money and flip him elsewhere, a move that could interest the Yankees. I know I'm not the only one who thought about it. Let's talk this out.
1. What would the Yankees do with Santana, exactly? Put him at first base. Or maybe DH with Giancarlo Stanton taking up permanent residence in left field. Santana has been a very productive hitter throughout his career and he brings a healthy dose of old player skills — old player skills in that they tend to age well, historically — in his patience and power. Two years of Santana? It's not a bad little gamble at the right price.
Right now the Yankees have Luke Voit and Greg Bird penciled in at first base. Voit was awesome this past season and he deserves at least a long look in Spring Training. That said, his big league track record consists of exactly one (1) month, and that month is September, which is a terrible time to evaluate players. Bird? He was awful this year and hurt the last three years. He's become Allen Craig without all the good years.
Going with Santana at first base would be the safe move. Get the veteran dude who had a .352 OBP in a down year and has averaged 27 homers the last three seasons, and would help the balance the right-handed heavy lineup with his switch-hitting bat. The Yankees would be opting for the safe Santana over the upside of Voit, basically. For what it's worth, their 2019 Steamer projections:
Santana: .243/.359/.447 (119 wRC+) with 26 homers and +2.3 WAR
Voit: .262/.336/.460 (115 wRC+) with 21 homers and +1.5 WAR
Hmmm. Projections are not predictions, remember. They are an attempt to estimate talent level. At least one projection system sees soon-to-be 33-year-old Santana and soon-to-be 28-year-old Voit as similar talents. Both 15% to 20% above-average offensively and +2 WAR overall. That said, Voit's projection is a little more uncertain than Santana's given his lack of big league time.
Voit did some very good things in his big league stint this past season (Bird not so much), specifically hitting the ball hard and getting it in the air. Do that and good things happen. Example: Santana. He's been crushing the ball and getting it airborne for the better part of a decade now, and the result has been a very long and productive Major League career. Going with the proven commodity wouldn't be unreasonable, I don't think.
2. What would it cost? Eh, it's hard to say. Santana is owed $17M in 2019 and $17.5M in 2020 before a $17.5M club option ($500,000 buyout) comes into play in 2021. I have to imagine the Mariners will eat some of that to facilitate a trade. Santana wouldn't get two years at $35M guaranteed as a free agent right now. Either Seattle eats some money or they take back a player(s) to offset salary a la Jay Bruce and Anthony Swarzak in the Robinson Cano/Edwin Diaz trade.
I don't think Santana would be a straight salary dump, however. I think there would be enough interest — the Rockies, Twins, Rays, and even the Red Sox stand out as potential landing spots — that the Mariners would get something decent for Santana. One or two mid-range prospects. Someone in, say, the 5-10 range or two prospects in the 11-20 range of an organizational top 30 list. Too much? I guess it depends how much money the Mariners eat.
If Seattle pays Santana down to a $10M a year player or so, either by eating salary or taking on contracts in return, giving up one or two mid-range prospects seems perfectly reasonable to me. Those mid-range guys are exactly the type of prospects a win now team should be willing to trade for an upgrade at the MLB level, especially when you have a pitching heavy farm system like the Yankees. (Pitchers break, man. Trade 'em all.)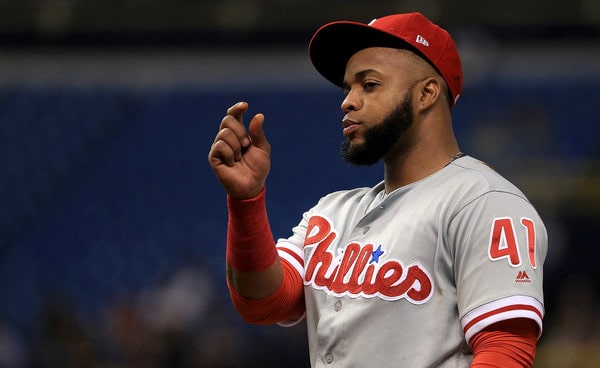 3. If you want a new first baseman, why not just sign a free agent instead? Good question, loyal reader. The answer is the free agent first base class stinks. It stinks. The best first basemen on the market are Justin Bour, Matt Adams, and Lucas Duda. None of those guys move the needle for me. I guess you could sign Marwin Gonzalez and put him at first base, a position he's played plenty in the past, but that's a waste of his versatility.
I suppose signing Bryce Harper and moving him to first base is an option, albeit one that doesn't seem particularly likely to me. Besides, Harper's a special case. A team is not basing that $300M+ ($400M+?) decision on who they have at first base anyway. Realistically, the first base free agent class is terrible. At the right price, meaning one or two non-top prospects and $20M over the next two years, I'd take Santana over every single free agent first basemen.
* * *
Joel Sherman speculated (key word: speculated) about a Jacoby Ellsbury for Carlos Santana trade yesterday but that doesn't seem all that realistic to me, even with the money kinda sorta matching up. The Yankees would have to kick in prospects to make it the trade worth it for Seattle, presumably pretty good ones to get them to stay payroll neutral. Otherwise they'd just trade Santana elsewhere and get prospects and salary relief.
Ellsbury is a non-factor for the Yankees — the best case scenario next year is that he's a 35-year-old speed guy coming off major hip surgery and uh — and if they could swing a trade in which they swap Ellsbury for Santana while kicking in a prospect to stay payroll neutral, it'd make an awful lot of sense. Assuming ownership is willing to give up those sweet insurance dollars and assuming Santana is actually an upgrade at first base, that is.
First base is not a priority for the Yankees this offseason and it seems to me that, if they're going to make a move at first base, it'll be for someone who is a clear upgrade. Not Santana who is kinda sorta in decline. Paul Goldschmidt would make sense. As would Matt Carpenter, who I suppose could become available if the Cardinals nab Goldschmidt, but probably not. Guys like that would make the most sense for the Yankees. Santana's not in that tier of players.
Had Voit not done what he did this past season with such promising underlying skills — again, this dude hammered the ball, it's not like he put up those numbers with bloops and seeing eye singles — I think a Santana trade would be much more realistic for the Yankees. Even as he declines, he still gets on base and pops dingers, and switch-hits. That's valuable. Enough to give up prospects and take on a bunch of money? Eh, maybe not with what Voit showed.