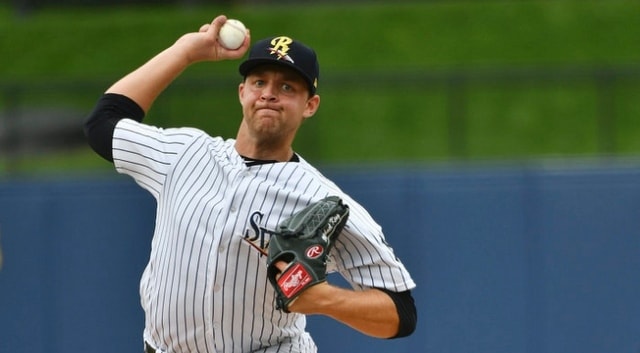 Mike King | RHP
Background
King, 23, grew up outside Providence in Warwick, Rhode Island. He had a decorated career at Bishop Hendricken High School, one that included two state championships and a Rhode Island Gatorade High School Player of the Year Award. King pitched to a 0.69 ERA as a junior and a 0.30 ERA as a senior, and threw two no-hitters. He was also a member of various All-Academic teams.
Despite his high school success Baseball America (subs. req'd) did not rank King among the top 500 prospects for the 2014 draft, and he went undrafted out of high school. He followed through on his commitment to Boston College and pitched primary out of the bullpen as a freshman, posting a 2.93 ERA with a 35/12 K/BB in 43 innings. He made three starts and 13 relief appearances.
As a sophomore, King emerged as a valuable swingman, pitching to a 3.03 ERA with a 52/12 K/BB in 62 innings spread across eight starts and six relief appearances. King spent the summer with the Hyannis Harbor Hawks of the Cape Cod League, throwing 22 innings with a 3.27 ERA and a 19/5 K/BB. Baseball America did not rank him as one of the top 30 prospects in the league, however.
King took over as the staff ace as a junior and set Boston College single-season records with 16 starts and 104 innings. He managed a 3.29 ERA and a 61/31 K/BB in those 104 innings. His career 3.14 ERA is second best in school history behind former big leaguer Chris Lambert (2.84 ERA). King also ranks tenth on the career innings list with 209.1. He is one of the most successful pitchers in Eagles history.
Baseball America (subs. req'd) ranked King as the 449th best prospect for the 2016 draft. The Marlins selected him in the 12th round (353rd overall) and signed him to a $100,000 bonus. That is $25,000 under slot for all picks after the tenth round. The Yankees acquired King, along with some international bonus money, from the Marlins last offseason for Garrett Cooper and Caleb Smith.
Pro Career
After such a big workload as a college junior, the Marlins took it easy on King following the 2016 draft, and had him throw only 30.2 innings in his pro debut. He posted a 4.11 ERA (2.76 FIP) with 24.4% strikeouts and 4.7% walks while pitching mostly in the short season NY-Penn League. The Marlins had King spend the entire 2017 season with their Low-A affiliate. He had a 3.14 ERA (3.97 FIP) with 17.8% strikeouts and 3.5% walks in 149 innings.
The Yankees moved King much more aggressively in 2018. He started the season with High-A Tampa and finished it with Triple-A Scranton. Here are his numbers at each level this past season:
| | G | IP | ERA | FIP | K% | BB% | GB% | HR/9 | Whiff% |
| --- | --- | --- | --- | --- | --- | --- | --- | --- | --- |
| High-A Tampa | 7 | 40.1 | 1.79 | 2.46 | 27.4% | 6.1% | 59.8% | 0.22 | 13.5% |
| Double-A Trenton | 12 | 82 | 2.09 | 2.70 | 23.9% | 4.1% | 45.2% | 0.44 | 9.9% |
| Triple-A Scranton | 6 | 39 | 1.15 | 3.20 | 21.8% | 4.2% | 53.8% | 0.69 | 7.7% |
| Total | 25 | 161.1 | 1.79 | 2.76 | 24.4% | 4.7% | 50.8% | 0.45 | 10.3% |
King ranked sixth in the minors in innings pitched this past season and, among the 510 pitchers to throw at least 100 innings in the minors, he ranked second in ERA and 11th in FIP. His strikeout (97th), ground ball (74th), and swing-and-miss (112th) rates were much further down the rankings, however.
Scouting Report
King has the prototypical pitcher's build at 6-foot-3 and 210 lbs., and while he's a stats over scouting report prospect, the scouting report is quite good. He gets most of his outs with a sinking two-seam fastball that sits 91-93 mph and will occasionally touch 95 mph. King commands the pitch exceptionally well. He uses it to pound the bottom of the zone and he can throw it to both sides of the plate. He's quite adept at throwing that two-seamer inside to lefties for the comeback called strike, like so:
Your Michael King front-hip two-seamer for the day. pic.twitter.com/4uOjvSrnV1

— Conor Foley (@RailRidersTT) August 13, 2018
King has three quality secondary pitches but none rate as a legitimate out pitch at the moment. His changeup has good fade and is probably his most reliable offspeed pitch. King also throws a slider that shows promise, and the Yankees helped him add an upper-80s cutter late in the season with Triple-A Scranton. It could be that he'll wind up a two-seamer/changeup pitcher with several variations of a cutter/slider breaking ball to keep hitters honest.
Nothing King throws is straight and I'm looking forward to him reaching the big leagues so we can get some Statcast data. He strikes me as someone who could be a weak contact type that consistently outperforms his peripherals, similar to the current version of CC Sabathia. King has a good repeatable delivery and he can put the ball where he wants it, especially with the two-seamer. That command helps everything play up.
2019 Outlook
After the season he just had, climbing from High-A to Triple-A, King is a lock to be invited to big league Spring Training as a non-roster invitee next year. There's a good chance he'll make his MLB debut at some point next summer. King will be Rule 5 Draft eligible next offseason but I would be shocked if he's not added to the 40-man roster and brought at some point next summer first. In all likelihood, King will go up and down a few times next season, presumably as a spot starter/emergency long man type.
My Take
There seem to be a very wide range of opinions on King and I lean toward "serviceable big leaguer" more than "impact starter." I wish he had a putaway secondary pitch — I don't think it's a coincidence his swing-and-miss rate dropped considerably each time he was promoted this past season — but, if you're only going to have one good pitch, a sinking two-seamer is a good one good pitch to have. King is about as safe a bet to have a big league career as you'll find. I just think he'll be more of a fifth starter/swingman type than a bona fide mid-rotation stalwart, and hey, teams need fifth starters and swingmen. It's better to grow your own than pay a couple million for one in free agency.