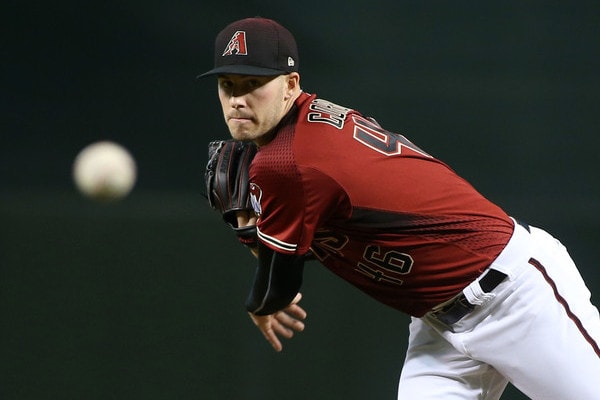 The Yankees improved their rotation in the short term recently when they dealt for (former) Seattle lefty James Paxton. This came after re-signing CC Sabathia for a one year contract, joining the two with Luis Severino, Masahiro Tanaka, and, uh, Sonny Gray. On its face, that isn't a bad starting five and if they were to all pitch to their potential, it'd be fantastic. But that's not the way the baseball world works.
Severino hit a road bump last year. Tanaka can be a bit up and down, despite my undying love for him. Sabathia is old now and can't give more than 140-50 innings max. And Gray is likely to be shipped out any minute with the Winter Meetings looming. Given those realities, the Yankees still need to improve their rotation. The two players they've been connected with most frequently are free agent lefties Patrick Corbin, whom they met with this week, and JA Happ, whom they traded for last year. It appears an answer is on the way:
Yankeee Corbin/Happ SP situation appears on track to resolve itself within a week or less

— Andy Martino (@martinonyc) December 1, 2018
So it appears that something is going to happen. What is that something, though? As a follow up to Martino's tweet, friend of the blog–and former guest post author Randy Wilkins had a good question: Is this either/or or both? The implication I took from Martino's tweet is that it's an either/or situation and the Yankees will sign one of them, not both.
Both pitchers have their pluses, aside from being lefties. Happ is a solid veteran who's fairly consistent and, given his age, will likely require a shorter term deal for not as much money. Corbin will be looking for a big pay day, but is younger and better than Happ.
Signing either one would be a right move, but I think signing Corbin is the right move, for the reasons Mike and Bobby have laid out. The only wrong move here would be to pass on both of these players with no substitute move. If they passed on one but then went ahead and traded for, say, Corey Kluber, that would be acceptable.
But what about signing both? Or signing one and making another trade for a top starter? That would give the Yankees a six man rotation once Gray is a goner. Given Sabathia's age, Severino's wall-hitting, Paxton's injury history (and therefore lack of innings), and Tanaka's 'upbringing' as a pitcher in Japan (though extra rest hasn't always done him good in MLB), it might make a good deal of sense for the Yankees to go with six starters. In theory, everyone gets more rest and it might allow for more bullpen flexibility. The way baseball is going, starters aren't throwing huge workloads anymore and there may be a hidden advantage in having good pitchers throw less often but at theoretically higher effectiveness.
I doubt the Yankees will go with a six man rotation, but at the very least, they need to bring in one of the two lefty starters out there. Corbin is the one it should be. He's the better pitcher. He's the one with prime years left. He's the one that fits this rotation best now and in the near future. With him, the Yankees would have three lefty starters who can miss bats or induce soft contact and two righties with great stuff and dominant potential. Pairing that with their bullpen and their lineup would make this team a contender in every sense of the word.