Tomorrow Manny Machado will visit the Yankees and I guess try to sell them on the idea of signing a 26-year-old superstar who's done things few other infielders have done through their age 25 season. Last week the Yankees reportedly visited Bryce Harper at his Las Vegas home. "Remember that time I had a +10 WAR season at age 22? Pretty cool, huh?" is how I like to pretend the conversation went.
The Yankees are the Yankees and they will always be connected to the top free agents, if for no other reason than because agents like to use them as leverage. Did anyone really expect the offseason to pass without the Yankees touching base with Machado and Harper? It's been a very long time since two free agents this young and this good hit the market and odds are it'll be a very long time before it happens again.
The Yankees are the Yankees in that they still wear pinstripes and the interlocking NY, though the free-spending Yankees of yesteryear don't really exist anymore. They stayed under the luxury tax threshold this past season and all indications are staying under the threshold is a long-term goal, not just a one-time thing. I am very open to being wrong. Right now, it seems spending will be artificially capped.
Last week the Yankees used some of their apparently limited dollars to re-sign J.A. Happ to fill out the rotation and provide stability. Happ's solid and a safe bet to take the ball every fifth day. He'll also count as $17M against the luxury tax the next two years, so he's not exactly cheap. The difference between Happ and Patrick Corbin is $6.33M in luxury tax dollars. That ain't much! But I digress.
Coming into the winter my quick math had the Yankees at $156.3M in 2019 luxury tax payroll dollars. That includes estimates for pre-arbitration and arbitration-eligible players, plus other miscellaneous expenses. Here's an update on the 2019 payroll situation:
2019 payroll coming into offseason: $156.3M
Brett Gardner: $7.5M
CC Sabathia: $8M
James Paxton: $9M (projected)
J.A. Happ: $17M
Add it all up and you get $197.8M, or $8M under the $206M luxury tax threshold, give or take. Sonny Gray will be traded at some point and, even if you subtract out his entire $9.1M projected salary, the Yankees are still at $188.7M in 2019 luxury tax dollars, or $17M under the threshold. That's $17M to get a Didi Gregorius replacement and two relievers, plus general depth. The Yankees have internal options for those roles, sure, but help would be nice.
It's been clear all along that signing Machado or Harper would require going over the luxury tax threshold and that is still true. Those two are looking at $30M annually at a minimum. I wouldn't be surprised if they wind up closer to $40M per year than $30M per year. If the Yankees give Machado or Harper a deal worth $35M per year, that puts their 2019 payroll at $223.7M even with Gray subtracted and no other additions. Yeah.
With Happ now on-board, signing Machado or Harper plus a Gregorius replacement plus bullpen help would not just take the Yankees over the $206M luxury tax threshold. It would take them into the second luxury tax tier and possibly even the third, triggering additional penalties. Here are the 2019 luxury tax penalties that apply to the Yankees, who would be considered a first time offender after getting under the threshold in 2018:
Sub-$206M payroll: No luxury tax
$206M to $226M payroll: 20% tax on every dollar over $206M
$226M to $246M payroll: $4M plus 32% tax on every dollar over $226M, and top draft pick moves back ten spots
$246M+ payroll: $10.4M plus 62.5% tax on every dollar over $246M, plus top draft pick moves back ten spots
Again, subtracting out Gray and giving Harper or Machado a $35M per season contract puts the payroll at $223.7M next year with no other additions. Harper or Machado would push the Yankees right up to the second luxury tax tier without adding a Gregorius replacement or bullpen help. Add a top reliever, a $10M to $12M per year guy, and the Yankees are suddenly flirting with the third luxury tax tier.
Here's the other thing: The Yankees would have to be willing to live with those luxury tax penalties in multiple years, not just 2019. Aaron Judge and Gary Sanchez will be arbitration-eligible next offseason and due significant raises, especially Judge. Luis Severino is arbitration-eligible for the first of four times as a Super Two this winter and he's getting expensive too. The Yankees were able to get under the luxury tax threshold this year because those guys provided big production on six-figure salaries.
The Yankees don't have much money slated to come off the books next winter. Gardner, Sabathia, Gregorius, Dellin Betances, and Aaron Hicks. That's pretty much it. Gregorius, Betances, and Hicks won't be easy to replace either, should the Yankees let them walk. Aroldis Chapman could opt out of his contract next offseason but the Yankees couldn't count on that to reduce payroll. A huge contract for Machado or Harper combined with impending arbitration raises means the Yankees would have to live with an elevated luxury tax payroll not just in 2019, but beyond as well.
The 2020-21 offseason will provide some financial breathing room with Masahiro Tanaka's and Jacoby Ellsbury's huge contracts expiring (and Happ's?), plus Giancarlo Stanton could opt out, but again, you can't count on that. Perhaps the Yankees would be willing to live with the second tier luxury tax penalties in 2019 and 2020 to get a high-end mid-20s talent like Machado or Harper knowing Tanaka and Ellsbury are off the books in two years. Two years is an eternity in baseball time though.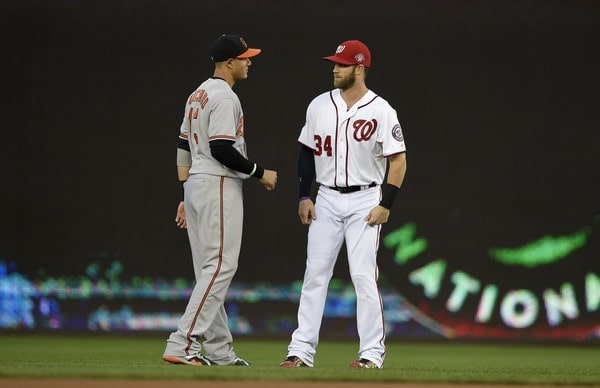 Just to provide some context, let's quickly calculate the luxury tax penalties for the next two years assuming the Yankees are unwilling to go into the third luxury tax tier, which is set a $40M above the threshold. A $246M payroll in 2019 would result in $10.4M in luxury tax penalties and a $248M payroll in 2020 — the threshold rises to $208M in 2020 — would result in $14.4M in luxury tax penalties at the repeat offender rates. That is $24.8M total in luxury tax penalties for running payrolls no more than $40M over the threshold in 2019 and 2020. The Yankees would also have their top draft pick moved back ten spots in both years.
Keep in mind the Yankees paid $27.4M in luxury tax in 2016 and $26M in luxury tax in 2015. That's two single seasons with a higher luxury tax bill than what the Yankees would incur by exceeding the threshold by no more than $40M in each of the next two seasons. That doesn't seem like a huge deal, does it? Everyone kinda assumed that was the point of getting under the threshold this past season, to reset the luxury tax rate and lower the luxury tax penalties going forward while adding a potential superstar like Machado or Harper.
And maybe that'll happen. I hope it does. Would be really cool. Point is, with Happ back on-board, the Yankees will have to not only exceed the luxury tax threshold next year to sign Machado or Harper, they'll have to go into the second penalty tier to address all their needs, realistically. Everything the Yankees are saying these days points to keeping payroll down and hey, it could all be posturing. It's much easier to believe the Yankees will keep payroll down after they did it this year. That works in their favor while talking to free agents. They gave themselves leverage.
Part of me — a small part of me — believes the Yankees are playing it cool right now and all the talk about keeping payroll down is designed to keep their true intentions a secret. Did the Yankees really go through all the trouble of resetting the tax rate this year to leave this offseason with Happ and a reliever while passing on Harper on Machado? Hopefully not. Right now though, it is entirely possible that is indeed the plan, especially they're now in position to jump into the second luxury tax tier.