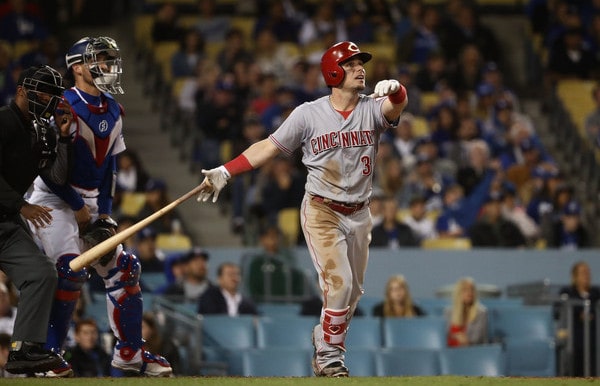 In addition to pitching help, both another starter and relievers (plural), the Yankees also must find a Didi Gregorius replacement this offseason. Gregorius will miss an unknown length of time next year rehabbing from Tommy John surgery and the Yankees need someone to fill in. They can pursue either a shortstop or a second baseman thank to Gleyber Torres and his versatility.
Reds second baseman Scooter Gennett is arguably the best second baseman on the trade market, and, according to Ken Rosenthal (subs. req'd), Cincinnati would like to trade him. Gennett will be a free agent next offseason and GM Dick Williams recently told Mark Sheldon that the two sides are not close to a contract extension. The Reds aren't close to an extension with anyone, Gennett or otherwise.
"I wouldn't expect it before the calendar turns (to 2019). There's too much up in the air in terms of roster construction going forward. I don't think you'll see us working on any extensions for anybody. That's not just Scooter specific," said Williams to Sheldon. "… In the sense that we always remain open to good deals, if we find one that we really like. Flexibility is important to us. We will be careful about a lot of extensions."
For what it's worth, Sheldon says the Reds are "not actively looking to trade" Gennett, though that doesn't mean Rosenthal's report is wrong and it doesn't mean Sheldon's report is wrong either. Both could be correct. The Reds could want to move Gennett without actively shopping him. He's really good! Williams probably gets phone calls about Gennett all the time and doesn't need to shop him. Interested teams come to him.
Earlier today the Yankees were connected to Gennett for the first time though I imagine they checked in long ago. Brian Cashman checks in on everyone. We know the Yankees and Reds have discussed Sonny Gray this offseason — the Yankees reportedly asked for top prospect Taylor Trammell, which was a nice try — and I'd be willing to bet Gennett's name came up at some point. Not necessarily in a Gray-for-Gennett proposal. Just in general.
Anyway, with Gennett reportedly on the market — it makes sense that he would be if the two sides are not close to a contract extension — the Yankees should pursue him aggressively. A lot of contenders need second base help (Angels, Brewers, Dodgers, Nationals, Rockies) and once free agents start coming off the board, the Gennett bidding war could heat up, and that's a bad thing for New York. A few more thoughts on this.
1. Gennett fits the lineup perfectly. The Yankees could use another left-handed hitter to balance out their righty heavy lineup, but, as far as I'm concerned, hitter quality should trump hitter handedness. I will happy take another quality right-handed hitter over a mediocre left-handed hitter who is in the lineup simply to provide balance.
Gennett is the best of both worlds. He's a quality hitter and he's a left-handed hitter. Offensively, Gennett posted near identical 2017 and 2018 seasons, and the end result was a .303/.351/.508 (124 wRC+) batting line with 50 homers in 1,135 plate appearances. A few more walks (6.3%) would be nice, but it's hard to complain about that production. Gennett doesn't strike out excessively (21.1%) and check out his spray chart: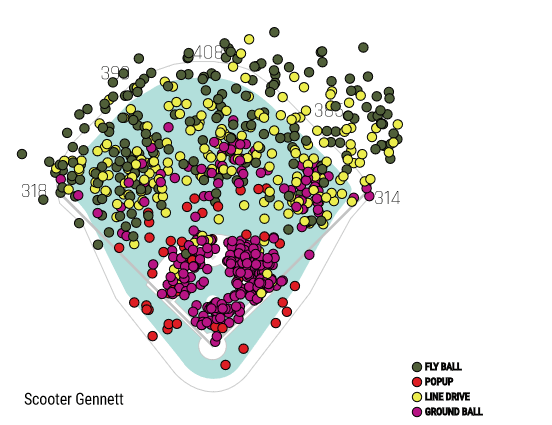 Line drives to all fields with power to the pull side, something that is handsomely rewarded at Yankee Stadium. Great American Ball Park in Cincinnati is a pretty good place to hit. It's not Yankee Stadium though. Add in a playable .277/.317/.426 (96 wRC+) batting line against lefties and you've got a rock solid left-handed hitter who hits for average and hits for power, and would help balance the lineup. An ideal offensive pickup, really.
2. Gennett does offer some versatility. Although he is a natural second baseman, Gennett has moved around the field a little bit, most notably spending some time at third base and in the two corner outfield spots since joining the Reds. That would come in handy once Gregorius returns, though I am firmly in the "worry about that when the time comes" camp with Gregorius. Worry how the pieces fit once Sir Didi is healthy.
I think the Yankees should prioritize defense when looking for a Gregorius replacement. The numbers say Gennett is average to a tick below at second base and, well, that wouldn't fit the whole "prioritize defense" idea, now would it? Given his bat though, I think you can overlook the less than stellar glovework, at least to some degree. I wouldn't accept Miguel Andujar level defense at second base to get Gennett's bat. But league average defense? That'll do.
I should mention at some point that Gennett is only 28. He turns 29 in May. This isn't a 31 or 32-year-old player we're talking about here, someone at increased risk of age-related decline at the plate and in the field. Gennett is right smack in what should be the prime of his career and expecting another peak year from him in 2019 (say average-ish defense with a 120 wRC+ or thereabouts) doesn't strike me as unreasonable at all.
3. The Yankees might recoup a draft pick after the season. Gennett will become a free agent next offseason and, if he repeats his 2017-18 efforts in 2019, he would at worst be a serious qualifying offer candidate. Marwin Gonzalez, DJ LeMahieu, and Jed Lowrie will shed some light on this. Their contracts this winter will help set Gennett's market next offseason.
The perfect world scenario has the Yankees trading for Gennett, getting a great season from him, then making him the qualifying offer and scoring a draft pick to help replenish the farm system. Chances are that won't happen though. There's so much that can go wrong between now and then. Consider the free agent compensation rules:
Gennett signs a contract worth $50M+: Yankees get a supplemental first round pick.
Gennett signs a contract worth less than $50M: Yankees get a supplemental second round pick.
Yankees pay luxury tax in 2019: Yankees get a supplemental fourth round pick no matter what.
There's also the possibility Gennett accepts the qualifying offer. Neil Walker hit .282/.347/.476 (124 wRC+) with 23 homers during his age 30 season with the Mets in 2016 and he accepted the $17.2M qualifying offer. Given the last two years, 2019 Scooter Gennett could put up very similar numbers to 2016 Neil Walker at a similar age, and next winter the qualifying offer might be over $19M. Accepting it is a very real possibility.
Point is, there is a scenario in which the Yankees recoup a high draft pick when Gennett become a free agent next winter. I think the chances of that are quite small, but it is possible, and it should factor into the trade calculus. Ultimately, the Yankees are in win now mode, and I think the priority has to be what Gennett can do for them on the field. If they get a draft pick after the season, great. If not, so be it.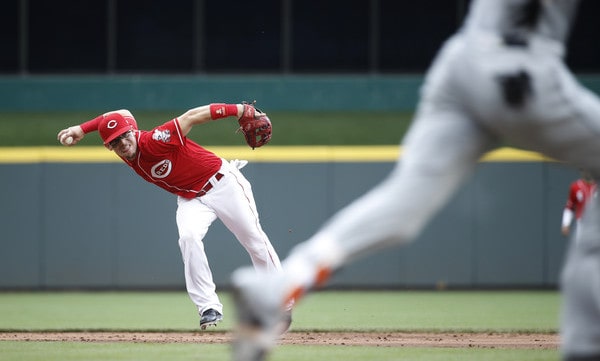 4. The Reds have made some very bad decisions lately. Most notably, the Reds got nothing for Zack Cozart. The guy hit .297/.385/.548 (140 wRC+) with 24 homers and Gold Glove defense in 2017 and the 94-loss Reds did not cash him in as a trade chip. They kept him all year, didn't make him the qualifying offer after the season, and watched Cozart walk away as a free agent for zero return. Brutal. Just brutal.
Also, the Reds rejected trade overtures for the fun but ultimately not very valuable Billy Hamilton the last few years, only to non-tender him last week. They also pulled Matt Harvey back on trade waivers (the Brewers claimed him) in August and didn't trade him. Harvey's a free agent now. Cozart is the most egregious mistake here but these are three players who generated trade interest who the Reds instead let go for nothing. Goodness.
On one hand, I'd like to think the Reds learned from those mistakes and are determined not to repeat them with Gennett. On the other hand, the Hamilton non-tender was literally eleven days ago, so maybe not. Cincinnati's front office doesn't really seem to have its act together. Perhaps they don't understand Gennett's true value and thus sell him short. It would be pretty rad if the the Yankees can benefit from one of those very bad Reds decisions.
* * *
There is at least one "what about Sonny Gray for Scooter Gennett?" question in the mailbag inbox each week and no. Just no. Gennett is actually good. Gray was good once upon a time but not this past season. Also, Gennett is actually good. Did I mention that part? The Reds have made some bad moves lately but even they have to realize trading one year of their All-Star second baseman for one year of a reclamation project starter is a bad idea. If they're open to it, the Yankees should do it and yell "no trade backsies" as quickly as possible.
That doesn't mean Gray can't be part of a Gennett trade package, however. Last offseason's Andrew McCutchen trade seems like decent enough framework for a Gennett trade. McCutchen certainly had a superior track record to Gennett, but, at the time of the trade, he was essentially a +3 WAR player with one year and $14.75M on his contract. Gennett is a +3 WAR player now who MLBTR projects to make $10.7M in his final year of team control. Not a perfect match but I think we're in the ballpark.
The Giants gave up a big league reliever (Kyle Crick) and a non-top 100 prospect (Bryan Reynolds) to get McCutchen. Would Gray and a non-top 100 prospect (Domingo Acevedo? Mike King? Clarke Schmidt?) be enough to get Gennett? Maybe. The difference here is McCutchen's market was fairly limited. A lot of teams — a lot of contenders — could be after Gennett. No matter the cost, it's worth finding out. Realistically, Gennett may be the best option to replace Gregorius aside from signing Manny Machado.