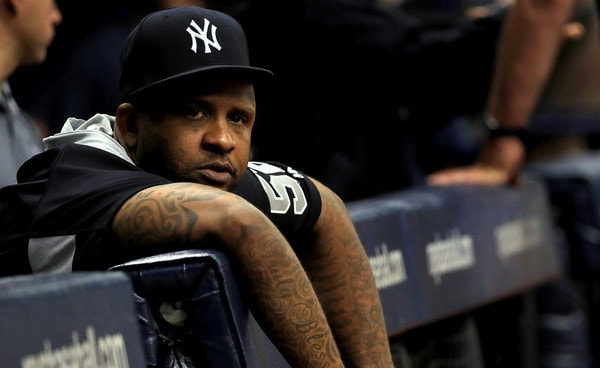 According to Ken Rosenthal (no subs. req'd), CC Sabathia is expected to be ready for Spring Training after undergoing a heart procedure earlier this month. He began to experience symptoms (heartburn, chest pains, etc.) and went to the doctor, and was told he needed an angioplasty, meaning a stent was inserted to open a blocked artery.
"CC was experiencing some chest pain which turned out to be a blockage in one artery to his heart," Sabathia's agent told Rosenthal. "A procedure was done to insert a stent to clear the blockage on December 11th. CC is doing great and will be reporting to Spring Training on time to get ready to play for his upcoming final season in 2019."
"We are thankful that CC was smart enough to convey his symptoms to our medical staff, and in turn they immediately engaged New York-Presbyterian Hospital, who quickly determined the root cause of what ailed him," said Brian Cashman in a statement. "We are also encouraged that the procedure CC underwent was performed as planned.
"He is such a dynamic person beyond his excellence on the field, and we will proceed with his health at the forefront of our priorities," Cashman added. "We will continue to follow the guidance and expertise of the doctors — who have conveyed that CC will report as scheduled to Tampa in February to prepare for the 2019 season."
Rosenthal says Sabathia went for a follow-up exam today and was informed his short and long-term prognosis is excellent. He's already resumed some offseason workouts — Sabathia was back at Yankee Stadium earlier this week — and will gradually increase his workload. More follow-up exams are on the schedule for the coming weeks, obviously.
The Yankees re-signed Sabathia to a one-year contact worth $8M earlier this winter and he's said next year will be his final season. He'll go into 2019 as the fifth starter and I suppose the heart procedure could push the Yankees to seek out a better sixth starter option than Luis Cessa or Domingo German.
Clearly though, the baseball side of this is a secondary concern. The priority is Sabathia's healthy. A blocked artery is serious stuff, but it was caught early and Sabathia is doing well, so that's good news. Get well soon, big guy.