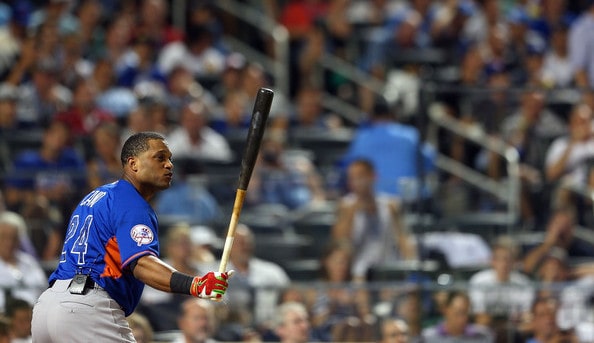 Somehow there are only four weeks to go in 2018. Each year seems to go by a little quicker than the last. Anyway, the 2018 Winter Meetings begin next week, and based on the latest hot stove rumblings, the Yankees want to add another starting pitcher before then. They want to go to Las Vegas next week with the rotation set, and the bullpen and a Didi Gregorius replacement the only things on their mind. We'll see what happens this week. Here are some scattered thoughts.
1. The Mets just acquired Robinson Cano's age 36-40 seasons, the final five seasons on his ten-year contract. Albert Pujols signed a ten-year contract that covered his age 32-41 seasons. Alex Rodriguez's second ten-year contract also covered his age 32-41 seasons. Pujols and A-Rod had a few good years early in their contracts before they became albatrosses. The same will probably be true with Cano. With Bryce Harper and Manny Machado though, a ten-year deal covers their age 26-35 seasons. Give Harper a ten-year contract right now and it expires before he reaches Cano's current age. A-Rod's first ten-year deal covered his age 25-34 seasons (he opted out of the final three years) and those ten seasons were monumentally productive. Alex's worst season from ages 25-34 was a .270/.341/.506 (125 wRC+) effort with +4 WAR at age 34 in 2010. He gave his teams +70 WAR in those ten years. Crazy. Anyway, my point is the Yankees should really sign Machado and Harper. Ideally both but one would suffice. Give them a ten-year contract — honestly, getting a 26-year-old star like Machado and Harper on "only" a ten-year contract would feel like a win for the team to me — and you're buying peak years in bulk while avoiding the ugly downside of those age 36+ seasons. This is not like giving Cano or Pujols or A-Rod a long-term deal at age 32. This is like buying the six years of their careers before that, and those were overwhelmingly excellent seasons. Do it, Yankees. Do it.
2. Speaking of Cano, one thing the trade does is ensure he will go into the Hall of Fame as a Yankee. I mean, he probably won't get into Cooperstown now after this year's performance-enhancing drug suspension, and he probably would've gone in as a Yankee anyway, but now it's a lock. There's no chance for him to hit milestones with the Mariners — Cano is closing in on 3,000 hits (530 away) and Jeff Kent's second base home run record (55 away) — or lead them to a World Series title or two, which is probably what it would've taken for him to land in the Hall of Fame with the Mariners. Cano had his best years in pinstripes and is likely to finish his career with more hits, homers, and WAR as a Yankee than as a Mariner and Met combined. It's going to be ten years or so before Cano even appears on the Hall of Fame ballot. By then, the voting body may be more willing to forgive PED transgressions. If he gets in — he was absolutely on track to do so before the suspension — we can say with more certainty now that he'll go in as a Yankee. That's one small little side effect of the trade.
3. I am weirdly intrigued by the Parker Bridwell waiver claim even though I know I probably shouldn't be. His career big league numbers aren't good (4.60 ERA and 5.38 FIP in 131 innings) and he's returning from July surgery to remove loose bodies from his elbow, and that doesn't exactly scream "hey, I'm interesting!" I know. Believe me, I know. But Bridwell ran his fastball up to 96 mph with a healthy elbow last year, and his spin rates are well-above-average across the board. The Angels used Bridwell as a starter because they were short on starters. I suspect the Yankees will put him in the bullpen and see how a 50/50 split between the high-spin heater and high-spin curveball play in short bursts. Maybe moving into the bullpen full-time doesn't change anything. Or maybe he has a few good weeks and fools everyone a la A.J. Cole this summer. Orrr maybe he's Chad Green and everything plays up so much that he becomes an impact reliever. The only way to find out is to try. Most waiver claims lead nowhere and chances are Bridwell will play out the same way. That's baseball. I think he was worth a claim though. Let's see what he looks like in Spring Training.
4. Forty-one players were non-tendered prior to last week's deadline — I reckon we'll hear a lot about the Yankees and Jonathan Schoop these next few weeks — and, as always, most of them are fringe big leaguers. One non-tender who caught my eye is left-hander Sam Howard, formerly of the Rockies. The 25-year-old had a rough 2018 season, throwing 96 Triple-A innings with a 5.06 ERA (5.03 FIP) and not good strikeout (19.3%) and walk (8.2%) rates, but Baseball America (subs. req'd) ranked him as the No. 11 prospect in a pretty good Colorado system going into 2018. A snippet of their scouting report:
Howard is an acquired taste. He isn't one of those guys who steps on the mound and overpowers. He is a pitcher, and he has proven since his high school days he can adjust over the course of a season … The Rockies worked to balance Howard's delivery after signing him and it has improved his command. It also was a factor in his fastball velocity jumping from the upper 80s to its present 91-94 mph with sink. Howard compliments his fastball with a back foot slider that has a promising late, hard break, and a usable changeup with fade. His ability to pitch inside to righthanded batters and also change speeds has allowed him to actually be more effective against righties than lefties, which is a tick in his favor for remaining a starter.
Howard's stock has slipped since that scouting report was published — MLB.com ranked him as the Rockies' No. 24 prospect before the non-tender — but a lefty with three pitches and an idea on the mound seems like a worthwhile add to the bottom of the 40-man roster if the Rockies are just going to give him away. I mean, do the Yankees really need both Bridwell and Cole? Aren't they kinda the same guy? Howard as two minor league options remaining. I say dump Cole, give Howard the 40-man roster spot, and see what happens when he pitches at sea level. (Colorado's Triple-A affiliate plays in Alburquerque, which is actually at a higher elevation than Denver.)
5. On one hand, the Dodgers have been far more successful than the Yankees the last few years. It is undeniable. Over the last six seasons the Dodgers have won 656 games, 20 more than any other team, as well as six division titles and two National League pennants. They have been incredibly successful. On the other hand, man I really hope the Yankees don't end up like the Dodgers, meaning they enjoy all that regular season success while being unable to get over the hump in the postseason. When the Yankees broke out and contended seemingly out of nowhere in 2017, it was fun as hell. Been a long time since a Yankees team excited me that much. This year? That wasn't really the case and it's all because of expectations. No one saw the 2017 Yankees coming and that made it so enjoyable. This year there were big expectations, so much so that winning 100 games despite losing Aaron Judge and Gary Sanchez for all that time felt kinda like a disappointment. Don't get me wrong. I'm not complaining. I'd so much rather have a team that contends every year than a team that has one of those surprise out of nowhere seasons once every few years. I'm just saying I think the Yankees are rapidly approaching the "it's time to win with this group" stage. Young players are fun and exciting and I love them all. You've gotta win a championship though. You've gotta win otherwise you're the Dodgers, an undeniably great team known more for their shortcomings than their excellence.