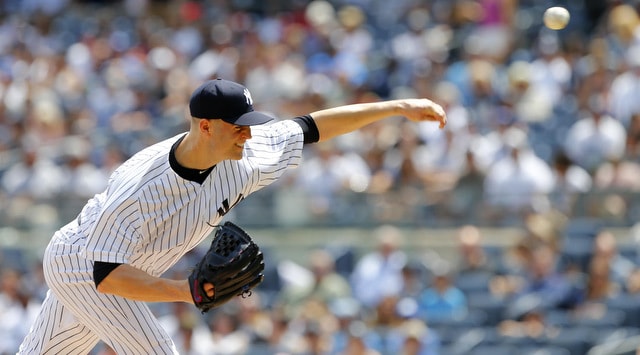 J.A. Happ is returning to the Yankees. There was some confusion about that for a bit — Ken Rosenthal swings and misses less often than Jose Altuve, but that was a big ol' whiff yesterday — but Happ and the Yankees have indeed agreed to a two-year contract with a third year vesting option. The deal is said to be worth at least $34M and possibly as much as $36M. Here are some thoughts on Happ's return.
1. Filling out the rotation with Happ is fine if not a little underwhelming. I thought he was the best free agent starter still available so, in that sense, Happ is the best signing the Yankees could've made. Once the Yankees acquired James Paxton at that price though, I was really hoping they'd go big when filling that final rotation spot, and either spend big to get Patrick Corbin or swing a trade for Corey Kluber or Noah Syndergaard (the rumors got me excited, I won't lie), someone like that. Alas, it did not happen. I can get not trading a young player(s) for Kluber or Syndergaard. Not spending on Corbin? That's tougher to swallow seeing how they're the Yankees and Corbin all but shouted from the rooftops that he wanted to wear pinstripes. Anyway, Happ is a solid Major League pitcher who can succeed in Yankee Stadium and the AL East, and really all the Yankees need from him is competence. Take the ball every fifth day and keep them in games. I was hoping that final rotation spot would go to someone with a chance to truly dominate more often than not, but those guys aren't cheap, so the Yankees went for the next best thing. Like I said, Happ is fine if not underwhelming. It's fine.
2. I am very glad the Yankees were able to avoid that third guaranteed year. I mean, Lance Lynn got three guaranteed years. Good gravy. Getting Happ at two years plus a vesting option is damn near a bargain given the Lynn contract. There are some worrisome indicators in Happ's underlying numbers, plus he is 36, and pitchers have been known to fall apart quickly as they approach their 40th birthday. In this era of austerity, money and years matter, and locking a pitcher in for his age 38 season when we started to see signs of decline in his age 35 season doesn't make a whole lot of sense. It's one thing to offer Corbin a sixth year for his age 35 season. That sixth year is a long ways away and you're getting what should be some peak years out of that contract. Happ's contract covers what are typically decline years and the Yankees are just hoping he doesn't decline too quickly. Keeping the deal as short as possible is the way to go when you're signing a 36-year-old with over 2,100 professional innings on his arm. A one-year contract was never going to fly in this market. And, given Lynn's contract, Happ seeking three guaranteed years was not unreasonable. The Yankees had to cave and give the second year. They avoided the third guaranteed year and that's a win in my book.
3. On paper, this is the strongest Opening Day rotation the Yankees have had in several years, probably since 2010. FanGraphs projects the rotation as fourth best in the American League even before plugging Happ in, for what it's worth. There is still a long way to go between now and Opening Day and things can change quickly — March is a particularly brutal month for elbow ligaments, for example — but, right now, it's been a while since the Yankees had a rotation that looked this strong on paper. Luis Severino and James Paxton have true ace ability, Masahiro Tanaka has ace moments, Happ is solid, and CC Sabathia is #ActuallyGood. I swear, I have people yelling at me on Twitter and in the mailbag inbox acting like Sabathia has been putting up Bartolo Colon numbers the last few years and not Cole Hamels numbers. Maybe it all falls apart for Sabathia this year. If it does, the Yankees will deal with it. A one-year deal at $8M is basically zero risk. Anyway, the rotation right now is quite strong, and that's what I'm trying to get at. There are definitely some injury concerns there, no doubt, but, when healthy, the Yankees will send a quality pitcher to the mound every night in 2019. Pretty cool.
4. That all said, I would love love love to see the Yankees continue to pursue another starter. I'm not saying they should give a Lance Lynn facsimile a three-year contract, but keep kicking the tires on guys like Kluber and Syndergaard, because they are true difference-makers, and there is always room in the rotation for someone like that. What about Yusei Kikuchi? He is only 27 and finding starts for him won't be tough. The Yankees could bring him in as a sixth starter type who gets a regular rotation turn before really turning him loose next season. Finding a better sixth starter than Domingo German and Luis Cessa would be pretty cool. (I'm a Jonathan Loaisiga fan but the kid is a major injury risk and he's never pitched at Triple-A. I'd rather not count on him for anything.) I thought Lynn would be a great long man/spot starter candidate but not on that contract. That's the idea though. If not an ace like Kluber or Syndergaard, than a veteran swingman who can relieve or start like Lynn did for the Yankees last season. Looking over the list of free agents, does Francisco Liriano fit in that role? Maybe Derek Holland? Trevor Cahill would be the dream sixth starter pickup but it sounds like he's going to get multiple years and a guaranteed rotation spot somewhere. "(Happ) doesn't preclude us from being open-minded to any other options that develop over time, and in the meantime it does allow us to focus further on other aspects," said Brian Cashman to Brendan Kuty yesterday. Cashman won't close the door on another starter because he'd never close the door on another starter. I don't think it's a top (or even mid-range) priority though. I would be cool with looking for another starter though. I'd rather the Yankees have the rotation depth and not need it than need it and not have it.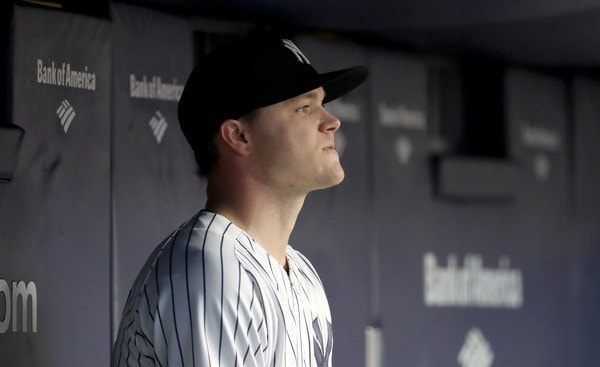 5. Now that the Yankees have Happ back in the fold, it wouldn't surprise me to see Sonny Gray on the move soon. Even with Brian Cashman making it crystal clear Gray will be traded at some point, it made sense to keep him around at least until the Yankees secured another starter. Trading Sonny only to strike out on a bunch of free agents and trade targets really would've stunk, you know? There is definitely an argument to made that the Yankees should keep Gray as a long reliever/sixth starter — getting dunked on by the general manager all offseason could be a hell of a motivator — but I just can't see it at this point. The bridge has been burned and I have no reason to believe it will be rebuild. With Happ on board, trading Gray could happen very soon, because keeping him and his projected $9.1M salary just does not seem like something the Yankees will do at that point. That money will be spend elsewhere on the roster, either by taking money back in the inevitable Gray trade or signing a free agent (or trading for someone) later.
6. Does this signing happen if the Yankees don't trade for Happ at the deadline? I think so, because they're said to have liked him for a while, and they saw him up close plenty with an AL East rival the last few years. Plus the price was right on a short-term deal. The trade did give the Yankees a chance to learn more about Happ firsthand, however. They got to see his preparation, how he fit into the clubhouse, all that. That is not meaningless information. It's important information, really, and it works both ways. The Yankees got to learn about Happ and Happ got to learn about the Yankees. They saw his preparation work and personality and he got to see the facilitates and how the Yankees do things. A pretty common theme the last few years is that players come to the Yankees and they don't want to leave. Sometimes they do leave because that's the business, but in recent years we've seen guys like Chase Headley, Todd Frazier, and Zach Britton all say they would love to remain with the Yankees after coming over as rentals at the trade deadline. Maybe the money and the fit is right and Happ would've signed with the Yankees anyway, even if he hadn't finished the season in pinstripes. Or maybe he would've been a little tentative and stuck to his guns about the third guaranteed year because he didn't know what he was getting himself into. I can't imagine Happ's short stint with the Yankees late this past season hurt the process at all. Rather, it seems like it may've helped the Yankees avoid that third guaranteed year because Happ knows what they're about.
7. The Yankees will have to clear a 40-man roster spot for Happ — word is Happ's deal could be announced today, and if that is the case, the team will have to open a 40-man spot right away — and the easiest move is designating one of the out of minor league options pitchers for assignment. Those are German, Cessa, Parker Bridwell, Tommy Kahnle, and A.J. Cole. German would be the last one of those dudes I'd cut. I'd dump Cole, personally, but is there really any difference between Cole and Cessa and Bridwell? Not really. Designating one of those guys for assignment is the easiest way to open a 40-man spot for Happ. I guess they could cut Kyle Higashioka or Tim Locastro, but nah. One of those out of options pitchers is the simplest route. (I'm still surprised the Yankees didn't non-tender Ben Heller and re-sign him to a minor league contract while he rehabs from Tommy John surgery to clear a 40-man spot. Maybe Heller will get designated for assignment for Happ and clear outright waivers.)
8. It was reported late last night that the deal is worth $34M to $36M. Assuming it's $36M, that's an $18M luxury tax hit the next two years, and my quick math says the Yankees now have about $7M in wiggle room under next year's $206M luxury tax threshold. That's not much! The forthcoming Sonny Gray trade won't necessarily clear his projected $9.1M salary — the Yankees could very well end up taking back money in the trade — but that money will go to another roster need one way or another. So, between the $7M in wiggle room and Gray's projected salary, the Yankees have about $16M under the luxury tax threshold to find two relievers and a Didi Gregorius replacement, plus general depth. It seems like there's just enough room for a top setup reliever reliever ($10M to $12M per year), a lower cost reliever, and a cheap Gregorius replacement. It has been clear all winter that signing Bryce Harper or Manny Machado would push the Yankees up over the luxury tax threshold. At this point they'll probably have to go over the threshold to secure a second top reliever and/or a quality Gregorius replacement, someone like Scooter Gennett. I dunno, man. I just don't know. We'll see how Cashman & Co. address the rest of the roster now that Happ is back in the fold and the rotation is settled.