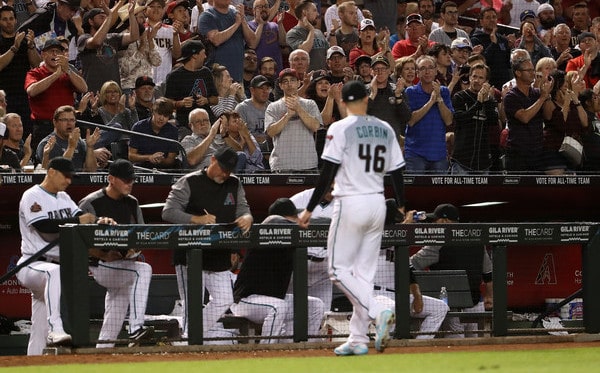 The best free agent pitcher on the market won't be signing with the Yankees. Patrick Corbin agreed to a massive six-year, $140M contract with the Nationals yesterday. It is the 13th largest pitching contract in history. The Yankees now have to look elsewhere to address their rotation. Let's get to the thoughts.
1. Missing out on Corbin the pitcher really stinks — lefties who miss that many bats and get that many ground balls are hard to find! — but the principle of it all bothers me more than anything. Why are the Yankees getting outbid for anyone this offseason? Their window to win is never going to get more open than it is right now. All the prospects have arrived and assumed big league roles. There are no more Aaron Judges or Gleyber Torreses or Luis Severinos coming. Those dudes are in the Bronx already. Also, young veterans like James Paxton, Aaron Hicks, and (the injured) Didi Gregorius have blossomed. Veterans like Masahiro Tanaka, Dellin Betances, and Aroldis Chapman are still productive. And the Yankees reset their luxury tax rate this season! When are they going to spend if not now? Corbin's not perfect, no one is, but he's really good and he was the best available free agent starter. He was available for cash. Now the Yankees will settle for a lesser pitcher because they didn't want to tack on a sixth year, a sixth year that very well might come after the window to win with this group has closed. How do you spend all offseason saying the priority is starting pitching, only to let the best available starter get away because you don't want to pay him in what will be Aaron Judge's age 32 season? There's a lot of winning that has to be done between now and then.
2. So what do the Yankees do now? The easy answer is pivot to J.A. Happ. They've been connected to him throughout the offseason and of course Happ pitched quite well for the Yankees this past season, making eleven starts with a 2.69 ERA (4.21 FIP) in 63.2 innings. He stunk in his one postseason start but I'm not going to get bent out of shape about that. Happ's solid. Getting him on a one-year contract would be ideal but it'll probably take two years — giving Happ a third year covering his age 38 season would be rich after not wanting to sign Corbin for his age 35 season — given the market. Several other clubs are said to be in on him as well. Happ is fine but is just so underwhelming to me. He's a just turned 36-year-old pitcher who throws a ton of fastballs and saw his fastball spin rate dip noticeably this year. That's a pretty big deal! I just feel like, with a pitcher this age and this skill set, you're hoping he maintains his 2018 performance (3.65 ERA and 3.98 FIP) and doesn't slip any further. There's not a whole lot of upside here. Meh. Bringing Happ back is the easy and most straightforward move but it doesn't move the needle much for me at all. He'd be fine. That's all. Fine.
3. Personally, with Corbin now in Washington, my preference for addressing the rotation would be circling back with the Indians about Corey Kluber and Carlos Carrasco. The Yankees and Indians did have a face-to-face meeting about those guys at the GM Meetings, remember. The Yankees used their best trade chip (Justus Sheffield) to get Paxton and that figures to make it awfully difficult, if not impossible, to nab Kluber or Carrasco. Would the outfield needy Indians have interest in Clint Frazier? How desperate are they to unload the $17M they owe Jason Kipnis next season? (Kipnis comes with an $8.75M luxury tax hit.) Is there a three-team trade scenario possible? Maybe something like this:
Yankees get: Kluber or Carrasco
Indians get: Mitch Haniger
Mariners get: Sonny Gray (they want him!) and prospects from the Yankees
Who knows whether something like that is possible. Point is, I don't want the Yankees out there looking for someone who can simply fill the rotation spot capably a la Happ. There's value in that, believe me I know, but I want a high-end starter with the potential to dominate every five days. The Yankees definitely have that in Severino, second half skid notwithstanding, and I believe they have that in Paxton as well. I want another guy like that and either Kluber or Carrasco would fit. Going hard after those dudes before settling for Happ is my preference. (Trevor Bauer is insufferable. Hard pass on him even though he's really good.)
4. Does losing out on Corbin make the Yankees more interested in Yusei Kikuchi? Kikuchi is the youngest starter on the free agent market and, based on the data and scouting report, he is similar to Corbin as a left-handed slider machine. He also comes with a history of shoulder problems and no MLB track record, which makes him risky, and that risk will presumably be reflected in his contract. I can't see Kikuchi approaching Tanaka's posting system record seven-year, $155M contract. Something like five years and $50M would be more appropriate, I think, but crazy things can happen if there's a bidding war. Kikuchi's 30-day negotiating window officially opened yesterday — I haven't heard anything about him meeting with teams yet, though I imagine there are plans and a schedule in place — and reports indicate the Yankees want another starter before the Winter Meetings begin next week, and Kikuchi doesn't match up with that timeline. The 27-year-old southpaw may be preferable to guys like Happ, Nathan Eovaldi, Charlie Morton, and Dallas Keuchel though. I dunno. Just a thought.
5. So, what are the odds Sonny Gray is better than whomever the Yankees bring in to plug the open rotation spot? Not good, I don't think, but it's not entirely impossible either. I mean, do you really have to try all that hard to envision Gray being more valuable than Happ or Eovaldi or Morton in 2019? Not really! Sonny is a goner. Brian Cashman and the Yankees have made that very clear this offseason — pivoting now and keeping Gray would be kinda awkward, eh? — and I think it's for the best. I wanted it to work, I've been a pro-Sonny guy for years now, but it didn't work and it's best the Yankees cut their losses rather than hope something changes next year even though nothing's changed the last year and a half. They get something in return in the trade and Gray gets a fresh start somewhere else. A trade is the best thing for both parties. Still, can't you see Gray performing well with his next team, better than whomever the Yankees get to fill the rotation, and everyone complaining they gave up on Sonny?
6. The Yankees are going to sign Bryce Harper or Manny Machado, right? They really should sign them. Both of them. One would be okay but both are preferred. It's not often you get the opportunity to add a 26-year-old mega-talent through free agency and it is basically never that you get an opportunity to add two 26-year-old mega-talents through free agency. The Yankees have the money to sign both even though they like to pretend they don't. Machado at short until Gregorius returns makes too much sense. Harper? They'd figure out a way to make the crowded outfield work. These things always take care of themselves. (Easiest solution is moving Brett Gardner to the bench full-time.) The Yankees don't have to worry about paying Corbin $20-something-million a year now, so they should redirect the savings to Machado and Harper. Heck, even if they signed Corbin, they should've still gone after Machado and Harper. I know I'm going all spoiled Yankees fan on here but damn yo, sign these dudes. Anytime the Yankees want to go back to acting like the Yankees is okay with me.