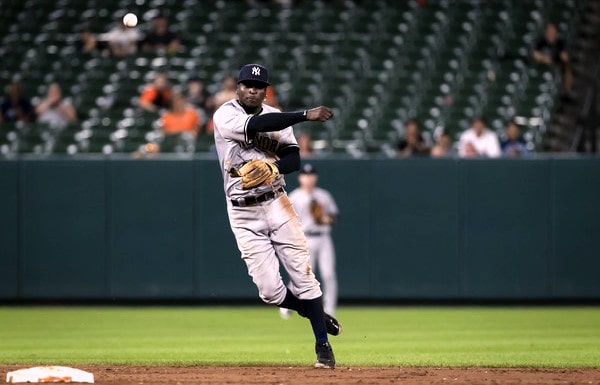 The offseason did not start well for the Yankees. During Aaron Boone's and Brian Cashman's end-of-season press conferences we learned Didi Gregorius needed Tommy John surgery and would miss the start of next season. We still haven't been given a definitive timetable for his return. May? June? September? We don't know. The Yankees have kept us in the dark so far.
No matter the exact timetable, we know Gregorius will miss some time next season, and that the Yankees do have to replace him. Gleyber Torres can play second base or shortstop and that gives the Yankees some options. I prefer finding a shortstop and keeping Gleyber at second, but there seem to be more second basemen on the market. "It all depends on the price point," said Cashman a few weeks when asked about a Gregorius replacement.
In a perfect world the Yankees would replace Gregorius with, well, Gregorius. A left-handed hitter with contact skills and some pop who adds above-average glovework. Guys like Didi are really hard to find though. That's why losing him is such a huge blow. There aren't many players like him. In terms of basic skills, I'd prioritize them like this while searching for a new middle infielder:
Defense.
Hitting.
Speed and baserunning.
Left-handed hitter.
Give me another quality righty hitter over a lefty hitter simply for the sake of adding a lefty hitter. My top priority is defense though because geez, the Yankees are looking rough on the infield. Collectively, the infield was sixth worst in baseball this past season at -56 DRS (mostly due to Miguel Andujar's -25 DRS) and that was with Sir Didi. Gregorius is the Yankees' best defensive infielder and not by a small margin either. Now he'll miss part of next season.
The bullpen strikes everyone out — I suppose this could change depending how the Yankees replace Zach Britton and especially David Robertson — so infield defense ostensibly isn't a huge concern there. The starters, however, are primarily ground ball pitchers. Ninety-one pitchers threw at least 250 innings the last two seasons. Some ground ball rate ranks:
7. Sonny Gray: 51.5%
22. Masahiro Tanaka: 48.3%
26. CC Sabathia: 48.1%
37. Luis Severino: 45.8%
56. James Paxton: 42.1%
MLB Average: 43.2%
Gray is as good as gone so we should probably ignore him even though he is still on the roster. Otherwise three of the four starters have run better than league average ground ball rates, and if the Yankees were to sign Dallas Keuchel (58.7% grounders) or Charlie Morton (49.6% grounders), they'd add another high ground ball rate pitcher. In Yankee Stadium and the AL East, you need ground balls. The Yankees get them. But can they field them?
The Yankees, as presently constituted, are not poised to field a strong infield defense. They were able to mitigate the damage somewhat with infield shifts in 2018 — the Yankees allowed a .225 BABIP on ground balls while shifting compared to .282 BABIP on grounders with no shift — and I'm sure they'll stay shiftin' next season too. Otherwise Torres has been error prone in his brief MLB career, Andujar has been a mess at the hot corner, and neither Luke Voit nor Greg Bird is anything special at first base. The infield defense is not good. It's not.
While losing Gregorius is a blow to the offense — Didi hit .268/.335/.494 (121 wRC+) with 27 homers this past season and that includes his miserable May — the Yankees are better able to absorb the offensive hit than they are the defensive hit. They do have some offense to spare. That doesn't mean I want them to replace Gregorius with a true all-glove/no-hit guy like Adeiny Hechavarria or Hanser Alberto. It just means they could survive offensively should they have to go that route.
Realistically, signing Manny Machado is the only way the Yankees could replace Gregorius and not downgrade. Maybe signing Marwin Gonzalez. Maybe. The free agent middle infield market isn't great and even a top trade candidate like Scooter Gennett is going to give you Gregorius level offense without the Gregorius level defense. There are very few players out there who can do what Sir Didi does at the plate and in the field at the same position. He's awfully valuable.
So, given the state of the pitching staff (rotation of ground ballers) and the state of the offense (dingers), I think the Yankees should prioritize defense with their Gregorius replacement. Offense would be great. I'll take as much of it as I can get. I just think defense has to be the top priority. The rest of the infield isn't good defensively and the Yankees are going to need someone to support the pitching staff in the field.