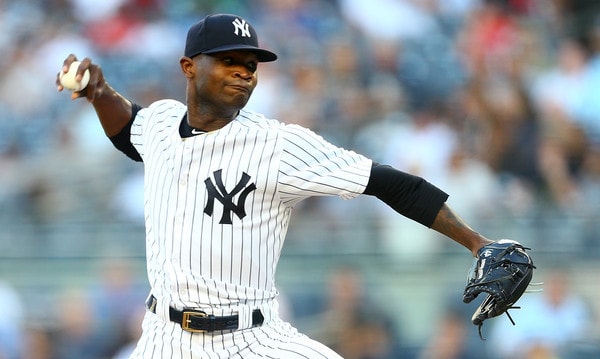 In a pleasantly surprisingly bit of news, Brian Cashman confirmed to Brendan Kuty that righty Domingo German has a fourth minor league option. That means the Yankees will be able to send him to Triple-A this coming season without exposing him to waivers. (Cashman also confirmed Luis Cessa out of options, which we knew already.)
Long story short, players get three options once they're added to the 40-man roster. That means they can be sent back and forth between MLB and the minors in three separate seasons with no issues. Once a player exhausts his three option years, he has to pass through waivers to go to the minors, which can create some roster headaches.
The eligibility rules for a fourth option year were complicated a few years ago but MLB has apparently simplified things. Here are the fourth option rules:
If a player misses an entire option year due to injury or expends his third option year before he has completed five professional seasons (Major Leagues and Minor Leagues included), he can receive a fourth option year.
German falls into the former category. He missed 2015, his first option year, rehabbing from Tommy John surgery, so that qualifies him for the fourth option. German used his original three options in 2015, 2017, and 2018. (He didn't use an option in 2016 because he was a non-40-man roster player after being non-tendered and re-signed to a minor league deal prior to the season.)
Alright, so what does this mean? It means the Yankees will again be able to use German as an up-and-down arm in 2019. Had he not qualified for a fourth option, he would've had to pass through waivers to go to Triple-A, and there's no chance he'd clear. Not at age 26 and not with an arm like that. The Yankees would've been forced to either keep German on their MLB roster, trade him, or lose him on waivers. Now they have more roster flexibility.
German pitched to a 5.57 ERA (4.39 FIP) in 85.2 innings spread across 14 starts and seven relief appearances last season. His strikeout (27.2%) and walk (8.8%) rates were good. He didn't get as many ground balls (37.4%) as his stuff would lead you to believe though. Because he can be sent back to Triple-A without passing through waivers, German is now the odds on favorite to serve as the spot starter/sixth starter this coming season (pending a Sonny Gray trade).
Cessa, Tommy Kahnle, Hanser Alberto, and Gary Sanchez are the only players on the 40-man roster who are currently out of minor league options. Aaron Hicks and Austin Romine are out of options as well, but because they have more than five years of service time, they could've refused a minor league demotion even if they had options.