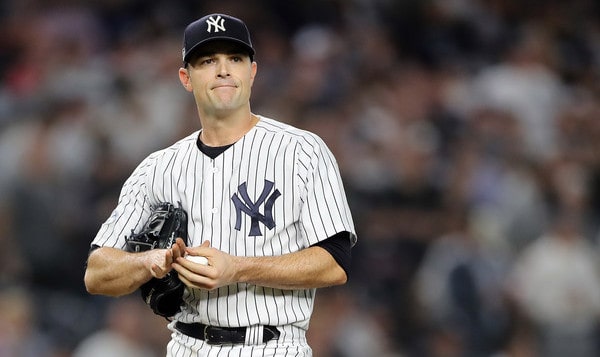 Once again, David Robertson is leaving the Yankees as a free agent. According to multiple reports, Robertson has agreed to a two-year contract with the Phillies. The deal guarantees him $23M and includes a third year club option. I gave Robertson two years and $25M as part of my 2018-19 Offseason Plan, so hooray for being in the ballpark.
The Yankees were not connected much to Robertson this offseason — they've been linked more to Zach Britton and Adam Ottavino — though he'd made it know he wanted to pitch close to his Rhode Island home. Two years and $23M is an extremely reasonable price for a durable end-game reliever who misses a ton of bats and will pitch in any role. Shrug. We'll always have this:
It's been reported the Yankees want to add two relievers this winter, and while adding two top relievers is always possible, my sense is they're looking at one top reliever and one mid-range guy. Carrying three eight-figure relievers in one bullpen doesn't seem all that likely, not when L.T.R.E.A.M. I thought Robertson was the top free agent reliever on the market. Pretty bummed to see him go.