The 2018 season was a very important season for Dellin Betances. Certainly the most important of his big league career and maybe the most important of his professional career. Betances collapsed down the stretch late in 2017 as his control deteriorated. More than a few fans wanted him traded in the offseason. Dellin had to right the ship last year to keep his spot in the organization.
Right the ship he did. Betances was one of the best relievers in baseball last year, throwing 66.2 innings with a 2.70 ERA (2.47 FIP) with an excellent strikeout rate (42.3%) and a walk rate (9.6%) below his career average (11.0%). He reclaimed the eighth inning setup role and, one year after being so far out of the picture that he didn't even warm up in the 2017 Wild Card Game (despite the Yankees needing 8.2 innings from their bullpen), he was the first man out of the bullpen in 2018 Wild Card Game.
Even after the Yankees bolstered their bullpen with Zack Britton and Adam Ottavino, Betances is firmly entrenched in Aaron Boone's Circle of Trust™, and he will again be counted on to get big outs this season. The Yankees have a different feel when Good Dellin lurks in the bullpen, ready to handle high-leverage situations. Let's preview his upcoming 2019 season.
Year two with new mechanics
Although he turns 31 next month and has been in the big leagues five years now, it's amazing how little has changed with Betances' stuff. His fastball still hums in the upper-90s and touches triple digits, and his two breaking balls — yes, he throws two different breaking balls — still buckle knees. Stuff wise, the Betances we saw last year was very similar to the Betances we saw back in 2014, when he first broke onto the scene.
Dellin is not the same pitcher as he was back then, however. Following his extreme control issues in 2017 — those weren't command issues, those were basic strike-throwing issues — pitching coach Larry Rothschild and bullpen coach Mike Harkey helped Betances get back on track by simplifying his mechanics. Specifically, they shortened his leg left. Here is 2017 Betances on the left and 2018 Betances on the right.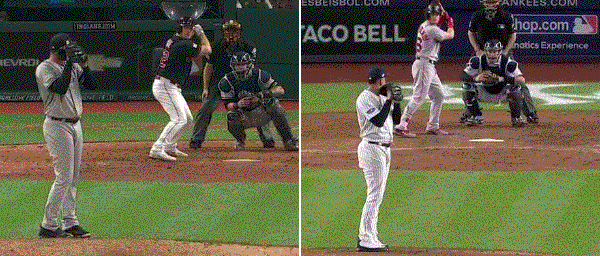 Betances is a big dude (6-foot-8 and 265 lbs.) and he's not the greatest athlete. Reducing the moving parts in his delivery worked wonders last year. It helped him locate and got him back to being that overwhelmingly dominant late-inning reliever. This was not an adjustment to compensate for reduced stuff. This was about Betances being more direct and over the plate, and it worked. The shortened leg kick will remain this year.
Given his history, there is always going to be some level of unpredictability with Betances. His bouts of extreme wildness date back to very early in his career, much further back than 2017, and even when he's at his best, there are times he'll come out of the bullpen and not know where the ball is going. You take the bad with the good with Dellin because the good is very good. Better than very good. It's historically great.
Betances will of course continue with the shortened leg kick this year. This is one of those "don't fix it until you're sure it's broken" situations. Baseball is a game of adjustments and Betances made the adjustment last year. If he has to make another adjustment this year, hopefully it will happen as quickly as it did last season. We've seen no loss of stuff at all. It's amazing, really. With Dellin, it's all about mechanics and being around the plate.
Going for a sixth straight 100+ strikeout season
Betances set two records last year. First, he struck out at least one batter in 44 straight appearances, the longest such streak for a reliever in American League history and the longest such streak for a reliever in a single-season in MLB history. (Aroldis Chapman and Corey Knebel had longer streaks across two seasons). Also, Betances became the first reliever in history with five consecutive 100-strikeout seasons.
Betances and Goose Gossage are the only relievers in history with five 100-strikeout seasons. (Gossage spread his across eight seasons from 1975-82.) This summer Betances can become the first reliever in history with six 100-strikeout seasons and he has a chance to do it in six consecutive seasons. Yes, all sorts of strikeout records are being broken nowadays, but that doesn't make this any less impressive. It speaks to Dellin's dominance and durability.
If Betances falls short of 100 strikeouts this season, my guess is it will because the Yankees scale back on his workload, not because he loses effectiveness. There are no indications Betances is about to stop missing bats. But, with such a deep bullpen, I wonder if the Yankees will look to keep him around 60 innings rather than 70 or so. Shaving ten innings off a reliever's workload can be really beneficial come postseason time, though it would reduce his chances of striking out 100+ batters again. We'll see. I hope Dellin sets the record. Would be fun.
"We are very deep and have guys who can strike out guys at a high level and give a lot of options to Boone to play with, and at the same time get our days off when we need them," Betances said to George King recently. "We still have great guys pitching no matter who that is. We feed off each other and have a great year."
Is an extension coming?
It sounds like it. The two sides are talking, if nothing else. Betances will be a free agent following the season and he's ducked extension questions in recent days — "It's a great team, a great group of guys. We have kind of grown up together. This is special and the years going forward. It's a great group of guys and I love playing here," he said to King when asked about a deal recently — which I guess isn't surprising. Players usually don't talk about contracts until they're actually signed.
The free agent market is pretty crummy these days but relievers are still getting paid. The Yankees gave both Zack Britton ($39M) and Adam Ottavino ($27M) three-year deals. Joe Kelly ($25M) and Jeurys Familia ($30M) also received three-year deals. Andrew Miller ($25M) and David Robertson ($23M) both received two guaranteed years. You can drop these guys into three buckets:
Turns 34 soon with elite track record: Miller and Robertson (two years with high annual salary)
Early 30s with elite track record: Britton (three years with high annual salary)
Non-elite track record: Ottavino, Kelly, Familia (three years with lower annual salary)
I'm open to arguments that Familia is elite. For our purposes, we can drop him into that third bucket. Betances hits the sweet spot like Britton. He is nearly three full years younger than Miller and Robertson, so he can demand that third guaranteed year, and he also sports a better and longer track record than Ottavino and Kelly (and Familia), so he can also seek the big dollars.
With the caveat Craig Kimbrel could change the reliever salary scale (probably not), Betances right now seems like a good bet for three years and $12M or $13M per season. Maybe he'd give the Yankees a slight hometown discount to stay in his actual hometown, and also lock in guaranteed money at a time when free agents are being shunned, but three years and $36M to $39M seems reasonable to me.
The Yankees are in the extension giving mode right now — they've signed the same number of players to extensions this month (two) as they did from 2005-18, so yeah — and Betances seems to be a top priority. He's an impending free agent, so there is some urgency to get a deal done soon, and he's very good. The two sides are talking, and while I wouldn't call an extension inevitable, it does seem like there's some momentum toward a deal.
And, if the Yankees do not extend Betances, it doesn't close the door on his return. The two sides could always revisit talks after the season. Maybe his free agent stock will go up, maybe it'll go down. It seems any concerns about bad blood stemming from the Yankees renewing Dellin's salary at the league minimum a few years ago and the acrimonious arbitration hearing were a waste of time. The two sides want to stay together.
* * *
A year ago at this time Betances was an unknown. Would the great version of Betances, the guy we saw from 2014 through the 2017 All-Star break, ever return? He did, and we saw him through the end of last postseason. There will undoubtedly be some hiccups along the way this season, but, on a per inning basis, Dellin is probably the Yankees' best reliever. He'll again be counted on to slam the door in the late innings of close games in 2019.