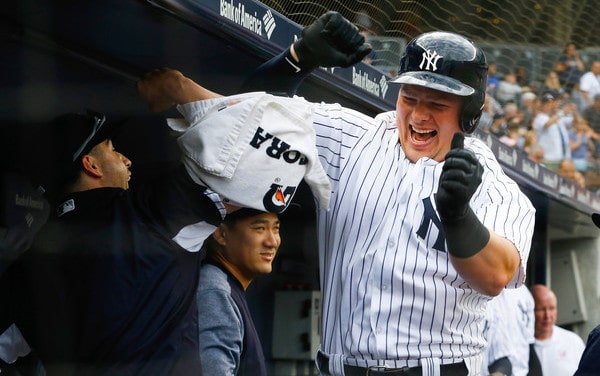 The Yankees find themselves in unfamiliar territory: their first basemen have been among the worst in baseball for the past three years, worth only 1.9 fWAR. Tied for 26th in the league with the Angels, that ranks ahead of only the Orioles, Mariners and Rockies— a steep drop off for a franchise that once wrote one of Don Mattingly, Tino Martinez, Jason Giambi or Mark Teixeira into its lineup every night for three decades. Despite this, the Yankees have displayed remarkably little interest in adding a new first baseman this offseason, but that's because Brian Cashman may already have found a worthy replacement in Luke Voit.
Acquired from the Cardinals at last year's trade deadline for Gio Gallegos and Chasen Shreve, Voit seemed to be another AAAA player destined for a perpetual shuttle between Scranton and the Bronx. That's exactly what he was in the beginning, hitting just .222/.263/.222 in 18 at-bats across 7 games. But then he got hot, hitting two home runs in a late August Friday matchup at Camden Yards, and he never looked back.
The Friday matchup was a springboard for Voit, who slugged .333/.405/.689 (194 wRC+) with 14 home runs in 148 plate appearances for the Yankees down the stretch. Many of those home runs either tied a game or gave the Yankees the lead (that was true for 5 of his first NYY 7 home runs), and his towering triple in the Wild Card Game against Oakland sealed the victory for the Yanks.
The Yankee front office is among the most analytically advanced in baseball, and it's particularly skilled at identifying seemingly forgettable players it believes are poised for a breakout—that's how Didi Gregorius and Aaron Hicks came to the Bronx virtually for free—and Voit himself had long been a target. A recent track record of front office success like that, coupled with those eye-popping numbers, is almost enough to make you forget that his success came in only 148 plate appearances.
Small sample sizes, especially during critical moments down the stretch, often hide flaws and trends that will only be exposed over the long-term, like a hole in a swing or an abnormally high batting average on balls hit in play (BABIP). Look at Voit's 2018 numbers, and you'll see that he struggled to hit high-velocity fastballs and sported a .381 BABIP—two trademarks of inflated performance. Nobody reasonable expects Voit to put up a 200 wRC+ in 2019, that doesn't necessarily mean that he is wholly a product of a small sample size. Look further behind the curtain and what you'll find is a hitter with a foundation for future success.
The most common explanation we hear for a high BABIP is that a higher percentage of grounders are finding their way through holes or weak fly balls land in unmanned areas, but that's not the only reason. Another reason is that a player might be consistently making the sort of contact that generally results in hits, hitting the ball hard and at the right angle off the bat. Voit's publicly-available Statcast data shows that the latter is true for him.
Voit put exactly 100 balls in play (BBE) last year, and 54 percent of them left his bat at 95 mph or greater—good for 3rd in the league among all players with a minimum 100 BBE, behind only Miguel Cabrera and Aaron Judge.
Hitting the ball hard is only half of the job, though, and Voit also excelled at elevating those balls that he hit hard. The technical term for such contact is a barrel, and it's considered the optimal outcome for an at-bat; batters hit .822 with a 2.386 slugging percentage on barrels in 2016, underscoring that the type of contact made is a more important factor than anything else in predicting success.
Voit produced barrels in 12.4 percent of his at-bats down the stretch, a mark that was tops in the league among all batters with a minimum 100 BEE. These figures help explain why 19 of Voit's 44 hits (43 percent) went for extra-bases, and why 14 of those went for home runs: these weren't cheap hits. Alongside those results was complementary patience, as Voit saw more pitches per plate appearance than league average and walked in 10 percent of his plate appearances. The eye-test supports this data, as Voit rarely looked overmatched.
Again, it's a small sample—but a player can only produce in the opportunity he's given, and there's no arguing the fact that Voit's offensive successes in New York were well-earned.
What this all means for 2019 is hard to say. Repeating the success he found in September is highly unlikely unless you believe that Voit is suddenly, at age 27, one of baseball's best hitters. But his batted ball data does suggest that Voit has the potential to give above-average production at first base for the Yanks—something that hasn't happened in three years—and that he can be another power-hitting force in baseball's most powerful offense.
For what they're worth, the projections on him are varied. Baseball Prospectus' PECOTA optimistically casts him the 22nd best hitter in baseball, which would be great but feels entirely too optimistic. Fangraphs' Steamer, by contrast, suggests a more down-to-earth but still productive 115 wRC+. Both would make Voit the Yanks' most productive first baseman since 2015 Mark Teixeira, and even a 115 wRC+ would be quite remarkable for a player following Voit's career trajectory.
Perhaps both projections are too optimistic; after all, 148 plate appearances is not a lot, and perhaps his vulnerability to high-velocity fastballs will catch up to him or he was just simply hitting AAAA September pitching hard, inflating his numbers. But even with the requisite red flags and sample size warnings, there is more than enough evidence to suggest that Luke Voit is for real, and that Brian Cashman has found yet another hidden gem.