I'm pinch-hitting for Mike again, and I have thirteen questions to work with. As always, you can send your questions to RABmailbag (at) gmail (dot) com and we'll get to as many as we can each week.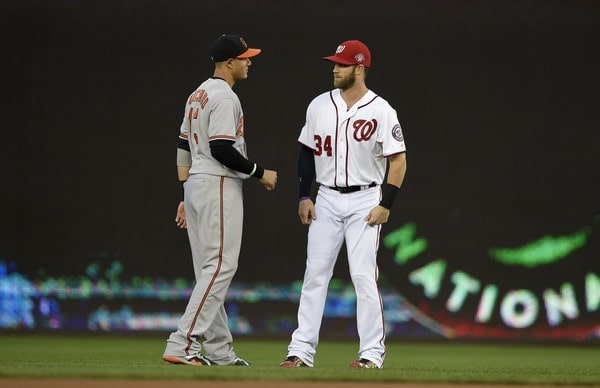 Steve asks: The Players Association is floating the idea of having less team control in the next CBA. I think owners would welcome the chance to determine what they want to pay rather than have an arbitrator decide for them especially given the recent weak free agent markets.
Do players fare better in their last year of arbitration than they do as free agents in recent years?
It kind of remains to be seen, doesn't it?
Bryce Harper ($21.625 MM) and Manny Machado ($16 MM) should be locks to do better in free agency than they did last year, but it remains to be seen if that'll happen. If I had to guess, I still think they'll both do better – but I'm less confident about Harper besting last year's salary than I was even a few weeks ago.
Last off-season, the top-tier free agents almost unanimously bested their salaries from their final year of arbitration eligibility. J.D Martinez, Eric Hosmer, and Jake Arrieta all fared significantly better in terms of AAV, as did Alex Cobb and Zack Cozart (albeit with much less money overall). The lone exception is Mike Moustakas, who ended up taking a $3.2 MM paycut in re-signing with the Royals on March 10.
It's difficult to draw parallels to the top-tier free agents this off-season, as precious few of them have actually signed. The largest contracts have shook out as follows:
Patrick Corbin made $7.5 MM in 2018, and his new contract will pay him an AAV of $23.333 MM over the next six years.
Nathan Eovaldi is something of a unique case, given his injuries, but he did well, too, jumping from $2 MM last year to $17 MM per season through 2022.
A.J. Pollock made $7.75 MM last year, and will earn a minimum of $13.75 MM per year for the next four years.
Andrew McCutchen is coming off of a team-friendly contract extension, and will earn about $2 MM more per year.
Zack Britton received a $1 MMish raise over the next three years.
J.A. Happ received a $4 MMish raise over his previous free agent contract.
It has unfolded in a similar manner – lest we forget that Jake Arrieta didn't sign until March last year – which sees players getting raises, but only the upper-echelon players receiving significantly more. However, the mid-level free agents have been squeezed in back-to-back off-seasons now; and it isn't just traditional free agents.
Over the past two off-seasons, we have seen Mike Fiers (121 ERA+ in 172.0 IP), Matt Adams (115 OPS+ in 367 PA), Jared Hughes (146 ERA+ in 59.2 IP), Derek Dietrich (112 OPS+ in 551 PA), Wilmer Flores (107 OPS+ in 429 PA), and Blake Parker (128 OPS+ in 66.1 IP) non-tendered coming off of solid seasons, despite relatively minuscule arbitration figures. And those of them that did end up signing ended up receiving less than their estimated arbitration figures; it's a disconcerting trend, to say the least.
The short version of this long-winded nonsense is that most players that go from their final year of arbitration eligibility to free agency tend to get a pay raise, though it's often comparatively modest.
Bob asks: Great job on the Prospect List! I noticed that many of the power arms have command, control or third pitch issues and may be headed for future relief roles. Hitting generally can be taught (i.e. launch angle, backspin, plate discipline) and improved through at-bats. Is it more difficult to teach command, etc.? While relievers are valuable, guys who can go through the lineup 2-3 times are more valuable. Wouldn't a focus on command and multiple pitches rather than selecting big kids who can throw a ball through a brick wall garner more starting pitchers?
It is an almost universally-held belief that command is the most difficult thing to teach a baseball player. It's not just a matter of teaching a pitcher how to locate; it involves overhauling mechanics, changing speeds, accounting for the movement in one's pitches, and the like. It's something that pitching coaches try to work on at every level, but it's incredibly difficult to do.
I base this on nothing by my own observations and anecdotal evidence, but it seems like experience is the only thing that can truly teach command. Randy Johnson was pushing 30 when he harnessed his control, and the command came shortly thereafter. Bartolo Colon didn't become an artist at the corners until he was in his 30s, either. It's not all that uncommon to see that sort of thing click as a pitcher learns his craft at the highest level – but that's not really an answer, either.
David asks (short version): The proposed three batter rule will have a significant effect on teams like the Yankees that like to have a defined inning for each reliever. Under the current system, assume Sevy goes 7.1 innings before tiring or reaching his maximum pitch count. Assuming the score is close, the Yankees would go to Dellin for the last two outs of the 8th. They would then go to Chapman in the 9th. Under the new rule, if Dellin faced 2 batters and got 2 outs, they couldn't go to Chapman in the 9th because Dellin didn't face his third required batter. Don't you think this qualifies as a huge impact on the Yankees?
This is actually a common misconception that I've been seeing all over Twitter and other blogs. The three-batter minimum, as per ESPN's Jeff Passan, "[t]he rule would apply to all pitchers, except in instances in which pitchers finish an inning or are injured, sources said." Therefore, in this particular situation Betances would be free and clear after those two outs.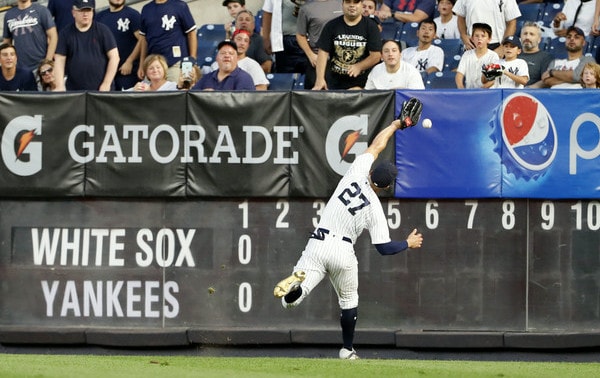 Rob asks: Why do you think the yankees were willing to pull the trigger on Stanton (a weak defensive outfielder they didn't really need) instead of waiting for Machado (gold glove 3B they need) for a very similar AAV?
Stanton isn't – or wasn't – a bad defensive outfielder. UZR/150 has him as 5.1 runs above-average in right for his career, and DRS/150 has him at roughly 7.0 runs saved per year. And that's in 8590 inning out there, so it's a very compelling sample size. He looked bad at times in left last year, to be sure, but he was learning a new position in a new park with a new team, so I'd hazard that his struggles are understandable.
I also don't think it's quite fair to say that the Yankees didn't really need him. They had a void at DH, and he was the reigning (and deserving) NL MVP. Stanton was certainly something of a luxury – but can't you say the same thing about Machado now, given how well Miguel Andujar played last year? Machado's a big upgrade, but so was Stanton over Jacoby Ellsbury or whoever else they would've trotted out to DH.
And the AAV isn't necessarily similar. Stanton's luxury tax hit for the Yankees is around $22 MM for the entirety of his deal, due to the money chipped-in by the Marlins. We don't yet know what Machado will earn, so it's difficult to make a comparison – but most folk felt that he was a lock for $30 MM+.
Now, as to the why of all of this: I don't know that they go hand-in-hand. The Yankees, despite whatever statements to the contrary, have the money to sign Machado. The issue is that they're functioning on self-imposed austerity. More to the point, though, Stanton was available last off-season for scraps, and he made a great deal of sense at the time. Without Stanton, do they break 100 wins and make it to the ALCS last year? Probably not.
Frank asks: I was looking over the PECOTA projections and 3 things struck me as odd.

1.  LeMahieu's 3.0 WARP
2.  Voit's          1.3 FRAA
3.  Hicks'          -7.3 FRAA

Are any of those projections really valid based on each player's history?
LeMahieu stands out the most to me, as PECOTA projects him to slash .290/.358/.417 in 594 PA, which is superior to what he did last year in fewer plate appearances … and he posted 4.2 WARP in 2018. The issue, however, seems to be entirely tied to defense: he had 20.1 FRAA last year, and they're projecting 6.2 FRAA in 2019. Is that fair? Maybe. FRAA had him as a scratch defender from 2013 through 2016, so it's not shocking to see quite a bit of regression there – especially when they also forecast him bouncing between three positions.
Voit's defense is interesting, because the metrics are all over the place. FRAA, DRS, and UZR loved him in 186 innings in 2017, and hated him in 287 innings lat year. The eye test isn't friendly, though, so I think that it's likely that he is a negative defender at first. But, given the small sample sizes, I don't really have a strong opinion on this.
And FRAA had Hicks at -8.6 last year, so they actually have him improving a bit. This one I just straight-up don't buy, though. It doesn't jibe with the eye test, and DRS and UZR both had him as average last year (and well above-average before that).
Rex asks: A die-hard Yankee fan since 1955, I've always used batting average,rbi's, and home runs to gauge a players production. I lose interest in a story when terms like WAR,BABIP, and other analytics  are used…simply because I don't understand them…and I would bet the grocery money that I am not alone in this! Would you please publish a list of these terms, and a short summary on why we should give a damn about them. I was in broadcast news 35 years and learned I should not assume that my audience knew what I knew about a topic.
We do have a glossary of the statistics that are frequently used around these parts, which you can find here.
Paul asks: Do you think teams may be waiting for spring training to sign free agents since they can move their injured players to the 60-day IL instead of having to DFA Fringe 40-man players?
I hadn't considered this until reading this e-mail, but it wouldn't surprise me if we see a mild flurry of activity once the 60-day injured list opens for business. Flurry may be too strong a word, considering that there may not be all that many players that will hit the injured list – but, given the preciousness of 40-man roster spots, it could help out some of the lower-level free agents that are looking for a gig with a real shot at playing time.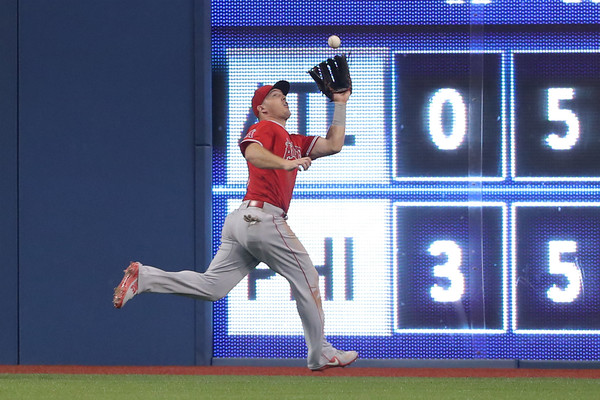 Mike asks: I'm just trying to find a positive in the Yankees not signing Harper. Do you think they're passing so they can  sign Trout instead?
Sure. And then they'll pass on him to sign Francisco Lindor the next off-season. And then they'll pass on Lindor to sign Alex Bregman the following year.
Any claims that the Yankees are passing on 'x' now to sign 'y' later are disingenuous at best; or, if it's a legitimate strategy, foolish. Counting on players to retain their skill level, stay healthy, and not sign an extension is a recipe for disaster – especially when it comes at the cost of a better chance of winning now.
John asks: The farm system rankings are confusing me. Experts are ranking the Yankees system in the bottom half of the league (19 by Law and you agreed on your chat). However from reading you and those same other sources, very few teams have this many uber talented 17-19 year old players. Even Keith Law says that players like Pereira are poised to jump into the top 100 this year. No one would be surprised if Cabello (still don't get how people compare him to Vlad and Soto and don't rate him higher), Pereira, Deivi, Freicer Perez, Roansy Contreras, Seigler, and a bunch more prospects shot up prospect lists. Most teams would rather have star potential then a bunch of solid players. Granted most will miss but there are so many talented young players, that some will break out. I don't expect the Yankees to have a top 10 system with only 2 or 3 top 100 prospects, but I find it hard to believe there are 18 other baseball systems that I would rather have then the Yankees. Am I missing something?
I think you answered your own questions without really knowing it – the vast majority of their big-time potential stars are teenagers that have not yet sniffed the upper minors, meaning their risk factors are higher. Injuries don't help, either. With that in mind, take a look at their top-ten prospects:
Estevan Florial – missed two months last season; has yet to reach Double-A
Jonathan Loaisiga – has thrown just 184.1 IP in six seasons; missed a month with shoulder soreness last year
Anthony Seigler – 19-years-old; 2018 draft pick; may not reach full-season ball this year
Everson Pereira – 17-years-old; has yet to play full-season ball
Antonio Cabello – 18-years-old; has yet to play full-season ball
Deivi Garcia – 19-years-old; one start above High-A
Roansy Contreras – 19-years-old; has yet to play full-season ball
Albert Abreu – has battled injuries (including elbow inflammation) in each of the last two years
Mike King – probably MLB-ready
Luis Medina – 19-years-old; has yet to play full-season ball
Is there a hell of a lot of talent here? Absolutely. But eight of those guys are pretty far from the majors, and one of the two that's knocking on the door has never been healthy for a full season. That makes for what might just be the highest-risk, highest-reward farm system around – but the beta is tremendous.
Adam asks: 12-ptch roster limit. I, too, am not in favor of this proposed rule change. Assuming this winds up getting approved, do you think there's a way to game the system i.e., label a pitcher as a "position player" under the pretense of using him as a bench bat and then subsequently bring that "position player" in as a pitcher? After all, position players do pitch here and then. Or would MLB just deem this to be blatant circumvention of the rule?
There's no way MLB would let this fly. I'm assuming that the team will have to name their pitchers in advance of the game (or whenever they adjust their roster), and only those designated as pitchers will be able to head to the mound. The wrinkle, of course, is someone like Shohei Ohtani, who might require the changes to the roster to be game-by-game.
Tim asks: The question I've been asking myself during the whole Machado/Harper discussion is this: how great is the incremental improvement to the team from one superstar, versus the opportunity cost of spending the money in the future when a more dire need is evident. It's clear that the team is now adhering to a budget of sorts. Who doesn't want a superstar, but if the choice is to sign Machado now and have the offense get marginally better (ok, and the defense much better), or be able to trade for a couple of key players in July because of injuries, I know which way I'd go.  Same thing for signing free agents next winter and all the future off seasons.  I'd rather the money was spent on a CC replacement, not improving the offense.  Does that make sense or am I ignorant on some of the financial implications?
What you're saying definitely makes sense, there's just a great deal of nuance in there.
Signing a player now gives you that added value for the entirety of the season. The difference between (hypothetically) the current set-up – Andujar at 3B, Gardner in LF, and Stanton at DH – and a Machado-based set-up – Machado at 3B, Stanton in LF, Andujar at DH, and Gardner as the fourth outfielder – adds a ton of value throughout the season. You're essentially replacing Gardner with Machado in this instance, while also improving the bench.
I do agree that I would've rather spent money on a larger rotation upgrade than Happ, but the Yankees balked at Corbin's price tag, and there wasn't really a better option at that point. There's always an opportunity cost to passing on someone or waiting to see who becomes available, and they have paid some semblance of a price as a result. And, for whatever it's worth, I'm not sure that I loved Corbin at that price, either.
You also have to make the best of whatever is available. Would a rotation upgrade be better? Perhaps. But when there's generational talent available on the position player side of things, adding two or three wins there instead of overpaying for a marginal rotation upgrade makes sense.
And, getting to the core of your question, I don't like putting off something today on the off-chance that you can get something better tomorrow. Putting the best possible product on the field on Opening Day inherently has more value than waiting for a weakness to develop and tackling it in-season. The costs will be higher, and that's assuming that there's a solution on the market. Besides, signing Machado or Harper now shouldn't mean that they can't trade for a reliever or fifth starter on July 31 – they just cost money, after all.
Their budget is another wrinkle altogether. But we can't anticipate what their needs might be in July, and waiting to see what happens seems like a recipe for disaster.
Austin asks: How many first round picks have really panned out? I completely agree that the system is broken, and needs to be corrected in many ways, but how many first rounders really have a good career? I can't imagine its that many. It's really hard to play in the major league. The numbers probably say he doesn't have a good chance. 
Kyler Murray was the 9th overall pick. As per Baseball-Reference, 34 of the 54 9th overall picks reached the majors, and combined to produce 269.3 WAR (or 7.9 per big leaguer). And that list includes several quality players, including Javier Baez, Kevin Appier, Barry Zito, Geoff Jenkins, Mark Kotsay, Ron Darling, John Danks, and Michael Cuddyer. Appier was the only truly great player on that list (though, Baez appears to be on his way), but that's not an insignificant number of solid major leaguers. And that's just from the slot in which Murray was drafted.
Let's take a look at how the first round picks from 1998 to 2007 worked out:
1998 – 69% reached the Majors and produced an average of 10.3 WAR
1999 – 47% reached the Majors and produced an average of 9.2 WAR
2000 – 57% reached the Majors and produced an average of 7.5 WAR
2001 – 59% reached the Majors and produced an average of 8.7 WAR
2002 – 65% reached the Majors and produced an average of 12.7 WAR
2003 – 72% reached the Majors and produced an average of 7.6 WAR
2004 – 82% reached the Majors and produced an average of 7.0 WAR
2005 – 77% reached the Majors and produced an average of 10.9 WAR
2006 – 75% reached the Majors and produced an average of 8.3 WAR
2007 – 65% reached the Majors and produced an average of 6.4 WAR
That's a ten-year sample wherein roughly 67% of first-rounders reached the big leagues, and produced an average of 8.9 WAR. That may not sound like much, but there are diminishing returns with each and every round. Moreover, 8.9 WAR really isn't a bad mark for one's career. And while that may not mean that a player is a lock to reach the show or be much more than a bench player or reliever when they get there, that group nevertheless has he best chance of reaching those not-so-lofty heights.
Bill asks: There's been talk of Collusion between owners, i know it's almost impossible to prove BUT if it was proven that the owners colluded to drive down FA prices, what could the consequences possibly be for them? 
The owners have been found guilty of collusion three times before, all in the 1980s. They ended up settling those suits and paying the MLBPA a $280 MM settlement, which the union decided how to distribute to its members. Players that had signed below-market deals were also allowed to field new contract offers in some cases (though that was fairly limited), without having to lose their current deal. I suspect that we'd see something similar this time around – albeit with a much larger dollar figure.