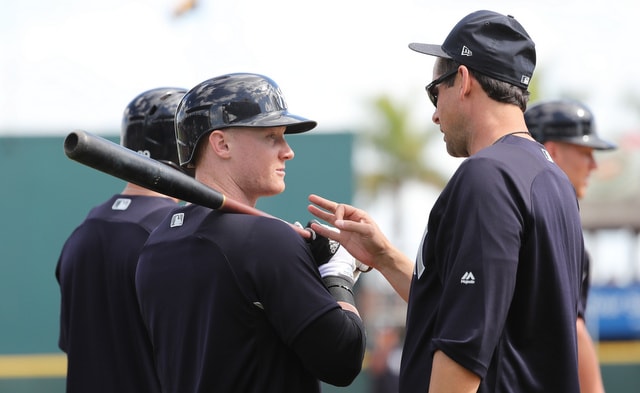 Left field has been a source of stability for the Yankees ever since Brett Gardner took over in 2010. Yet, as the saying goes, all good things must come to an end. We started to get an idea of what life would be like without Gardner after last summer's Andrew McCutchen trade. Obviously, McCutchen departed to Philadelphia, but that doesn't mean Gardy is without competition this year. Clint Frazier is finally ready to enter the fold.
Frazier struggled with concussion systems throughout last season. Had he been able to return, it might have been him instead of McCutchen taking playing time from Gardner. Nonetheless, Frazier has been cleared for spring training and now has a chance to capitalize on this opportunity. He's made it crystal clear that he wants Gardner's job:
"I've got to go out there and prove to the guys that I'm healthy, and show that the guy that's been there for the last 10-plus years is someone that I can compete with," Frazier said Wednesday. "I want to show that I want to take his spot, whenever the time comes…I'm trying to make sure that the way that I'm going about this goal of mine is in a respectful way to him and everybody else as well."
I really like hearing that from a young player. Of course he wants to start, that's the dream. It's not like he dissed Gardner, quite the opposite in fact. So, what will it take for Frazier to achieve his goal?
Opening Day
Never say never, but I wouldn't count on Frazier trotting out to left field on March 28th. The Wildling has a lot of rust to shake off. Remember that his season was over after mid-July last year, despite a few attempted comebacks. His 283 plate appearances across the majors and minors were a lot more than I realized he had last season, but still, that's a lot of missed playing time.
What if Frazier rakes in spring training? It probably doesn't matter. Gardner is going to get the job as long as he stays healthy. Plus, buying into preseason performance is never a good idea. Getting the 24 year-old through spring training healthy should be the priority, anyway. The safe bet is that Frazier will get an extended opportunity to shake off the cobwebs in Scranton.
The only way I can see Frazier with the Yankees to start the season is if a couple of other outfielders are hurt. I don't think one injury is enough to get Frazier on the team, as the Yankees could simply shuffle the alignment of Gardner, Aaron Hicks, Aaron Judge, and Giancarlo Stanton as needed. If two of those guys go down, it's a different story. As much as I'd like to see Frazier in the big leagues, I'd rather not have it happen because of injuries.
Mid-Season
Frazier might not need too much time in Triple-A if all goes well. He posted a 170 wRC+ in 216 plate appearances with the RailRiders last season, and if he's anywhere remotely near that stratosphere after a few weeks, why keep him there? A somewhat understandable reason would be that Gardner is playing well. But if that's not the case, the Yankees' good faith in monitoring Frazier's health could actually become their ace in the hole. In a bad faith sort of way.
According to Frazier's Baseball Reference player page, he has one year and 57 days of major league service time. The regular season is 187 days long, but a player only needs 172 to accrue one full year. That means Frazier needs 115 days on the major league roster to get to up two years of service (#math). My guesstimate is that June 9th would be the day the team is free and clear to promote Frazier for good while obtaining an extra season of control. I absolutely hate that idea, and the Yankees should never operate that way, but I don't think it can be discounted. The Yankees could easily play it off as ensuring that Frazier is completely back in the swing of things.
We'll see Frazier this summer, service time manipulation or not. It's difficult to imagine Gardner bouncing back, or at the minimum, avoiding his annual second half fade. Frazier has the ability and desire to be the starter. It's just a matter of when, assuming good health.
Wait 'til next year
A few things could go wrong to prevent Frazier from taking over this year. It's not something anyone wants to think about, but it can't be disregarded as a possibility.
Setbacks happen. We saw how many Frazier had last summer. Would it be a surprise if any of his concussion symptoms recurred again? The good news is that he's been cleared for camp, but it's still such a scary thing to come back from. Granted, it would take a season of misfortune with setbacks for him not to ever get a chance to become the starter. I'd like to think he's due for some good luck this year.
Another possibility, albeit highly unlikely, is that Gardner hits his 90th percentile projection. That would basically be what he did in 2017, but better, right? I'm thinking .280/.375/.460 with 20-plus homers. It would be pretty hard to replace Gardy if he did that. That scenario is pretty doubtful, though it would be fun to see Gardner come up for one last breath of air.
A new team
Most of the Yankees' trade pieces are pretty far away from the majors. Frazier isn't technically a prospect anymore, but he certainly feels like one, and if he re-establishes himself this year he could become the Yankees' best chip at the deadline. Even if Gardner struggles, the Yankees could shift Stanton into left field regularly, leaving Frazier the odd man out. With Hicks and Judge in the other two outfield spots, Frazier might find a better opportunity elsewhere.
Final thoughts
Frazier is a personal favorite of mine, so I'd like to see him get the job sooner rather than later. That's nothing against Gardner, who's been a lot of fun to pull for too, but his time has almost come. Of all the scenarios I laid out, I believe that a June promotion is what we'll see. There's always the chance of an injury forcing the team's hand sooner, but I have a sinking feeling that the team will use his return from the concussion as a reason to get an extra season of control.