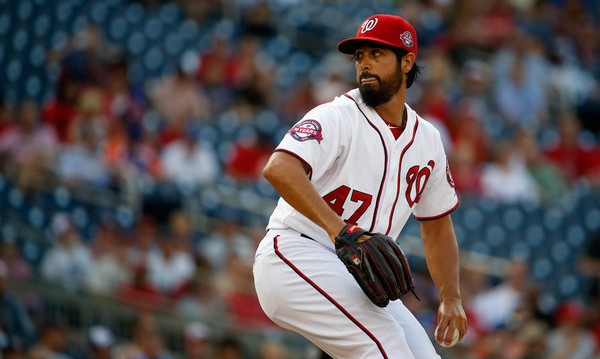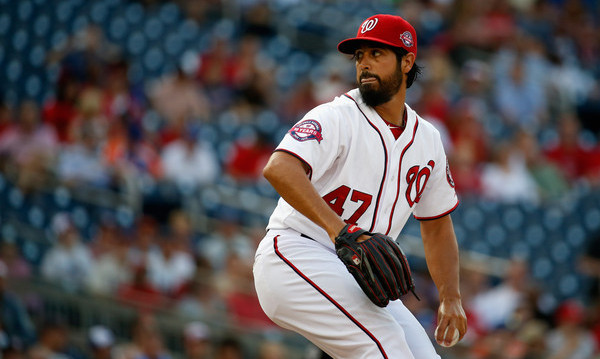 Last week, I wrote the first nice thing I think I've ever written about Luis Cessa, which was predicated on him being a reliever, not a starter. A day later, Luis Severino had to stop warming up for a game because of right shoulder inflammation. Later on in the week, the Yankees announced that both Severino and CC Sabathia would be starting the year on the Injured List and all of a sudden, Cessa, Domingo German, and Jonathan Loaisiga are staring down an opportunity to make the Major League rotation to start the year, rather than the bullpen. As this will shallow the Yankees' depth, it may make sense to search outside the organization for help; that brings us to Gio Gonzalez.
I'm going with Gonzalez rather than, say, Dallas Keuchel because last week, Gonzalez was linked to the Yankees, not Keuchel. I'll also say, in the spirit of disclosure, that I've always liked Gonzalez as a pitcher. Why? I have no idea; he's just a guy I've always been a fan of. This bias of sorts leads me to think that he'd probably be better than one of the Yankees' depth options, mostly on experience alone, but let's see if it'd be worth that.
Depending on where you look, Gonzalez either had a decent year last year (2.0 fWAR, 2.2 WARP) or a pretty bad year (0.7 bWAR) in 171 innings between the Nationals and the Brewers. The numbers behind all that? A 4.21 ERA; a 4.42 RA; a 4.16 FIP; and a 4.17 DRA. His walk rate was 10.7, the first time he'd gone that high since 2011. His strikeout rate was 19.8, his first time ever under 20%. His home run rate, dropped to 10.4 HR/FB%, trending right after two years at 11.1 (2017) and 12.5 (2016). His groundball rate was 45.3%, his lowest since 2014, continuing a downward trend. His fastball velocity has also waned since 2016, something to be expected of a player who'll turn 34 in September. But, in a fashion that might fit the Yankees, he features something else other than a straight fastball by throwing a sinker. He's also upped his changeup usage by about 5% from 2017 and about 8% from 2016.
None of those trends really scream out 'sign me,' do they? I'll answer my own question and say they do not, but there are some positives. His groundball rate is still passable, especially when we look more closely at the pitch data from 2018. His sinker, changeup, and curveball all got over 50% GB/BIP, which is great. His four seamer dragged it down at 25% GB/BIP. If Gonzalez focuses less and less on his fastball and more on his sinker, changeup, and curve, he can maybe return to a more prominent position with grounders. Additionally, his change and curve have better whiff/swing rates that his fastball does, which could lead to another uptick in strikeouts.
Basically, the entire idea of Gonzalez comes down to those ifs. Are those ifs worth the risk? Maybe? Gonzalez is a veteran pitcher who comes with a track record. He's likely to be better–even with his warts–than Cessa and probably German, but Loaisiga's upside is hard to ignore; however, his health is such a question mark that Gonzalez may be the better play to start. Again, it comes down to another if.
If Gonzalez is okay with a one-year deal, sign him. There's minimal risk and there are still the minor league options to back him up. If he wants a multi-year deal, I think it's easy to pass.