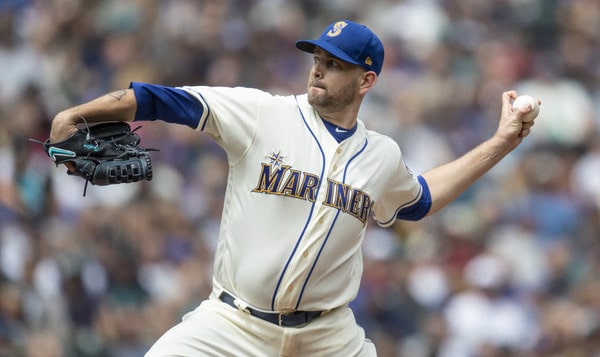 Anytime a player is traded to a new team, new experiences await. Whether it's a new home, new city, new mound, new teammates…the list goes on. James Paxton was traded to the Yankees in November, so he's had ample time to get his living arrangements in order. What he hasn't had a chance to do is build a rapport with his new batterymates, Gary Sanchez and Austin Romine. Fortunately, spring training will be an opportunity to do so.
Being familiar with one another is important in the pitcher-catcher relationship, but there are certain traits that are unique to both positions. In particular, the catcher can't aim a pitcher's offering, and the pitcher doesn't have the ability to frame a pitch. Paxton comes to the Yankees presumably as the same pitcher he was with the Mariners, but he won't be pitching to the same catcher anymore. How do the Yankees' catchers, Sanchez in particular, since he should get the bulk of Paxton's innings, stack up against the southpaw's former partner?
Tale of the tape: Zunino vs. Sanchez
Paxton will no longer pitch to one of baseball's best defensive catchers, Mike Zunino. The bat never came around like Seattle hoped, but Zunino was an elite receiver from day one. He's had some monster framing years, most notably 2014, when he racked up 22 framing runs. His framing stats have declined in recent years, but as Jeff Sullivan wrote, part of this is due to the rest of the league catching on to framing.
Sanchez, who will be Paxton's new main partner, receives plenty of hate for his defense. Passed balls are the reason for the disdain, but that doesn't make him a bad receiver. There's no question that he needs to improve his blocking, but he helps the defense in other ways, including throwing and pitch framing. The Yankees have bought into framing for over a decade, and Sanchez is yet another backstop who shines with his presentation.
| | | |
| --- | --- | --- |
| Metric (2018) | Sanchez | Zunino |
| CSAA | 0.005 | 0.008 |
| CSAA Standard Deviation | +/- 0.002 | +/- 0.002 |
| Framing Runs/7000 opportunities | 4.9 | 8.4 |
| Framing Runs/7000 opportunities Standard Deviation | +/- 2.2 | +/- 1.9 |
| Called Strike% on Edge Pitches | 50.02% | 50.75% |
| Team Avg. FB Velocity | 93.8 | 90.8 |
| Team Avg. FB Spin | 2331 | 2174 |
| Team Avg. Breaking Spin | 2532 | 2335 |
Zunino has an edge on Sanchez in Called Strikes Above Average (CSAA) and Framing Runs, though there is some uncertainty about this. Both catchers are within each other's error bars, meaning that Sanchez could be just as good or better than Zunino. He could still be worse! But ultimately, there really isn't a big difference between the two. They're both good framers.
A big difference between the two are the pitching staffs they handle. Stylistically, the Yankees and Mariners are polar opposites. The Yankees ranked first, first, and second in team fastball velocity, fastball spin rate, and breaking ball spin rate, respectively. Seattle placed last, second to last, and fifth-worst, respectively, in those same categories. Simply put: Sanchez has a much tougher group to handle.
Although Zunino had an easier staff to catch, be aware that CSAA adjusts for the pitcher, among other things. It judges Zunino and Sanchez independent of who is on the mound. That doesn't mean that we shouldn't take the two different styles into consideration. Rather, perhaps it lends credence to the potential of Sanchez being in the positive range of his standard deviation while Zunino is in the negative range.
I'd be remiss without mentioning Romine here. He's within the same range of certainty as Sanchez and Zunino, meaning that Paxton is also in good hands with him. Ideally, it won't be more than a handful of starts that Romine needs to catch, but it's reassuring to have a backup of Romine's defensive caliber.
Catchers aside, what does Paxton bring to the table?
Paxton has excellent control
Pitchers who work quickly and fill up the strike zone are a manager's dream. Paxton is just that. He challenges hitters with his fastball-heavy approach, knowing full well that they can't catch up to him. Take a look:
Based on the above heatmap, it's no surprise that Paxton had the fifth-highest called strike probability (CS Prob) of all starters last year. That's the likelihood of any given pitch being a called strike, based on probabilities that are assigned to certain areas within and outside the strike zone. It's best explained here, although the following diagram from that article is a great illustration as well:
Those rounded squares are different bands of called strike probability, with all pitches in the innermost area called a strike 90 percent of the time and all pitches in the outermost area called a strike 10 percent of the time. Keep in mind that these are not hard and fast lines of demarcation; the likelihood of a called strike gradually decreases as the area expands. Paxton lives in the 90 percent band, hence his high CS Prob.
Paxton doesn't have great command
We've established that Paxton throws lots of strikes, but the quality of strikes is a different story. Getting strikes on pitches in the aforementioned 90 percent band isn't challenging, but being able to locate pitches on the corners consistently is another thing.
CSAA, when used for pitchers, is a good proxy for command. Because CSProb assigns the likelihood of strike calls, CSAA can take this a step further by assessing the frequency of getting strikes at varying ranges of probability, controlled for things like the count, catcher, umpire, and hitter. Able to nab a bunch of strikes in a low probability area? Good command. Lose strikes in a higher probability area? Not so much. Anecdotally, a lot of pitchers lose strikes when they miss the target, forcing the catcher to make awkward movements. So how did Paxton do? He had the worst CSAA in baseball last season, at -3.38 percent.
I'm not so sure it's fair to say that this means Paxton has the worst command in baseball, because after all, he just might not be trying to paint the corners. It's not like he needs to. Plus, although he's always been below average per CSAA, he's been pretty consistent at throwing to the edge of the zone.
| | | | |
| --- | --- | --- | --- |
| Year | Edge% | CSAA | CSProb |
| 2013 | 45.10% | -0.88 | 48.80% |
| 2014 | 47.90% | -1.02 | 45.30% |
| 2015 | 45.10% | -0.76 | 47.50% |
| 2016 | 49.20% | -1.33 | 50.40% |
| 2017 | 46.60% | -1.98 | 50.00% |
| 2018 | 46.40% | -3.38 | 53.00% |
For whatever reason, Paxton got absolutely hosed on borderline fastballs compared to the rest of the league. You would think fastballs are the easiest pitches for umpires to judge since they are the straightest offering.
% of Edge Pitches Called Strikes
Pitch
Paxton
MLB
Fastball (4-Seam)
41.4% (379 pitches)
47.40%
Cutter
31.4% (35 pitches)
47.60%
Curveball
46.9% (96 pitches)
48.60%
So Paxton had virtually the same edge percentage in 2017 as he did in 2018, yet his CSAA tanked. Umpires didn't give him the benefit of the doubt on fastballs near the corners. Bizarre.
Is Zunino to blame?
What makes Paxton's poor CSAA surprising at first is that he's thrown to a great framer for his entire career. How could he struggle to get the extra calls on the edges while throwing to a catcher that excels in that department? The key thing to understand is that Zunino is not the culprit. Pitcher CSAA level sets with who's catching, hitting, and umpiring. The whole point of the stat is to try to isolate the pitcher's contribution, all else being equal. So if this is on Paxton, why is it happening?
I looked at Paxton's heatmap for edge pitches against the Mariners' heat map for called strikes on the edge. Ideally, I would have compared Paxton to the entire league, but I could only generate the heat maps by team. For what it's worth: all teams are pretty similar to the Mariners in this regard. Plenty of borderline low strikes called, but few at the top of the zone. The problem for Paxton? He throws a lot of high heaters. Now we're getting somewhere (click image for large view).
I don't want to overwhelm you with heatmaps, but there are a few other important ones to note that emphasize my point about Paxton's high fastballs. Here is where he locates his fastball on the edges, here are his strike calls on the edges (on all pitch types), and here are the balls on the edges (on all pitch types). Keep in mind, Paxton throws his fastball around 65 percent of the time. So those strike calls you at the bottom of the edge? Those are rare.
Paxton works upstairs quite a bit with fastball, and those simply don't get called strikes very often. CSAA doesn't penalize Paxton too harshly for each pitch in that region, since it's a low-probability strike. However, because he predominantly hits the upper edges, the penalty adds up. Add that to the lack of pitches thrown in the lower-right quadrant of the edge, where most extra strikes are picked up, doesn't help Paxton either.
Why Sanchez and Paxton might pair better
Here's what we know: Paxton throws a good portion of his edge pitches at the top of the zone, but umpires are disinclined to call high strikes.  Even the best framers aren't going to steal strikes up in the zone (click image for larger view):
Those are the locations where Zunino, Sanchez, and Romine received strikes on the black last season. All of them do well at the bottom of the box, to no surprise. The most noticeable difference is that Sanchez (and Romine, to a degree) do a tad better than Zunino as pitches elevate.
What gives me some hope, not that we need any for Paxton (he's really good), is that he might get a few extra strikes at the top with Sanchez and Romine. However, we might not see this reflected in his CSAA, because it adjusts for who's catching. Where we could see the impact is the percentage of fastballs called for strikes on the edge, which is a raw and unadjusted amount.
Zunino might be a better framer than anyone the Yankees have, but he also might not be the right match for a pitcher like Paxton. All positive framing catchers are going to do well stealing strikes down because it jibes with today's umpiring. Zunino appears to build most of his framing value on low offerings. Sanchez and Romine do well there as well, but it's not as concentrated as Zunino. Sanchez perhaps meshes best in terms of presenting Paxton's high fastball. With guys like Chad Green and Aroldis Chapman on the roster, maybe it's not a surprise that Sanchez has held his own on higher pitches. Those two have power fastballs and like to elevate them, similar to Paxton.
Chances are that Paxton's transition to Sanchez and Romine will be a lateral one. The Yankees catchers are practically in a dead heat with Zunino when it comes to the advanced metrics. Any downside seems unlikely, as Sanchez and Romine would have to decline suddenly. Fortunately, there is no indication of that occurring anytime soon. The best case scenario is that Paxton will get high strikes more often in pinstripes. The adjusted metrics might not change, but the raw results could improve.