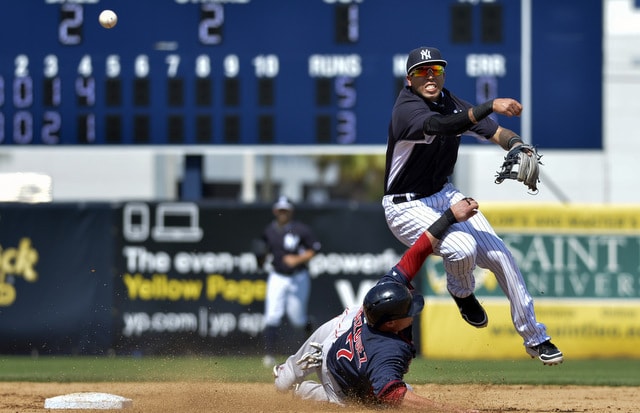 The Yankees drafted Cito Culver on June 7, 2010. I remember the date, because everyone was pissed.
Things were going pretty damn well at that point. Fresh off World Series No. 27, the Yankees were 35-22 heading into that night, 2 games back of the Rays in the East but with the second-best record in the AL. They had no game that night, so all eyes were on the draft.
Although the Yankees were picking 32nd, there were still many intriguing names that should have been available. Keith Law had them taking Gary Brown, Tyrell Jenkins, and Christian Yelich in the various versions of his mock draft. (Neither Brown nor Yelich would be available when the Yankees selected.) Baseball Prospectus had them taking Brown as well, and before that suggested that they could take Jedd Gyorko. I also distinctly remember hearing the name A.J. Cole mentioned.
Let's go to Mike for the official reaction to the Yankees' selection:
I remember saying "who in the world is that?" when then-commissioner Bud Selig announced the Yankees had selected New York HS SS Cito Culver with their first round pick, the 32nd overall selection. Culver ranked 168th (!) on Baseball America's top 200 draft prospects that year and the consensus at the time said he was a third or fourth round talent.
Much to everyone's surprise, Culver never really worked out. By all accounts he was solid enough in the field, but his batting average topped out at around .250 and his OBP around .320. By 2015 he had completely worn out his welcome as a prospect, hitting .199/.249/.279 in 390 PA for Trenton. He came back with two of his better years in 2016 and 2017, but there was no real value in hanging onto him.
The Marlins signed Culver yesterday to a minor league contract, which is interesting for two reasons. First, that's one place he might actually get to crack a major league roster at some point. They have no one entrenched at shortstop, and their main gloveman in 2017 is 29 and has 757 career PA. Culver could also fit in at second base in the wake of Dee Gordon's departure. The second interesting bit is the connection you'd always make between the Yankees and Marlins: Gary Denbo. In 2010 Denbo was a player development consultant for the Yankees, so he's seen Culver throughout his career.
(And who knows, maybe the plan is to turn him into a pitcher/two-way player.)
The Yankees as an organization won't miss Culver. They have plenty of up-the-middle talent. Yankees fans won't miss Culver, either. But we'll always have that night in June, when everyone as pissed that the Yankees took some kid they'd never even considered.