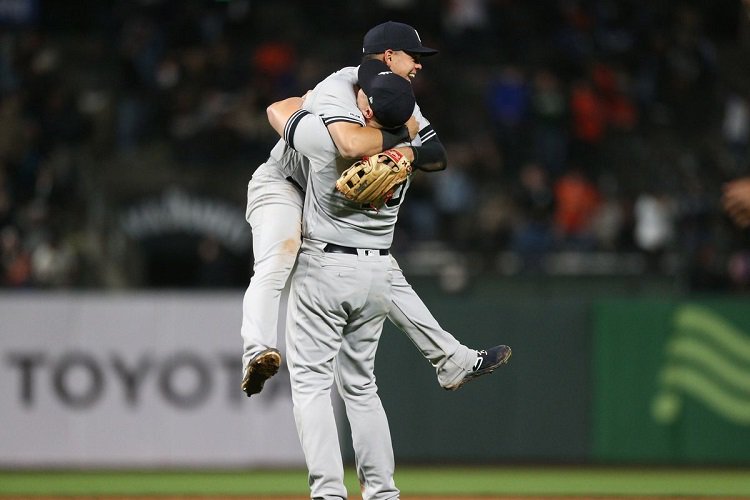 As RAB closes shop today, I personally wanted to thank everyone for their tremendous support of this website and my writing over the past four-plus years. It was truly an honor to contribute to this amazing site, to be able to write about my favorite team, and be a part of a really special and passionate community of fans. Keep following me on twitter @ktsharp for all my Yankees stats and analysis the rest of the season and more details on the future of Yankeemetrics.
April 26: When Gio Urshela is your cleanup hitter … all you do is win!
The Yankees got back in the win column on Friday night as they continued their road trip up the west coast to San Francisco and won their season-opening Interleague matchup, 7-3.
James Paxton 'only' struck out eight batters but still was solid in holding the Giants to five hits and three runs. Paxton has quietly been excellent this season in doing the things a pitcher can control on the mound (excluding his defense behind him) — strikeouts, walks and homers. After Friday's start — among pitchers with at least 25 innings pitched — he led the AL in FIP (2.24), ranked third in strikeout rate (36.2%), was third in Strikeout-to-Walk ratio (5.1), and had allowed only three homers in 34 2/3 innings.
Luke Voit had another monster game, going 3-for-4 with 3 RBIs, including his eighth home run of the season. Voit's dinger was a bomb over the center-field wall, another example of his ridiculous dead-center power.
Since the start of last season, he has a 1.067 slugging percentage and .533 isolated power to straightaway center, both the highest among all MLB players (min. 50 PA). It was also his fifth dead-center homer this season, tied with Pete Alonso for the most in the majors through Friday.
And because there can never be too many #LukeVoitFacts, we've got this for you to enjoy: He is the first Yankee with at least three hits and three RBI in a game against the Giants since Joe DiMaggio in Game 5 of the 1951 World Series.
April 27: The Kraken is unleashed
Welcome back, El Gary! The Yankees won their second in row on Saturday, 6-4, thanks to the big bat of Gary Sanchez and the stellar arm of J.A. Happ. The victory clinched their fourth series win in a row (yeah, remember when they lost four of their first five series to start the season?).
Happ delivered his best start of the season (7 IP, 0 runs, 5 hits, 0 walks, 2 strikeouts), a performance that earned him his first win and our Obscure Yankeemetric of the Series: He joined Randy Johnson as the only Yankee lefthanders to pitch at least seven shutout innings, give up no more than five hits and walk zero batters in an Interleague game. Randy did it in 2005 against the Cardinals and 2006 against the Braves.
Sanchez had only one hit in this game but it was a HUGE one – literally and on the scoreboard. He came to the plate in the fifth inning with the bases full and clobbered a 91-mph fastball deep into the seats in left-center for his first career grand slam. The 467-foot blast was the longest grand slam hit in the majors since Statcast distance tracking began in 2015, and the third-longest home run hit at Oracle Park in that span.
Although he'd never before gone deep with the bases full, Sanchez has been a productive hitter over the last three seasons in those situations. Since 2017 (through Saturday), he was 13-for-29 with 29 RBI and just two strikeouts in 32 plate appearances, and his .448 bases-loaded batting average was the fourth-best in MLB (min. 30 PA) in that span.
Let's give Sanchez some more love with our most-awesome #FunFact of the Series: He is the second Yankee catcher ever to hit a grand slam in a National League ballpark. The other? Yogi Berra against the Brooklyn Dodgers at Ebbets Field in Game 2 of the 1956 World Series.
April 28: Bay Area brooms
The Yankees capped off their third sweep of the season with a 11-5 win on Sunday afternoon, continuing their scorching-hot streak over the last couple weeks. Since bottoming out on April 12 with a loss to the White Sox that dropped them to 5-8, the Yankees have the best record in baseball (12-3). And in that span, they also put three players on the IL — Greg Bird, Aaron Judge, Clint Frazier — while getting one player back (Gary Sanchez). The Little Pinstriped Engine That Could keeps chugging along!
For the millionth time this season, the Yankees raced out to an early lead, scoring two runs in each of the first three frames. Actually, it was the 21st time this year that the Yankees scored first. They are the only MLB team in the last 15 seasons to score first that many times in their first 28 games.
Luke Voit paced the offense with three hits, two runs scored and two RBIs, the third time in the last four games he's had three hits. That's pretty remarkable, considering he had three-or-more hits in just five of his first 133 career games.
Gleyber Torres and Gary Sanchez put an exclamation point on the win with a pair of homers in the third and sixth innings. Torres' blast was a two-run shot — 15 of his 29 career homers (52%) have come with men on base, a rate that is well above the MLB average of 39%.
Sanchez's dinger was the 79th of his career, moving him into a tie for 50th place on the all-time franchise list (reminder, he has played only 279 career games). It was also his 59th longball since his first full season in 2017, five more than any other major-league catcher in that span. And we'll end with a ridiculous fun note: Sanchez has eight homers in 15 games this season, an 86-homer pace over 162 games!