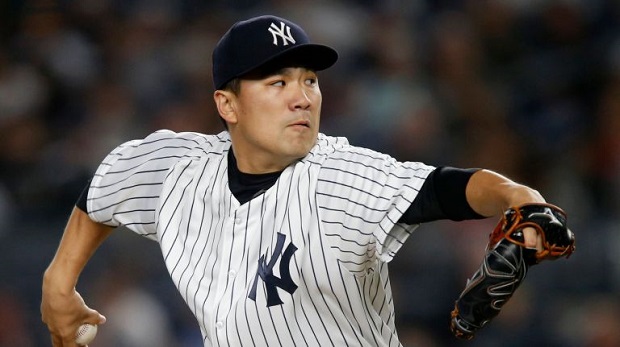 #TanakaTime is Terrific
Back in the Bronx for the first time in nearly two weeks, the Yankees kicked off their final homestand of the season with a stress-free rout of the Blue Jays. The 11-0 score was their largest shutout win since a 15-0 whitewashing of the Mets on June 14, 2009. This was the 630th game in the Yankees-Blue Jays rivalry, and the only other time they posted a larger shutout win was September 25, 1977 at Exhibition Stadium in Toronto.
The Yankees enjoyed an early offensive eruption, scoring five runs in the first and had an 8-0 lead after three innings. This was their fourth game putting up a five-spot (or more) in the first inning; only the Diamondbacks (7) have done that more times this season.
Andrew McCutchen had a huge game, going 3-for-3 with two walks and a solo homer in the fifth inning, his first career home run at Yankee Stadium. It was his fourth game in 2018 reaching base at least five times, including a home run — that's the most such games in MLB this season.
Masahiro Tanaka tossed another gem, bolstering his candidacy to be the Wild Card Game starter in October. He threw six scoreless innings with eight strikeouts and extended his current scoreless streak to 20 innings, the second-longest of his career behind a 21 1/3 inning stretch earlier this season in July and August.
Masahiro Tanaka Last 20 IP:

74 Batters Faced
0 Runs
11 Hits
23 K
3 BB

— Katie Sharp (@ktsharp) September 15, 2018
According to STATS, Tanaka is the first Yankee pitcher with multiple scoreless streaks of 20-plus innings within a season since Ron Guidry in 1983.
Tanaka is now 3-0 with a 0.43 ERA and 24-to-3 strikeout-to-walk ratio in three September starts, but his consistent brilliance actually extends back further to mid-July. In 10 games since the All-Star break, Tanaka has a 2.09 ERA with 69 strikeouts in 64 2/3 innings. That's the third lowest ERA among AL pitchers with at least 40 innings, trailing Blake Snell (1.40) and David Price (1.56).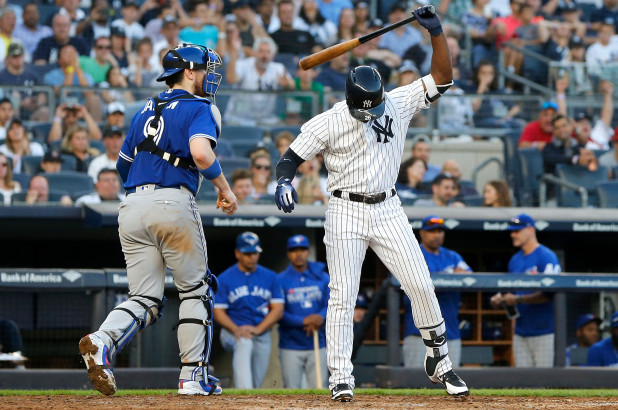 Seven not enough
It was too little, too late on Saturday as the Yankees late-inning comeback bid fell just short in a 8-7 loss. Down 8-1 entering the bottom of the seventh, they scored six runs in the frame but ultimately the hole they dug themselves into was too too deep. This was the third time in the last two seasons that the Yankees put up a six-spot (or more) in a single inning and lost the game. Coincidentally or not, the Yankee starter in each of the three games was CC Sabathia.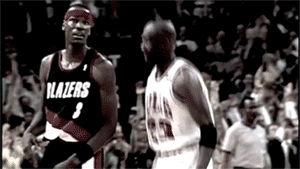 They also somehow managed to lose the game despite hitting a quartet of homers, giving them an 11-3 record this season when going deep four times in a game. The good? The 14 games with at least four longballs is easily the most in MLB this year (no other team is in double digits). The bad? The .786 win percentage in those games is the second-worst in MLB this season (min. 5 games), behind the Phillies (6-2, .750), and the three losses are more than any other team.
When you add in the fact that they had 17 baserunners and still lost … the only other time in the last 10 seasons they managed to lose a game like that (at least 4 homers and 17 baserunners) was a 10-8 loss to the Angels on July 15, 2012.
Two of the four dingers were hit by Didi Gregorius, his 25th and 26th of the season, breaking his own single-season home run franchise record for shortstops that he set last year. Didi and Francisco Lindor are the only MLB shortstops with 25 or more homers in both 2017 and 2018.
Yankees SS Most HR in a Season:

Didi Gregorius 26 (2018)
Didi Gregorius 25 (2017)
Derek Jeter 24 (1999)

— Katie Sharp (@ktsharp) September 15, 2018
It was also Gregorius' fifth multi-homer game of the season, the most on the Yankees. The list of Yankee left-handed batters with five or more multi-homer games in a season is a fun one:
Didi Gregorius (2018)
Jason Giambi (2005)
Tino Martinez (1997)
Matt Nokes (1991)
Roger Maris (1960, '61)
Yogi Berra (1952)
Lou Gehrig (4 times)
Babe Ruth (8 times)
Miguel Andujar did his best to deliver an improbable win with a seventh-inning grand slam that made it a one-run game, his second grand slam this season (his other one also came against the Jays on June 5). Andujar is the fifth rookie in franchise history to hit multiple grand slams in a season, joining Russ Derry (1945), Yogi Berra (1947), Shane Spencer (1998) and Hideki Matsui (2003).
And, at 23 years old, #MiggyMantle is the youngest Yankee with a pair of grand slams in a season since … a 20-year-old Mickey Mantle hit two in 1952.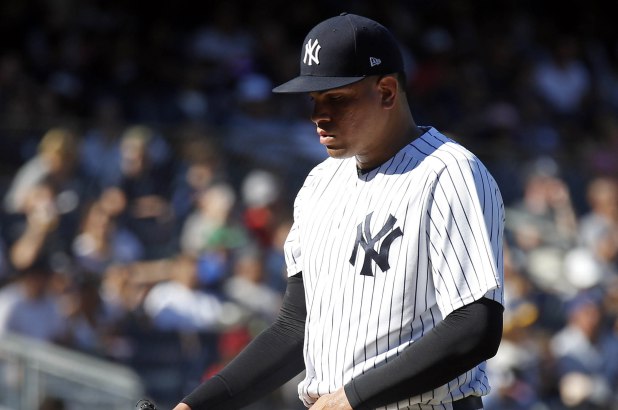 Bad Betances
It was reverse-deja-vu for the Yankees on Sunday: this time they raced out to an early lead, but an eighth-inning Dellin Betances meltdown gave them the same end-game result as Saturday — a dismal and disappointing loss to a mediocre Blue Jays team.
Following his two-run, four-hit disaster outing, Betances has now allowed six runs in his last seven appearances. In his previous 39 appearances dating back to mid-May, Betances gave up three runs over 38 2/3 innings.
Dellin Betances Since May 12

| | IP | Runs | ERA | Hits | Opp BA |
| --- | --- | --- | --- | --- | --- |
| Last 7 Games | 7 | 6 | 7.71 | 9 | .310 |
| Previous 39 Games | 38.2 | 3 | 0.70 | 13 | .103 |
Entering the day, the Yankees were 70-3 when leading at the start of the eighth inning; only the A's (65-0) had a better record or fewer losses. The only other time this season the Yankees lost at home when taking a lead into the eighth was August 30 against the Tigers.
The Yankees are now 6-8 (.429) in September. That would be their worst regular-season September/October win percentage since … 2000, when they went 13-18 (.419). Fortunately, they had a slightly better record in October in the postseason that year.