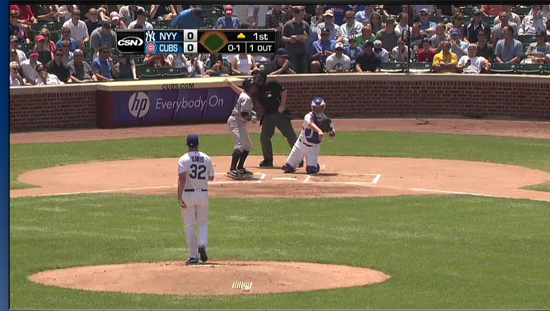 Now that we're a good ways into the season, the excitement of baseball has faded away into the grind that is rooting for the team that you love. It's hard to watch guys play a sport where, for hitters, they will only be successful 30% of the time and for pitchers, they'll usually give up a couple of runs and get in and out of trouble. After the second or so week of the season, this ceases to be entertaining and it's time to start complaining about everything.
Now, a successful team like the Yankees always has a lot going wrong with it. The pitching might be bad, the bullpen might be bad, the hitting might be bad, and to top it off, the front office might be running the entire organization (most notably player development) into the ground. What's more important than making sure you're pointing out to everyone how bad the team is when you're pointing out what. There are times when pointing out the flaws within the team makes you a good fan and times when it just makes you seem obnoxious and whiny. Timing, as they say, is everything. In this two-part series, I'll cover what to complain about when you don't know what to choose amidst the catastrophe that is a 39-29 record with a +89 run differential and a 3.56 team ERA.
The Lineup
The greatest thing about the lineup is that it changes a couple of times a week, and there's almost always something wrong with it, even on good days. Complaining about the lineup works on any game day, and since lineups come out early, you can get a good head start on the whining. Anyone but Gardner leading off? It should obviously be Brett Gardner. Gardner leading off? Obviously he's going to get caught stealing. Derek Jeter leading off is a great fallback but is obviously not applicable when he's injured. Lineups also are also the first place you'll see where the A-list players are getting a day off, and this is totally not okay. The only options should be a) Alex Rodriguez, Derek Jeter, and Russell Martin never get a day off and never get injured or b) they are replaced with players who are as good as them. Anything else is worth talking about how bad the lineup is today. I'll cover the B-listers in more detail below.
B-List Players
Eduardo Nunez, Ramiro Pena, Chris Dickerson, Andruw Jones, and Francisco Cervelli essentially make up the Yankees bench and get their fair share of starts. The problem is, none of these players are as good as who they're replacing. If any of these players are in the starting lineup, sound the alarm, alert your friends, and start whining. If there's more than one of them? Well, you could could complain for days and everyone would just keep on agreeing with you. It's simply not acceptable that these very young (or in Jones' case, slightly older) players perform at a lesser level than their A-list counterparts, many of which have collected awards for their offense and/or defense. Ramiro Pena, why are you not as good as Alex Rodriguez? Sheesh, he totally sucks. Eduardo Nunez, why do you not possess the skill and grace of Robinson Cano or the fielding, uh, prowess, of Derek Jeter? Come on guys. Seriously? And the last one….
Francisco Cervelli
The man gets a category all of his own. He can't hit, he can't catch, he can't throw, he's too enthusiastic, he's annoying, he's overplayed. Did I miss anything? Frankie is the ultimate great fallback punching bag for when everything seems to be going right. Even when he goes 2-for-3, he still makes two errors in the field, like he's allowing the fans to have a place to focus all their rage. I think it's really quite noble of him, to be honest. I don't understand why we're not blaming him for Montero playing every day in AAA and Martin's back spasms, to be honest. I mean, we're already getting on him for being in the lineup. So what's one or two more things that he has absolutely no control over? He was probably getting everyone to lose to Doug Davis from the bench, even. At least he's a better dresser than most of the Yankees.
Slumps
Both the fans and the players know that every player is expected to perform at his career numbers or better at all times. If there's even the slightest hint of a slump – say, ten PAs or so – it's time to start making people aware how bad this player is. And the worse the slump gets, the more vocal you can to become. Screaming your head off about Jorge Posada in late May? Totally acceptable. However, you have to be careful to quit complaining the moment they break out of the slump. Jorge Posada is now great. It might be a good time to start complaining about Russell Martin (before he can heat up) or Nick Swisher's left side, where he is still struggling. Andruw Jones, despite his relatively few appearances, is also a great target for this complaining, though it's only good to do this when he's actually striking out playing.
Not Hitting Against Crappy Pitchers
Phil Humber. Carlos Carrasco. Doug Davis. Last year, it was Bryan Bullington and Josh Tomlin. I feel like I speak for everyone when I say it's annoying that the whole lineup all decides at once to stop hitting against a particular pitcher, especially when it's a bad one. These kind of decisions are made with absolutely no respect to the fans. Seriously, guys, if you're not going to hit, can you at least decide not to hit against someone who is throwing well this year (like Alexi Ogando?). You had a perfect opportunity to go down without a peep and instead you whacked everything and decided to do nothing against Doug Davis. It's obvious that the Yankees decide what games to hit in and what games to be put down in, and complaining about that choice is perfect when those quiet games are being played.
Not Hitting
When you have a lineup that contains names like Mark Teixeira, Alex Rodriguez, and Robinson Cano, you should score a billion runs every day. Never mind that getting on base 30% of the time is considered successful. That is stupid. Everyone should always get hits and runs. All the time. This is another great fallback complaint when Cervelli isn't playing, because someone will probably go 0-for-4. If you're lucky, there will be a few 0-fers that make for easy targets due to mass strikeouts or weak ground balls.
Tune in tomorrow for part two, featuring pitching and and the front office. I know you can barely hold your breath in excitement. One additional note: Ryan Dempster isn't really that bad, so no complaining about not hitting against him. Complaining about not hitting in general is, of course, totally acceptable.