The following is a post from Sung-Min Kim (@sung_minkim), who has also written posts about Kei Igawa, Hyo-Jun Park, and Kwang-Hyun Kim.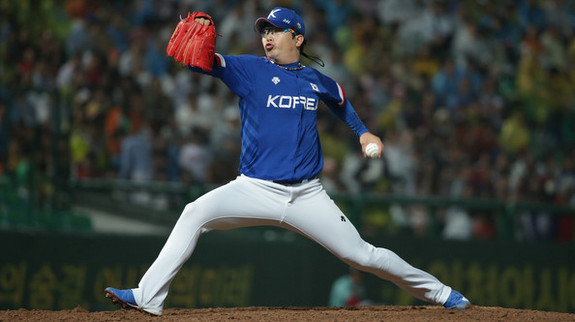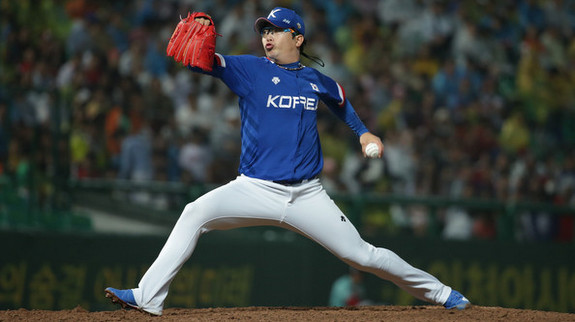 On Tuesday, Mark Feinsand of the New York Daily News reported the Kia Tigers of KBO are going to post ace lefty Hyeon-Jong Yang. That was odd to me. Usually, when it comes to news about Korean players being posted or ML teams expressing desire in one, Korean media has the first official report. I had read an article or two about Yang being scouted by both major league and NPB scouts, but there didn't seem to be any strong interest from any teams from either league. Another odd thing about the Daily News report is Yang being evaluated as a possible No. 3 starter in the majors — that's quite high even for a lot of the Korean fans. But because his name has started to bounce around around the major league writers and fans, I decided to write up Yang.
Unlike Hyun-Jin Ryu or Kwang-Hyun Kim, Yang does not have much of a superstar pedigree in KBO, but he's shown flashes of brilliance. The lefty broke out in 2009, his age 21 season, by going 12-5, 3.15 ERA while punching out 139 in 148.2 IP. He had an okay 2010 by putting up 4.25 ERA and winning 16 games. However, allowing 98 walks in 169.1 IP was worrying and that amplified the season after. In 2011, Yang lost his command (69 walks and 74 strikeouts in 106.1 IP with a 6.18 ERA) and spent a chunk of the season in minors. Things weren't too better in 2012 — he went 1-2, 5.05 ERA in 41 IP while recording more walks (31) than strikeouts (26). By the end that season, he was known as the "forgotten ace" of the Tigers who once showed brilliance but was ruined by command problems. However, Yang came back big in 2013. Given another chance to stick at rotation after the spring training, the lefty posted a 3.10 ERA in 104.2 IP while posting a much-improved 3.70 BB/9 and striking people out (8.17 K/9).
Yang had a bit of a mixed 2014, but mostly positive. He put up a 4.25 ERA in 171.1 IP — hardly a sexy figure from a pitcher that is being rumored to advance from KBO to MLB. But, as I've said in the Kwang-Hyun Kim post, the Korean Baseball Organization experienced an extraordinarily offense-friendly season like never before. As a matter of fact, according to peripherals, he was the best Korean-born starter in KBO in the season, leading in FIP (4.19), WAR (5.24) and K/9 (8.67). (Best starter in KBO altogether? Either Rick VandenHurk or Andy Van Hekken.)
According to Feinsand's article, a scout that has seen Yang said the lefty "sits between 92-95 mph" with his fastball. Well, from what I've seen in multiple games, it's more like high-80's-to-low-90's. Here's a video of him pitching from an April 2014 start. In the video, he's around mid-140 kmph (approx. 87 mph) with his fastball while generating swing-and-misses with his slider. His slider has been praised as a plus pitch by the Korean media but it remains to be seen how it would translate in the majors, or even in NPB. While his array of stuff has worked well in Korea at striking out hitters, a pitcher that sits 88-92 mph with stuff that has not been particularly praised by ML scouts a la Yu Darvish or Masahiro Tanaka is not exactly the sexiest target.
Here's a Korean article from Oct. 21 about Yang being scouted by ML and NPB teams. In his last start of the season, scouts from Red Sox, Cubs, Rangers and the Yomiuri Giants of NPB attended the Kia Champions Field in Kwangju to watch him. According to a ML scout quoted in the article, around "three to five" teams from MLB and Japan have been monitoring the lefty throughout the season. No word on a strong interest from any ML team, but it does show that there is some interest. It will also be up to the Kia Tigers to see if they want to lose their No. 1 starter. The team had lost out their previous ace, RHP Suk-Min Yoon, to the Baltimore Orioles before the 2014 season. After finishing with a dreadful 54-74 record (8th out of the 9-team league), will the team want to lose their best pitcher? According to the article, the team will let him go if they receive the compensation they are willing to accept (a.k.a not a small posting fee).
Even though he has pitched better and more consistently in the previous two seasons, Yang's command remains a weak spot. In 2014, he posted a 4.04 BB/9 — the same clip that A.J. Burnett had this year. Unlike Ryu, Hyeon-Jong Yang was never known as a control savant in KBO — as I've mentioned before, his career was almost ruined by command problems. I see Kwang-Hyun Kim as a pitcher who's comparable to Yang since both lefties with fastball around low-90's with less-than-ideal command. Of course I am not saying that they are the same pitcher, but I am skeptical of both of their chances of being successful as starters in ML as much as Ryu has been. The scout referenced in Feinsand's article must have seen something he liked that lead him to believe his skillset would translate well in the majors. Otherwise, based on Yang's history and attributes, it's hard to think why he would be a potential "No. 2-3 starter" in ML right away.
For 2015, I expect Yang to pitch similar to his 2013 and 2014 level, which may not be good enough to survive in the bigs. As of this writing, there still isn't an official team statement from the Tigers about posting the lefty to majors. We might see one soon — I doubt Feinsand pulled the information out of nowhere. Yang's team, like Kwang-Hyun Kim's team, failed to qualify for postseason baseball in Korea (which is still going on by the way — they just finished the Game 2 of Korean Series) and they can post him anytime that they wish to. It's unclear if the pitching-needy Yankees have interest.