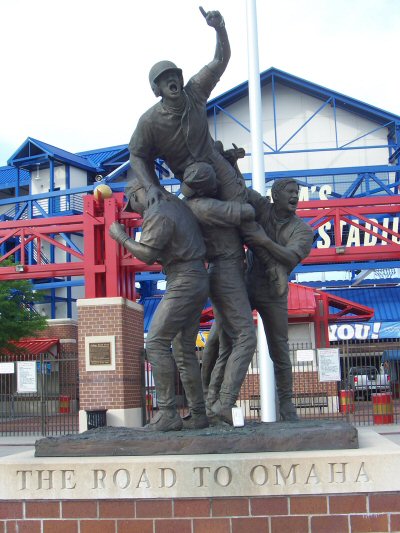 Not Yankee related, but exciting nonetheless. The NCAA baseball postseason starts tomorrow night as the double elimination Regionals kick off in 16 college towns across the country. The NCAA postseason is some of the most exciting baseball you can find (the College World Series has been far better than the actual World Series for about 5 years running now), and I can't possibly recommend spending a two week summer vacation in Omaha for the CWS any more highly. It's unbelievable (and scorching hot).
The crew over at The College Baseball Blog have done us all a favor and posted previews of each regional, as well as their picks for Omaha. Two-time defending CWS champs Oregon State are left sitting at home this year, thanks to a paultry 11-13 conference record, and 27-24 overall. The team they beat for those two titles, North Carolina, was ranked in the top 5 all year and locked up a top 8 national seed. A bunch of games are going to be on ESPNU, CSN and various FSN channels, and the primo pitching matchups to look out for on Day One are Aaron Crowe (Missouri) vs. Lance Lynn (Ole Miss), and Brian Matusz (San Diego) vs Tyson Ross (Cal.)
Baseball America is having another Bracket Challenge this year, where the winner takes home a rather expensive DeMarini bat and a BA book (there's a bunch of other prizes as well). If you're interested you can check out my brackets here. Arizona State has just been too good all year, and I went with the underdog Mizzou as the runner-up because of their Aaron Crowe-Kyle Gibson-Ian Berger rotation. No team in the country can match that.
I know I've linked to this clip a billion times before, but I'd be remiss if I didn't link to it again for all of you that haven't seen it: here's current Yankee farmhand JB Cox closing out Texas 2005 CWS Title. Enjoy.