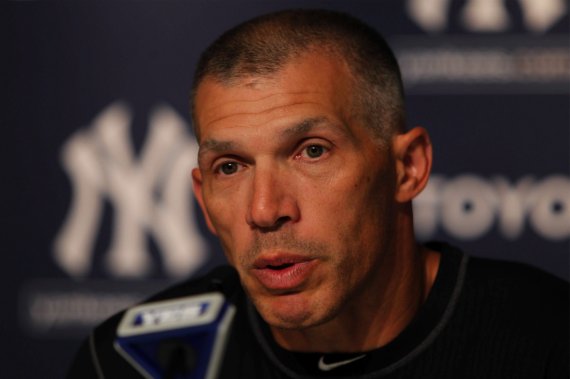 Predictably, the complaints came rolling in last night. Joe Girardi used his second best reliever for a second straight day in order to preserve a four-run lead. When Rafael Soriano went on to essentially blow the game, the outrage was equally predictable. Girardi's bullpen management had struck again, costing the Yankees a game they seemingly had in the bag.
Yesterday represented the first opportunity fans had to first- and second-guess the manager. It will hardly be the last. A field manager has hundreds, even thousands, of decisions to make every season. It is inevitable that he will screw up on multiple occasions. The better ones make fewer mistakes than their peers, but even the best will blunder and cost their teams games.
Thinking about it in stat nerd terms, this is akin to replacement level. There is a baseline for decision making — that is, there is a certain level of blundering that all managers will reach during the course of the season. We can essentially forget about that, since you can find a random manager on the street who will still make those errors of judgment. A manager's on-field value lies in his ability to stay as close to that baseline as possible. Let's call it Decision Making Over Replacement Manager. I think that Girardi's is quite high.
When we question a manager's moves, we're mainly focusing on the micro. That is, the moves we feel are correct count for that game and that game only. Maybe it takes immediate past and immediate future games into account — part of the reason for disliking Girardi's use of Soriano is that he pitched yesterday, and there's a game tomorrow — but it doesn't take into account the management of an entire season. That's something that Girardi, or any manager, has to consider when he makes his moves. While he's managing to win the game, he's also managing to win throughout the season. In the last three years, Girardi has shown that he's very good with long-term management.
While the bullpens during Girardi's tenure have typically gotten off to slow starts, they've always finished among the best in the league. When we get to long stretches of games in August and September, he always has a fresh, quality reliever to use in a tight spot. That's because he does a good job of managing each pitcher's workload throughout the season. This stands in stark contrast to his predecessor, Joe Torre, who went only with his favorites. Questioning his decisions was one thing, because it seemed as though every year he'd tire out his best relievers and ended up with a bare cupboard later in the season. This just has not been the case with Girardi.
This isn't to say that I agreed with the use of Soriano there. After the game Girardi explained that the idea was to use Soriano in his normal role, the eighth inning, so that he could hand the ball to David Robertson, and not Mariano Rivera, in the ninth. I guess that means he had more faith in Soriano than Robertson to pitch a scoreless inning. You can agree or disagree with that logic — I don't much like it, for the record. But this is just one of many decisions that go into a season's worth of bullpen management.
Maybe another manager wouldn't have made this specific mistake. But he might err in other areas that make it tougher for him to manage an entire 162-game season. During the last three years Girardi has proven that, while he makes odd decisions at inopportune times, in the long view he takes care of his bullpen. That's all that's really important. His individual decisions might set us off, but his overall decision making, as proven in three years, has been well above his peers.
If you want some proof, watch another game for an extended stretch and see how their manager deals with bullpen management. Read another team's blog for a while — we have a growing list of team blogs that we use as a resource. You'll see plenty of instances where the manager's decision gets questioned. Yet few of these managers have the track record that Girardi has when it comes to managing a bullpen during a full season. That is, in the long run, Girardi's DMORM is higher than that of his peers.
When Rafael Soriano showed up on my TV screen last night, I scratched my head. Why use him there, with a four-run lead, when Robertson had been warming up the previous inning? But then I appreciated Girardi's refusal to take a four-run lead for granted. Then I remembered his long-run track record during the past three years. It all made the decision easier to bear. I might not have liked it. You might not have liked it. But given what he's done with the bullpen in the last three years, I'm not about to complain about one game. It seems kind of silly, given what we know about the bigger picture.