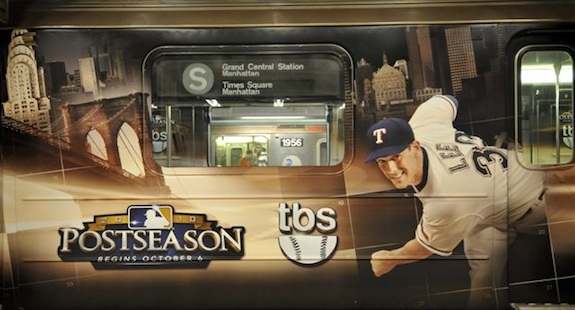 Earlier this week, rumors out of Arlington set the Internet abuzzing. The Rangers, reported USA Today's Bob Nightengale, were on the verge of signing a 20-year, $3-billion TV deal that would guarantee them $150 million in annual payments for the rights to their games. With a new ownership group in place and a playoff berth secured, everything has been coming up roses for the former Washington Senators, and that TV deal, towering over the Dodgers' $45 million intake, would be the highest for any team that doesn't own its TV station.
When the final details emerged, the dollar figureds were tempered slightly. The deal will be worth closer to $1.5 to $1.6 billion with the Ranger's annual take set between $75 and $80 million. Fox Sports will throw in an $80-million signing bonus that the Rangers will receive before the 2011 season. Obviously, this influx of cash concerns Yankee fans because of Cliff Lee and Cliff Lee alone.
For the Yankees, Lee is the one who got away this year, and not everyone was too upset by the machinations of the Mariners at the trade deadline. Because the Mariners wanted to wrestle Justin Smoak away from the Rangers and saw him as a better fit for Safeco Field than Jesus Montero will be and because of concerns over the additional prospects included in the deal, Seattle GM Jack Zduriencik sent Lee not to the Yankees in early June but to the Rangers. The Yankees and their fans wanted to have Lee this year to wrap up the AL East and their 28th World Series championship, but they instead were willing to settle for a postseason acquisition.
With this money though, the Rangers could potentially be on footing nearly even with the Yanks when it comes to the dollars. If the Rangers see Lee as a potential cornerstore to a developing rotation and if he propels them through October to the franchise's first ALCS or even World Series appearance, the Greenberg/Ryan ownership might be willing to part with a few years of TV profits to keep their ace. This TV deal guarantees at the very least that the Rangers will have an additional $60 million in revenue over their previous deal. The club has money to spend, and if two very rich teams want Lee, he will have money showered upon him.
Even with the Rangers' new-found wealth, money isn't an obstacle for the Yankees. They'll have Javier Vazquez's contract off the books and owe A-Rod less in 2011 and subsequent seasons than they paid him in 2010. Derek Jeter won't be making $22.6 million either. Plus, the team has a revenue stream that allows them to up their payroll if need be, and Lee is clearly the club's off-season priority.
That said, the winter's decision will likely be a personal one for Lee. Even as the Rangers cakewalked their way to an AL West title, Lee went just 4-6 with a 4.25 ERA in 14 starts. He's allowed 99 hits in 101.2 innings, and his home run rate more than doubled from 0.4 with the Mariners to 1.0 per 9 innings with the Rangers. His Texas FIP though is still a cool 3.13, but when rumors emerged in August that Lee wasn't a big fan of Texas, you could almost hear the Yanks' executives rubbing their hands with glee.
So Yankee fans should beware. With the Rangers' revenue and success, they are bound to be active players in the free agent market this year, and that market begins with Cliff Lee. Three months ago, I was ready to count my chickens before they hatched, but today, I'll hold my breath for two months and hope that Lee wants to come to New York as badly as New York wants him.