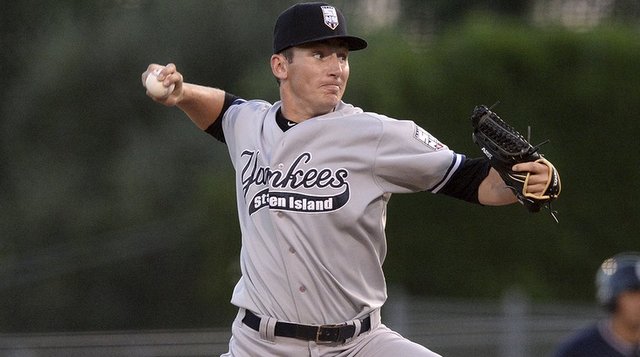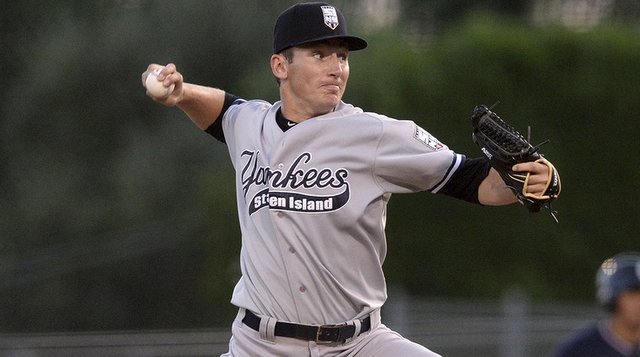 Trevor Stephan | RHP
Background
The just turned 22-year-old Stephan grew up in the Houston suburb of Magnolia, where he played first and third bases at West High School. He was not a notable prospect at the time — Baseball America did not rank Stephan among the top 45 prospects in Texas for the 2014 draft — so after going undrafted out of high school, he headed to Hill Junior College outside Dallas.
As a freshman with the Rebels, Stephan transitioned to pitcher, and allowed nine runs in 12.1 innings. He struck out 19 and walked ten. Stephan worked almost exclusively in relief as a sophomore, pitching to a 2.88 ERA with 88 strikeouts and 22 walks in 68.2 innings. Baseball America ranked him as the 66th best prospect in Texas for the 2016 draft, and the Red Sox grabbed him in the 18th round (538th overall).
"I was close to signing with the Red Sox, but I'm certainly glad I didn't," said Stephan to Matt Jones after turning down Boston and transferring to Arkansas. "They were trying to come up with (bonus pool) money for me and I didn't know if that would happen or not, so I was just kind of waiting. The longer I waited, the more I wanted to come to Arkansas."
Stephan stepped right into the Arkansas rotation last spring and he was dominant, throwing 91 innings with a 2.87 ERA. He struck out 120 and walked only 20. The 120 strikeouts were the most by a Razorbacks pitcher since Drew Smyly fanned 114 back in 2010. Stephan struck out 12 in 7.1 shutout innings against Oral Roberts in his lone postseason start.
Prior to the 2017 draft, Baseball America ranked Stephan as the third best prospect in Arkansas and the 177th best prospect overall. MLB.com ranked him as the 87th best prospect in the draft class. The Yankees selected Stephan with their third round pick (92nd overall) and gave him a $797,500 bonus, above the $588,700 slot value.
Pro Debut
Following a quick tuneup in the rookie Gulf Coast League, the Yankees had Stephan begin his pro career in earnest with Short Season Staten Island. He posted a 1.39 ERA (1.70 FIP) with 43 strikeouts and six walks in 32.1 innings for the Baby Bombers. That works out to a 35.0% strikeout rate and a 4.9% walk rate. Three of his ten outings with Staten Island went four innings with zero hits allowed. In his lone postseason appearance, Stephan walked two and struck out two in 3.2 hitless and scoreless inning of relief. He was dominant.
Scouting Report
At 6-foot-4 and 210 lbs., Stephan has pretty much the ideal pitcher's frame. His fastball sits 91-95 mph and has touched 98 mph, and it is more of a running two-seamer than a straight four-seamer. That pitch is his bread-and-butter. Stephan locates his heater well and he uses it aggressively.
After toying with a curveball throughout junior college, Stephan settled on a low-80s slider as his go-to secondary pitch last spring with Arkansas. It's a short-breaking slider that almost looks like a cutter. Stephan's changeup is a work in progress, which is not unexpected for someone with relatively little pitching experience. He does throw the pitch often, against both righties and lefties, so he's working at it.
As you can see in the video, Stephan's delivery is not the prettiest thing in the world. He throws across his body a bit and is a short-armer, though he hasn't trouble throwing strikes the last two years. That crossfire delivery helps Stephan hide the ball.
The less-than-stellar arm action and lack of a changeup have led to the inevitable speculation that Stephan might be a reliever long-term, but the Yankees are going to keep him in the rotation for the time being. If he does move to the bullpen, his bulldog mentality will serve him well. It's not uncommon for late converts to pitching to have arm problems, but Stephan has been completely healthy since making the switch.
2018 Outlook
A dominant SEC starter who received an above-slot bonus as a third round pick? You can bet on Stephan starting next season with High-A Tampa. The Yankees have so many lower level pitching prospects that maybe the numbers crunch will push him to Low-A Charleston to start the season, but I think he'll start in Tampa. The changeup will be a point of emphasis this year. The fastball/slider combination is close to ready.
My Take
I think Stephan is destined for the bullpen — what other starter has a delivery that wonky? — and I think he'll be an excellent reliever. If the Yankees put him in the bullpen now, he could be a big league option by the second half this coming season. (Not that they'd add him to the 40-man roster so soon, I'm just saying.) Love the fastball, like the slider, love the competitiveness. There's not much artistry here. Stephan is a no nonsense power arm who goes right after hitters. My kinda guy.