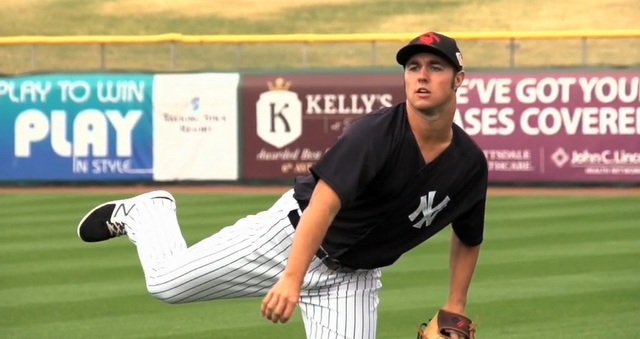 J.P. Feyereisen | RHP
Background
Feyereisen, who turned 24 yesterday, grew up in River Falls, Wisconsin, which is about 30 miles from downtown Minneapolis. In his four years as a varsity player at River Falls High School, he was named to several All-State and All-Conference Teams, and was named the State Tournament Most Valuable Player as a senior.
Despite his high school success, Baseball America did not rank Feyereisen among their top prospects from Wisconsin — a state not exactly known for producing baseball talent — prior to the 2011 draft. He went undrafted out of high school and wound up at the University of Wisconsin-Stevens Point, a Division III school.
Feyereisen made six starts and five relief appearances as a freshman, throwing 40.2 innings with a 2.66 ERA. He struck out 37 and walked 17. After the season he pitched for the Wisconsin Rapids Rafters of the Northwoods League, a collegiate summer league, where he allowed three runs in 8.2 innings.
As a sophomore in 2013, Feyereisen threw 77 innings across a dozen starts and one relief appearance at UWSP, striking out 59 and walking 28. He had a 2.69 ERA and was named the Wisconsin Intercollegiate Athletic Conference Pitcher of the Year. The Pointers advanced to the Division III College World Series that year.
Feyeresen returned to the Rapids Rafters for summer ball, which is when he got his first exposure to full-time bullpen work. He saved eleven games and made the All-Star Team after throwing 31 innings with a 1.16 ERA and 38 strikeouts. Baseball America ranked Feyereisen as the eighth best prospect in the Northwoods League that summer.
During his junior season at UWSP Feyereisen made eight starts and four relief appearances, throwing 62.1 innings with a 3.75 ERA to go with 45 strikeouts and 13 walks. Baseball America ranked Feyereisen as the best Division III prospect in the 2014 draft class and the 464th best prospect overall. He was the No. 2 prospect in Wisconsin.
The Indians selected Feyereisen in the 16th round (488th overall) and signed him to an $80,000 bonus. He became only the third junior to be drafted in UWSP history, joining former Red Sox farmhand Cody Koback (tenth round in 2011) and two-time All-Star Jordan Zimmermann (second round in 2007).
Feyereisen was traded to the Yankees as part of the Andrew Miller trade last summer. Feyereisen, outfielder Clint Frazier, lefty Justus Sheffield, and righty Ben Heller came to New York in the four-for-one swap.
Pro Career
Cleveland never bothered to try Feyereisen as a starter. They grabbed him in the 16th round and moved him to the bullpen immediately. He made his pro debut with the club's Short Season NY-Penn League affiliate, where he threw 17 innings without allowing a run. Feyereisen struck out 24 and walked one. Zoinks.
The Indians assigned Feyereisen to their Low-A affiliate in the Midwest League to begin 2015, his first full pro season. He allowed two runs in 16.2 innings while striking out 25 and walking six. Feyereisen was quickly promoted to High-A, and he finished the season with a 2.08 ERA (2.51 FIP) in 47.2 total innings. His strikeout rate (30.1%) was excellent, his walk rate just okay (8.1%).
Feyereisen opened 2016 with Double-A Akron and had a 2.23 ERA (3.04 FIP) in 40.1 innings that featured lots of strikeouts (33.1%) and lots of walks (11.8%). The Yankees sent him to Double-A Trenton after the trade, where he threw 18 innings. All told, Feyereisen had a 1.52 ERA (2.76 FIP) in 34.0% strikeouts and 11.3% walks in 65 Double-A innings in 2016.
The Yankees sent Feyereisen to the Arizona Fall League after the season for a little extra work. He allowed five runs (four earned) with 18 strikeouts and seven walks in 14 innings for the Scottsdale Scorpions last fall.
Scouting Report
Feyereisen is built solidly at 6-foot-2 and 215 lbs., and after working at 89-91 mph as a starter in college, he now sits 94-96 mph as a reliever and even touched 100 mph in 2016, according to Baseball America. PitchFX data from the AzFL says Feyereisen averaged 95.3 mph and topped out at 96.8 mph during his 14-inning stint. (That was at the end of a long season and fatigue may have been a factor.)
A mid-80s slider is Feyereisen's second pitch. Despite his strikeout rates, the slider is not a reliable put-away offering yet. He's still working to gain consistency with the pitch. He also throws a changeup but very rarely uses it. Feyereisen was sent to the AzFL specifically so he could continue to work on his secondary pitches.
Feyereisen is a strong kid with a good delivery that has some herky-jerkiness to it. His control is just okay and his command is below average. Feyereisen is very much a "here's the ball, try to hit it" guy with a big fastball at this point, and to his credit, he's fearless on the mound and a hard-worker off it.
2017 Outlook
After spending a full season at Double-A and having plenty of success, an assignment to Triple-A Scranton is in the cards to begin the upcoming 2017 season. The Yankees are bringing Feyereisen to Spring Training as a non-roster player and that's not in any way a surprise. A Triple-A reliever is a call-up candidate, so the team is giving Joe Girardi and his coaching staff a chance to get to know Feyereisen this spring. He'll be Rule 5 Draft eligible next offseason and it's very possible he'll make his MLB debut at some point this summer.
Miscellany
Relief prospects are unlike every other type of prospect out there. They put up ridiculous minor league numbers that make you believe they're ready to be setup men and closers at the big league level, but the fact of the matter is most of them are airing it out for an inning at a time and dominating overmatched minor leaguers, many of whom won't a) sniff the show, and b) face the pitcher again that series and have a chance to adjust. It's hard to separate the stats from the potential, I know it is, but it's necessary.
That isn't to say Feyereisen isn't a good prospect. He's a solid relief prospect who will undoubtedly pitch in the big leagues at some point, perhaps as soon as this year, and I think he has a chance to carve out a nice career as a middle reliever. The velocity is great, but the lack of a reliable secondary pitch presently holds Feyereisen back from high-leverage work. Hopefully he improves his slider and proves me wrong. For now, I see a possible middle reliever who relies on his fastball, and considering he was the fourth piece in the trade, that's a pretty nice return.