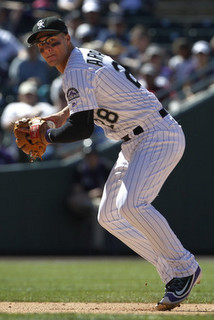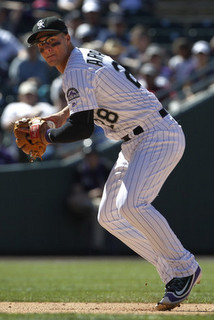 At the end of the week, the Knicks did something shocking that made a lot of people angry, as they are wont to do. Rather hastily, it seems, they traded injured-but-promising forward Kristaps Porzingis (and others) to the Dallas Mavericks for Dennis Smith, Jr. and a bunch of cap space. They'll use that cap space to lure max contract-worthy free agents, just like they did post-2010 when they were able to sign…no one but Amare Stoudemire.
On January 31st, the Rockies avoided arbitration with Nolan Arenado, to whom the Yankees have been linked this offseason. Not just that, but Mike himself noted that the team's owner is optimistic that the two parties can work out an extension now, rather than having to wait until 2019-20's free agency period.
What do these two unrelated things have to do with the Yankees? They're instructive, offering lessons the Yankees should take during this offseason: don't waste a good thing when you've got it and don't wait until next year.
The Knicks have been objectively terrible for a while now, much worse than the Yankees have been in decades. But in recent years, they had one thing going for them: Porzingis. Shelved as he may be this year, he was and is popular among his peers and fans for his unicorn skillset and talents. Undeniably, he was the one good thing you could count on for the future, especially considering the high draft pick the Knicks are likely to land after this season. He's a good player with the potential to get better, something you build around. Obviously, his apparent frustration with the Knicks outweighed that in their mind and they shipped him out for the potential brought on by big money. Still, the return for a player as unique as Porzingis seems underwhelming and if they were going to move him before this week, they could've gotten something better. It's unlikely that the Knicks would compete for a championship as soon as the Yankees will (this year, next year, etc.), but there's something analogous in their situations.
The Yankees have an incredibly talented young core of players that they've supplemented by adding Giancarlo Stanton and James Paxton, DJ LeMahieu and Adam Ottavino. But by not adding the bigger pieces–Manny Machado and Bryce Harper–they risk not doing quite enough to push this talented team over the top. The Yankees are going to be very good in 2019; they're going to win a lot of games and could, conceivably, win the World Series. Adding Harper, Machado, or both doesn't guarantee them winning the World Series, of course, but it would go a long way towards helping. The Yankees aren't selling a central piece like the Knicks did, but like the Knicks and their trade return, they risk not getting all they can from this core, from this very open window of competition.
Similarly, the Yankees can't take a 'wait till next year' approach to fix any remaining holes or make any additions because, as an Arenado extension would show, your plans for next year can fall apart the minute another team does something. Man plans, baseball laughs.
The Yankees opting for Arenado–should he be available–isn't ostensibly bad; he's a great player that any team would be happy to have. But that's just in a vacuum. Having him next year after not having Manny Machado this year is, relatively speaking, bad. Do not wait until next year. The better, younger player is right there for the taking, as is another younger, better player in Bryce Harper.
Given what I'm saying here, it feels like this should've been written in November or December. But here we are in February without these two great players signed, despite fitting the roster. Now, we've watched the Yankees' 'neighbor' do something ill-advised and are watching as a potential target is starting to disappear. The 2019 Yankees are poised to do good things, but by not capitalizing on what they have, by waiting for next year, they're holding back from doing great things.