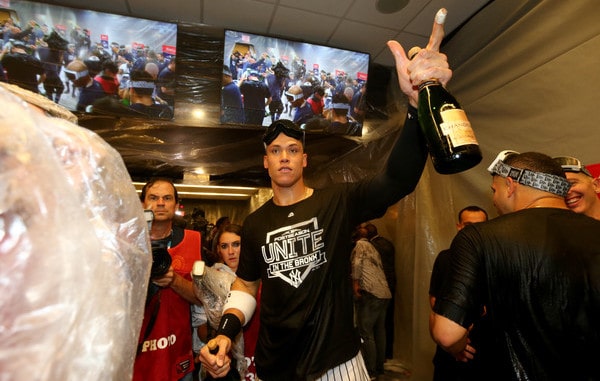 As a reward for losing the ALDS in four games, the Yankees will split $2,866,130.59 in postseason pool money this year. MLB announced the postseason shares yesterday. The World Series champion Red Sox received a record $31,747,908.06 in pool money.
The Yankees awarded 45 full shares worth $43,081.55 apiece. They also gave out 21.47 partial shares and two cash awards. Last year the Yankees split $10.14M in postseason pool money for losing Game Seven of the ALCS, and they handed out 57 full shares at $138,897.63 a pop. Here's the postseason pool information:
The players' pool is formed from 50 percent of the gate receipts from the Wild Card Games; 60 percent of the gate receipts from the first three games of the Division Series; 60 percent of the gate receipts from the first four games of the League Championship Series; and 60 percent of the gate receipts from the first four games of the World Series.  The players' pool was divided among the 10 Postseason Clubs: the two World Series participants, the two League Championship Series runners-up, the four Division Series runners-up and the two runners-up in the Wild Card Games.
There is some controversy surrounding this year's postseason shares. George King reports the Yankees voted assistant hitting coach P.J. Pilittere a half-share and traveling analyst Zac Fieroh, as well as several other members of the traveling support staff, nothing. Although no one is guaranteed a share, coaches traditionally receive a full share and others in the traveling party usually get something.
Players vote on postseason shares during the final week of the regular season and David Robertson ran the meeting this year because he's been involved in union matters in the past, and the Yankees traded their two union representatives (Chasen Shreve and Adam Warren) at midseason. King says there's some thought Robertson should've pushed harder for Pilittere, Fieroh, and others to get a larger piece of the postseason pie.
The Yankees issued 45 full shares this year, fewest among the ten postseason teams (the Astros had the next fewest with 56 full shares), and it should be noted this is a team vote. The Yankees collectively voted Pilittere a half-share and Fieroh et al nothing. Robertson didn't make the decision unilaterally. Pretty weird. Not sure what happened here, if anything, and I reckon we'll never truly find out.