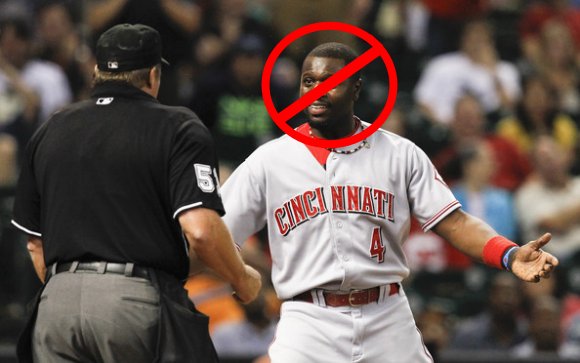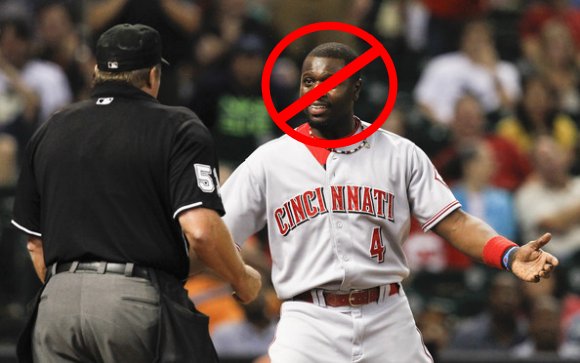 No. That is the only appropriate reaction to any suggestion that the Yankees should trade for Brandon Phillips in the event that Robinson Cano signs elsewhere. It might make sense in a superficial way. Phillips plays second base! He's viewed as a very good player! He'd instantly fit into the Yankees lineup!
Please, take a moment to review the pertinent information. The case for Phillips isn't nearly as compelling as his reputation might suggest.
He's not a very good hitter
Despite his reputation, Phillips has been decidedly average during his career, a 96 OPS+ in his 12-year career. Granted, the first four years came in Cleveland, where he performed poorly, to be kind. Even if you lop off those years, he has a career 100 OPS+ — exactly average.
It seems Phillips's reputation stems from the power he generated early in his career, and the outstanding season he produced in 2011. His 30-homer season in 2007 certainly stands out, as do his 88 homers from 2006 through 2009. Unfortunately, his power has taken a bit of a dip, as he's hit 72 homers in the four years that followed (the most recent four years).
In 2011 Phillips enjoy by far and wide the best season of his career, a 118 OPS+. Yet it appears that almost the entire difference between his 2011 and the rest of his career rests entirely in batting average. His walk rate and power were nearly identical to his 2010 campaign. The difference was that he hit .300 (.322 BABIP). For his career he is a .271 hitter (.291 BABIP).
Signs of decline
It's easy to forget, but Phillips turned 32 last season. Granted, he's right on the edge of the cutoff — had he been born three days later, 2013 would have been his age-31 season. The fact remains that he'll turn 33 in 2014, and his contract (more on that later) runs through his age-36 season. As you might imagine, decline is a serious concern.
In making points against re-signing Robinson Cano, many commentators have noted the poor aging curve for second basemen. The thing with aging curves is that they take the aggregate of a very large sample. While that has use when evaluating average players — average, as in Brandon Phillips — it's not so good at projecting outliers. Given his production and durability to date, Cano certainly appears more an outlier than an average 2B.
Phillips, on the other hand, saw his power take a dip after his 20-homer season in 2009, hitting 18 in each of the last four years. That might not seem so bad, until you compound that with a decline in the number of doubles he's hit*. His walk rate did rise from 2012 to 2013, but it's still lower than the 6.5 percent rate he produced from 2008 through 2011. What was once a pretty good bat might not be a good one any longer.
*He hit 38, a career high, in 2011, after hitting 33 in 2010. Going from a career high 38 to 30, and then to 24 in 2013 isn't necessarily decline. But it looks more that way when you eliminate the outlier and see that he's gone from 33 to 30 to 24 from 2010 to 2013, minus 2011.
That contract!
Despite his pretty average bat, Phillips managed to cash in on his career year, signing a six-year, $72.5 million contract with the Reds. That contract runs through 2017 and still has $50 million remaining on it. That's a huge chunk of change for a 33-year-old average player. People already love talking about how much the Ellsbury contract will hurt in 2020. I imagine the Phillips contract will hurt just as bad, if not worse, in 2017, and the Yankees aren't even the ones who signed him to that deal.
Speaking of him signing that deal, he came to terms with the Reds just five days after teammate Joey Votto secured a 10-year, $225 million extension (which goes into effect starting this year). A little more than a year later he complained about how the Reds handled the situation — that is, he complained that they gave Votto, a superstar, his money before they gave Phillips, an average hitter coming off a career year, his. Yet he signed the deal anyway, probably because he knew that if he produced another average year in 2012, which he did, he wouldn't get nearly that kind of money.
Given the current state of free agent contracts, perhaps Phillips's isn't among the worst in the game. But he's still being paid like a very good player, when in fact he is average.
For Gardner?
In the wake of the Ellsbury signing, I've seen more than one person suggest that trading Brett Gardner for Phillips makes sense. As I outline above, that's not a great deal for the Yankees based on Phillips alone. But did you know that Gardner and Phillips share similar career numbers? Did you know that they have nearly identical OPS+s in the last four years (Gardner is a single point ahead, actually)?
Gardner will likely make half of what Phillips earns this year. I'm willing to bet that the Yankees can sign Gardner to a four-year deal worth less than the $39 million Phillips is owed in the final three years of his deal. True, there is something to be said about positional need. There is also something to be said about value. In the next four years I'm willing to wager that Gardner is worth every bit as much as Phillips, both at the plate and in the field. Add in a substantially lower contract, and it's a no-brainer.
To give up anything of value for Phillips, without getting back about half of his contract, is sheer lunacy. The Yankees might, in the near future, have a need at second base. They'd be better off handing the position to Kelly Johnson. Hell, they'd be infinitely better off signing Omar Infante, who will be far cheaper than Phillips, to fill the role. Infante is also an average hitter.
Phillips has name value, no doubt. But the Yankees have added plenty of that this off-season. Do they really need to give up real, live baseball players for Brandon Phillips, an average hitter who is paid like a very good one? Paying for their own free agents is one thing. Paying for the mistakes of other teams? Only if it comes with a pot sweetener. Something tells me that's not the mindset the Reds have in a potential Phillips deal.