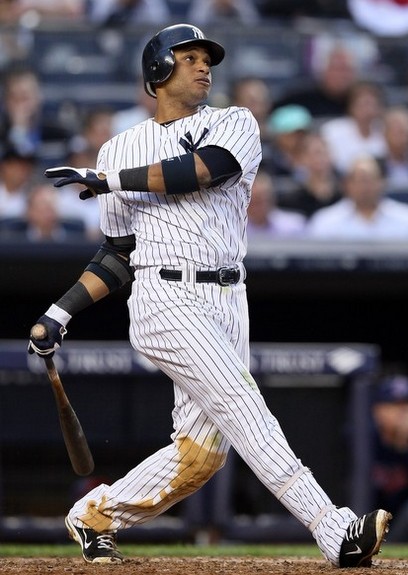 Stop me if you've heard this before, but the Yankees are overly reliant on the homerun. They've hit a MLB-best 115 dingers through their first 72 games, the most homers through that many games in franchise history. Something like 52% of their runs this season has scored via the long ball, by far the most in the majors. They hit three more last night in their third straight win. New York lives and dies by the homer right now and you know what? There's nothing wrong with that at all.
I'm pretty sure the Yankees are the only club capable of making people try to spin hitting so many homers into a bad thing. There's a lot of anti-Yankee stuff out there — I'd venture to say more than every other team combined — because hey, lots of people hate the Yankees and that stuff sells. I know all about the utter lack of hitting with runners in scoring position — .220/.326/.394 after a 1-for-3 effort last night — but we're talking about 26% of their total plate appearances this season. That other 74% counts as well, and the Yankees do more damage in those situations than any other team in baseball.
Remember, "scoring position" is a cookie cutter definition applied to all players and teams. It refers to plate appearances when there is a runner on second and/or third and while that's useful to a certain extent, the Yankees also have runners in scoring position when there's a guy on first or even when the bases are empty. They have a roster full of power hitters and on most nights, have about eight guys in the lineup capable of putting the run on the board by themselves with one swing. Power is becoming harder to find these days and the Yankees have enough to spare.
At some point, the team's .229 (!) BABIP with men in scoring position (the cookie cutter kind) will correct and that .220 batting average will climb. Most of the time saying BABIP will regress to some mean is lazy, because there can be some very real explanations for why someone's rate will fluctuate from year-to-year or even month-to-month. The Yankees are nearly 30 points (!) below the second lowest team and about 70 (!!!) points away from the AL average though. Some of those guys are definitely pressing in those spots and it's hurting the quality of their contact, but they've also been quite unlikely in those spots as a team. I mean really unlikely. Even getting up to a .250 BABIP with men in scoring position is going to turn a powerhouse offense into a juggernaut.
People like to say that you can't really on the homer against quality pitching in the postseason but the Yankees have already hung 5+ runs on the likes of Johan Santana, Justin Verlander (twice), Jamie Shields (twice), David Price, and R.A. Dickey this year. Heck, last year in the ALDS they scored 12 runs in 18.2 innings off Verlander and Doug Fister. When a good pitcher makes a mistake, you have to make them pay. A walk and three singles to score two runs against a top guy just doesn't happen. They're great pitchers because they don't allow extended rallies.
It's June, and literally nothing that happens in June will tell you anything about what will happen in October. There's still more than half a season to play and something like 20% of the roster will turn over between now and October, if not more. Hopefully the Yankees will start hitting with men in scoring position soon, but the reason they have the best record in baseball right now is because they hit the ball out of park and get quality pitching just about every night. That's the formula every team tries to follow and the Yankees have done it better than anyone this year. Embrace the homers and don't sweat the RISPFAIL just yet. This is a legitimately great team that still has room to improve.