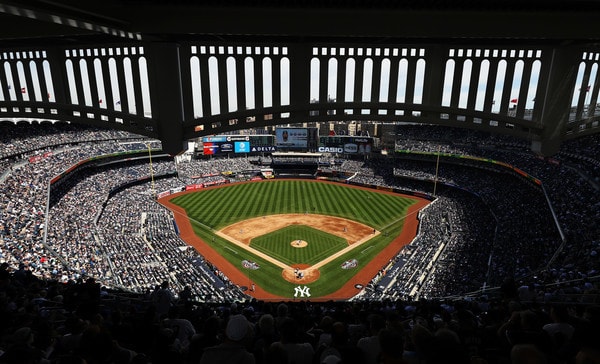 For years, we've talked about bringing a group of RAB readers to the Bronx for a Yankee game, and thanks to a new platform the team has made available this year, we're finally able to do it. So allow me to proudly present River Ave. Blues Day at Yankee Stadium. Join us at the big ballpark in the Bronx on Saturday, May 12, at 1:05 p.m. when the A's are in town for a three-game set.
Here's the story: We have access to a few different blocks of tickets and some "Masterpass" extras that include a few hours of food and drink at the Batter's Eye Deck. The event features tickets at various price points — ranging from $30 for seats in 332A to $97 for seats in Section 133 which include the Masterpass option. Everything you need to know is on the ticket purchase page.
As an added incentive, you can invite friends with a referral link, and the Yanks' system will place you in seats together (so long as you and your friends buy tickets at the same price point). Additionally, the person who invites the most friends (at least 10) will get four tickets to another non-premium game during the 2018 season.
To be upfront about this, we at RAB are not making any money of this. It's opportunity for us to meet some fans and readers and hang out before catching a Yankee game. If it's a success, we'll do it again later this season. If not, well, then we've all sat through a Yanks/A's game many of us were going to attend anyway. It's a win-win. But do join us at the stadium. We'll be in the Masterpass Batter's Eye area from 11 a.m. onward, and we'll all catch the Yanks in the Bronx together, a day 12 season in the making. [RAB Day Tickets]