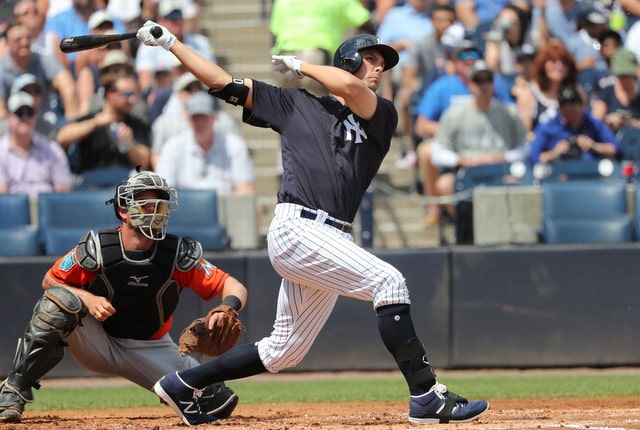 Spring Training is, without question, the worst time of year to evaluate players. Basically no one is in midseason form, rarely do we know what a player is working on on a given day, and the quality of competition varies wildly. Not just day-to-day either. Inning-to-inning. A hitter could face a Cy Young candidate one at-bat and a Single-A kid the next.
Because of that, I never did think much about Greg Bird's slow Grapefruit League season. He's hitting .171/.292/.268 in 48 plate appearances at the moment — it was .158/.289/.184 prior to that long home run yesterday — which is objectively terrible, but it is Spring Training, so who cares? With Bird, I've been more worried about health than performance. I don't think that's crazy.
As it turns out, Bird's rough Spring Training is more than the usual spring small sample size noise. He's healthy! That's the important thing. Apparently Bird has also been dealing with a mechanical issue, a mechanical issue he believes he and hitting coach Marcus Thames have fixed, or will fix soon. From George King following yesterday's game:
"My timing has been off. When my timing is right, I get the ball in the air more and my contact point is better,'' said Bird, who also lofted a fly to deep center. "I feel it can click at any time when you have a couple of good at-bats."

…

"The homer today, but he hit a ball to center field and a couple of balls well [Saturday],'' Boone said of Bird. "Him and [hitting coach] Marcus [Thames] identified something in his swing that they are really honing in on, a minor adjustment that will allow him to take off. It was good to see him impact the ball today. That ball was covered.''
I guess that explains why Bird has been swinging through more than a few low-90s heaters these last few weeks. I guess I never really considered the possibility Bird could be healthy and bad. I've just always assumed that, as long as he's healthy, Bird will rake. That's not the case. He's human and he'll go through slumps like everyone else, and right now he's fighting a mechanical issue.
Bird socked that long home run yesterday — in the interest of full disclosure, it came on a hanging Caleb Smith breaking ball — and in his previous game he jumped on a middle-middle heater for a double into the right field corner, so hopefully that's a sign he's starting to snap out of it. He's hitting the ball hard and crushing the pitches he's supposed to crush. A few too hittable pitches got by him the first two or three weeks of the Grapefruit League.
The important thing is that Bird (and Thames) have identified some sort of flaw and are working to correct it. That's step one. Identifying the problem. Once you do that, you can develop a solution and implement it. And who knows, maybe this is all lip service and one of those adjustments players and coaches talk about that leads nowhere. Wouldn't be the first time. My eyes tell me Bird has looked a bit better lately, but what do I know?
Bird and Aaron Boone say Bird's slow spring is not just Spring Training randomness. There's an issue with his timing. There are ten days to go before Opening Day — the Yankees play their final exhibition game one week from today — so Bird still has time to get himself on track. He's a good enough and smart enough hitter to figure things out, and as long as he's healthy — that more than anything is the question with Bird — I expect him to hit.