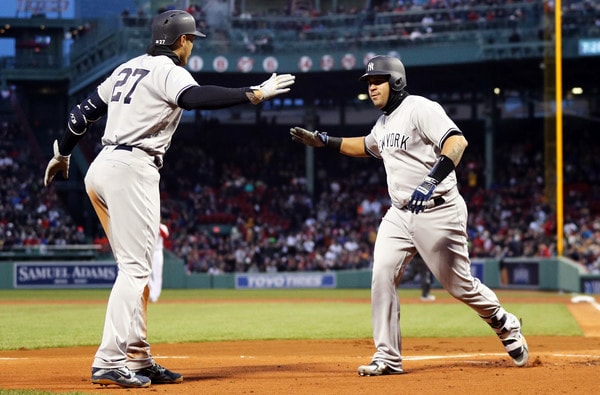 Twelve games into the 2018 season, I think we've learned four things about the Yankees and their offense. One, Aaron Judge is still a monster. He's hitting .348/.474/.587 (200 wRC+). Two, Giancarlo Stanton can do things to a baseball very few people on Earth can do. That triple last night was insane. Three, the Yankees probably won't steal many bases. They've stolen six and attempted nine steals in a dozen games.
And four, the Yankees are a disciplined team at the plate. Their offense ranks among the game's best at drawing walks, not chasing out of the zone, prolonging at-bats, and all those other things that fall under the plate discipline umbrella. Some quick rates and ranks:
Walk Rate: 11.2% (5th best in MLB)
Pitches per Plate Appearance: 4.06 (8th)
Chase Rate: 30.9% (11th)
Two-Strike Foul Ball Rate: 23.5% (5th)
Believe it or not, the Yankees have the 11th lowest strikeout rate in baseball so far at 22.0%. For real. Stanton and Judge strike out a lot. That's who they are as hitters. The rest of the team? They've been pretty good at avoiding strike three so far. Controlling the strike zone is a Yankees' hallmark. The late 1990s teams were great at it before on-base percentage was all the rage.
"I want us to be obsessed with controlling the strike zone," said Aaron Boone to Erik Boland back in Spring Training. "That's one of the bumper stickers, if you will. I know (hitting coaches Marcus Thames and P.J. Pilittere) are really driving that message home with our guys. We want to be great at that … We feel like if we do that, with our (power) potential, when you're controlling the strike zone, that's a dangerous combination."
Walk rates and plate discipline go hand in hand, but walks are a byproduct of plate discipline, not the goal. The goal is to get a good pitch to hit. The more pitches you see in an at-bat the more likely you are to get something out over the plate, a damage pitch. Sometimes that damage pitch comes early in the at-bat. When it comes to first pitch fastballs in the zone, the Yankees haven't done much at all:
Swing Rate: 18.3% (18th in MLB)
AVG: .250 (28th)
ISO: .207 (11th)
xwOBA: .331 (25th)
The Yankees are pretty good at working the count and prolonging at-bats, and that's great! There is also something to be said for being aggressive early in the count though. Call it controlled aggression, combining the ability to work the count and take a walk, and the willingness to jump on a hittable pitch early in the count. So far, the Yankees haven't had much success on those early count fastballs in the zone.
"We want to be uber-aggressive and lethal in the strike zone," said Boone to Boland. "Yeah, we're going to strike out some, but if we're really controlling the strike zone at a high level, it's going to end up resulting in a lot of runs for us, just because of what we're capable of from a power standpoint. But I just want us to, as a mantra, we walk in each day, these guys are just obsessed with controlling it. I want that to be their mindset."
I love that the Yankees have worked the count and driven up pitch counts so far this season. Pretty much every winning team does that. I also think they could benefit from jumping on those first pitch fastballs a little more often. Throw a wrench in the scouting report, basically. Make pitchers nervous when they try to steal a first pitch strike with a fastball. Make them think twice about it.
Boone talked about controlling the strike zone back in Spring Training and the Yankees have done it so far. They've done it very well so far, really. And I suspect that, once Stanton and Gary Sanchez really get locked in, the Yankees will control the zone even better. Ditto whenever Greg Bird returns. The lack of first pitch fastball success is more minor nuisance than fatal flaw. It strikes me as a potential area of improvement, though finding the right balance between discipline and aggression may not be easy.