Eleven questions and ten answers in this week's mailbag. Send all your questions to RABmailbag (at) gmail (dot) com and I'll get to as many as I can each week.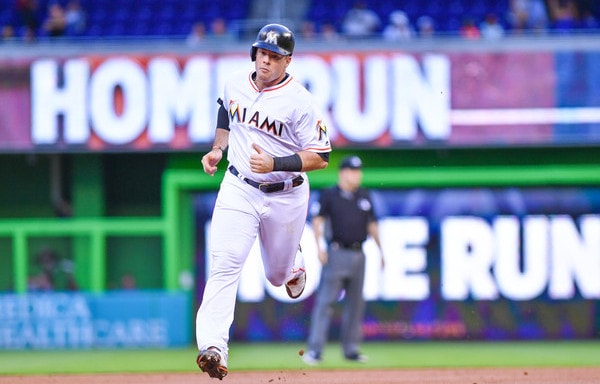 Matt asks (short version): I know there was a trading for a 1st baseman question in last week's mailbag and Abreu was mentioned. If Bird keeps struggling and the team is unable to add a difference maker in the rotation, would acquiring Abreu be a good idea?
Vismay asks: Here's my bad idea to fix our 1B problem (it is a problem): Jose Martinez (Cardinals) or Justin Bour (Marlins). Martinez is controlled until 2022 and Bour is controlled until 2020. However both Martinez and Bour are 29/30 years old respectively, so their decline will happen soon.
Going to lump these two together. Like I said last week, I'm cool with giving Greg Bird until the trade deadline to start hitting, but, if July 31st rolls around and we're still waiting for him to get going, it's time to go get a first baseman. Aside from Tyler Austin's April, the Yankees have gotten nothing from the position all year. It is an obvious — and theoretically easy — position to upgrade.
Ideally the Yankees would acquire a lefty hitting first baseman to help balance out the lineup, though it's not imperative. Bour is a lefty bat while Jose Abreu and Martinez are righties. Here are their season numbers prior to yesterday's action:
| | AVG/OBP/SLG | wRC+ | K% | BB% | wRC+ vs. RHP | wRC+ vs. LHP |
| --- | --- | --- | --- | --- | --- | --- |
| Abreu | .272/.326/.479 | 118 | 18.6% | 5.7% | 111 | 142 |
| Bour | .239/.369/.432 | 121 | 23.6% | 17.2% | 143 | 81 |
| Martinez | .305/.375/.500 | 140 | 14.7% | 9.8% | 145 | 114 |
Abreu is the big name but he's been the worst hitter of the three this season, though he is regarded as a top notch clubhouse guy, and that's not nothing. Martinez has been the best hitter but he is one of the worst defensive first basemen I've ever seen. He's terrible. Bour is probably the most available. Dingers pay and he's starting to get expensive through arbitration, so of course the Marlins will trade him at some point.
Bour and Martinez having multiple years of team control is nice, though I don't value those control years highly. There are always tons of first basemen in free agency and I'd bet the farm on neither guy making it through their arbitration years without being non-tendered. These defensively limited first base masher types get to the point where their salary outweighs their production rather quickly.
Which one should the Yankees trade for? Whichever one is cheapest. How's that for a plan? I'd take any of those three guys if Bird doesn't get things straightened out prior to the trade deadline. What other contender could use first base help? Maybe the Mariners? I guess the Nationals if Ryan Zimmerman doesn't get healthy? But that's pretty much it. There's more first base supply than demand and that works in the Yankees favor.
Denzil asks: Yankees have by my estimate $40 mil coming off this year. With that and resetting the tax threshold, how many free agents and who do you think they will bring in to make this team better?
The Yankees are shedding David Robertson ($13M), CC Sabathia ($10M), Neil Walker ($4M), Adam Warren ($3.315M), and the money they're paying Brian McCann ($5.5M) after the season. They might unload Brett Gardner ($9.5M after the club option buyout) as well. That adds up to $35.815M with Gardner being retained and $45.315M with Gardner being let go. The Yankees are shedding more payroll after the season than I realized.
As for who the Yankees could sign, geez, I don't know. Can we get through the 2018 season first and see where the team stands once November rolls around? There's lots of fun stuff happening this summer! Don't miss it. Here is the 2018-19 free agent class. Manny Machado and Bryce Harper are the big names. I am very much against signing Dallas Keuchel. Hard pass for me. Given the roster right now, a starting pitcher seems like an obvious need this winter. Patrick Corbin, J.A. Happ, and Garrett Richards stand out as possible targets to me.
Anonymous asks: Is it likely the Yankees never buyout Judge's arbitration years and never offer him a long term contract of any kind? He's 26 and under team control through age 31, at which time he'll likely be past his prime and playing first base. As much as I'd like him to be a lifetime Yankee, they're getting the prime of his career and shouldn't pay for the downside.
There are three options here. One, go year-to-year and don't offer Aaron Judge an extension. Two, lock him up long-term with a deal that buys out a free agent year or three. And three, sign him to a contract that buys out arbitration years and arbitration years only. Judge is immensely productive, but he is already 26, and I have no idea how he's going to age at that size. He very well might be a full-time first baseman with achy knees by time he's ready to become a free agent.
A contract extension that buys out Judge's arbitration years but not any free agent years could be worthwhile because he is heading for some massive arbitration salaries. All-Star Games, a Rookie of the Year, MVP votes, a home run title … Judge is going to make gobs of money his arbitration years. He could be looking at $10M, $18M, and $25M salaries in the three arbitration years. Maybe the Yankees can get him to sign a contract that guarantees him, say, $45M for his three arbitration years? It would give the team cost certainty and Judge some security.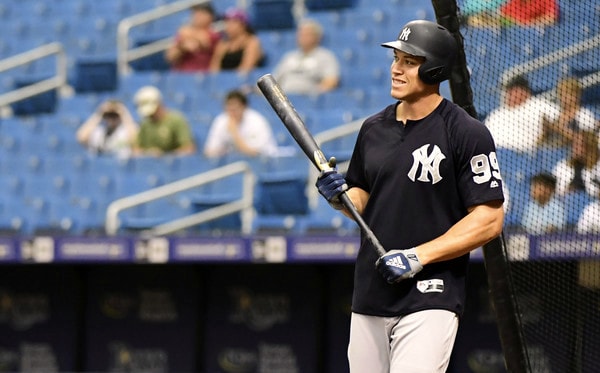 Luke asks: I keep looking at DotF posts hoping to see Seigler's name, but it seems he's only playing every 3-4 days. Is it typical not to play recently drafted (position) players every day? How long will it be before he gets more regular playing time?
First rounder Anthony Seigler is playing every two or three days in the rookie Gulf Coast League right now and that's not unusual at all for a recently drafted player, especially a high pick and extra especially a catcher. Seigler is undoubtedly doing a lot of work behind the scenes with the catching instructors and all the other catcher prospects. Seigler's workload will increase a bit as the season progresses and I'm sure we'll see him catching back-to-back games before the end of the year. This isn't unusual. Teams don't throw kids to the wolves in their pro debuts and ask them to grind it out right away like they once did.
Matt asks (short version): J.A. Happ has thrown his fastball 72.6% of the time this year. The Yankees, as a staff, have thrown it about 40%. It's literally the two opposite ends of the spectrum. If the Yankees acquire him, what gives?
If the Yankees do trade for Happ, I hope they leave him alone and let him continue to do whatever's working for him right now. The Yankees are an anti-fastball team but not everyone needs the organizational stamp. Happ is a fastball heavy pitcher — he's doing a great job elevating the four-seamer for swings and misses and pitching in and out with the two-seamer — and that is his key to success, so let him do it. He used to throw a lot more secondary pitches once upon a time. It didn't really work for him. Happ's success is the result of his fastball usage. I couldn't imagine trading for him and changing that. Don't fix what isn't broken.
Greg asks: Is there a monetary reason or any penalties that explain why the Yankees have not yet put Jordan Montgomery on the 60 day DL? Seems like an obvious move at this point.
There's no reason to. Teams can only put players on the 60-day DL when they need a 40-man roster spot and right now the Yankees have 39 players on the 40-man roster. The open spot comes from when they last last designated David Hale for assignment, then called up and outrighted Ryan Bollinger in the span of two days. By rule, when a player is placed on the 60-day DL, another player has to be added to the 40-man roster to take his place right away. You can't just stick someone on the 60-day DL and leave an open 40-man spot. It's silly because, in this case, we know Montgomery isn't coming back this year, but the MLBPA pushed for that rule because a) they want players to be able to come off the disabled list as early as possible, and b) they want as many players on the 40-man as possible.
Paul asks: Any thoughts on why Aaron Judge's home/away split is so dramatic? One possibility is that he is more likely to go the opposite way at home, which helps him see pitches for a longer time. Is there any evidence to support this theory?
The numbers do support the "he is more likely to go the opposite way at home" theory. Judge has a 35.8% pull rate (31.6% oppo) at home this season compared to a 51.8% pull rate (17.7%) on the road. I honestly don't think there's much to the home/road splits though. Seems like sample size weirdness to me. It's not like Judge has never hit on the road. He put up big numbers on the road last season.
2016 home: .312/.440/.725 (199 wRC+)
2017 road: .256/.404/.531 (147 wRC+)
Baseball players as a whole tend to perform better at home than on the road — the league average is a 102 wRC+ at home and a 98 wRC+ on the road — because they're more comfortable at home, and in Judge's case, his home ballpark is Yankee Stadium. Of course he'll put up better numbers at home.
I don't see a reason to believe Judge can't hit on the road. Judge just hasn't hit on the road in a 36-game sample spread across three months so far this season. It's not like he makes his living popping short porch homers. He can hit the ball out of any part of any park. Give it time and it'll even out, I imagine. I'm paying more attention to the whole getting pitched inside thing, and all the recent rolled over grounders to the left side than I am the home/road splits.
Dave asks: As a huge Yankee fan and a die-hard Arkansas Razorback fan, I'm watching game two of the CWS and it's 3-2 Hogs in the 7th and Loseke is pitching so it got me thinking. Do you think he signs as a junior who was taken in the 17th round or does he go back to school? His stat line alone in Omaha was filthy and he was by far in my opinion the MVP. 67 k's in 52-plus innings with a .194 opp ba. Just wondering what your thoughts are and as a fan of both teams I don't lose much! Thanks as always!
Hah! I kept an eye on the College World Series games while watching the Yankees earlier this week and I remember thinking damn, this kid on Arkansas has a really good arm. Didn't even realize it was Barrett Loseke, who the Yankees drafted in the 17th round this year, until Dave asked this question.
Loseke's final strikeout in the video is Twins first rounder Trevor Larnach,
who I wrote a draft profile about
. Anyway,
Baseball America
(subs. req'd) did not rank Loseke among their top 500 draft prospects because he's basically a fastball only short reliever, and that fastball is usually 92-94 mph and not, like, 97-99 mph. The Yankees have a thing for upping velocity though.
The Yankees can't offer Loseke more than $164,000 or so given their draft pool situation — that's the $125,000 slot plus the $39,000 they have available before hitting the next penalty tier, which means forfeiting next year's first rounder — and I have no idea whether that's enough to get him to turn pro. He might not need the money and he might value getting his degree. The kid looks good though, and if the Yankees can convince him to turn pro, that'd be swell.
Dan asks: If Neil Walker were put on waivers now, do you think he would be claimed? Should the Yankees go that route and bring up either Brandon Drury or Ronald Torreyes (or both)?
Veterans put on waivers after being designated for assignment are almost never claimed. Any interested team would just wait until Walker clears waivers and becomes a free agent, and then sign him for the pro-rated portion of the league minimum. I'm not sure I'm on board with bringing up Drury to replace Walker when he's only going to play once or twice a week. Like I said, give Bird until the All-Star break to straighten himself out. The Yankees could dump Walker and call up Torreyes, but then they don't have a backup first baseman. I'm not sure what the best course of action is here. Maybe dumping Walker and the eighth reliever, and carrying Torreyes and Tyler Austin?
Mark asks: Does it make any sense to have Ellsbury take reps at first base? We really don't need a 6th outfielder.
Yep, it does. Jacoby Ellsbury has no place in the starting outfield and you could argue he's not even the best fourth (or fifth) best outfield candidate in the organization. Anything he can do to increase his usefulness to the team is worthwhile. I hope we never ever ever get to the point where Ellsbury is playing first base semi-regularly, but, if need be, it would be nice if he could do it. Give him a first baseman's mitt and let him work out there.