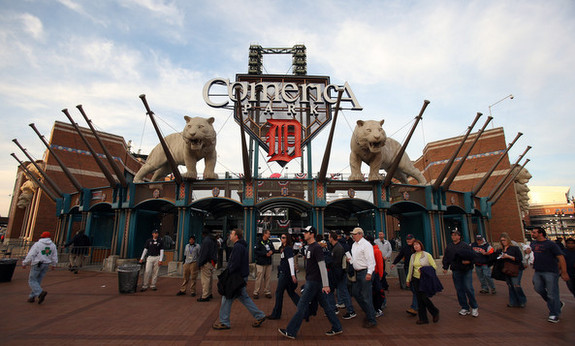 The last time the Yankees played a game in Detroit, their season came to an unceremonious and brutally ugly end. The Tigers swept New York out of the ALCS last fall in a four-game series that was a little closer than we might remember — Game One went to extra innings, Game Two was a one-run game for seven innings, Game Three was a one-run game overall — but still a lopsided win for the defending AL Central champs. They outscore the defending AL East champs 20-9 in the four games.
After playing a night game in the Bronx, the Yankees are on MoTown for the Tigers' home opener this afternoon. It's not the longest flight in the world, but it still sucks having to play a day game after a night game when you have to change cities. Fatigue in these situations tends to show up the day after, meaning it would probably be more evident in tomorrow's game than today's. I dunno, we'll see. Here's the starting nine…
CF Brett Gardner
2B Robinson Cano
3B Kevin Youkilis
DH Travis Hafner
RF Brennan Boesch
SS Eduardo Nunez
LF Ichiro Suzuki
1B Lyle Overbay
C Chris Stewart
And on the mound is someone who will hopefully pitch like his rotation spot is on the line with Phil Hughes scheduled to return next week, right-hander Ivan Nova.
This afternoon's game is scheduled to start at 1:08pm ET, though it might be a little later because of the home opener festivities. Either way, the game can be seen on YES locally and MLB Network nationally, and remember to join in this afternoon's chat after the jump (starts at 1pm ET). Enjoy.
Hiroki Kuroda Update: Kuroda (finger) threw 36 pitches in the bullpen today and everything went fine. The team will wait to see how he feels tomorrow before deciding whether he will make his next scheduled start on Monday.