The first two games of the ALDS have been similar but different. Similar in the sense that both were extremely close games for almost all nine innings, different in the sense that the Yankees had the big ninth inning in Game One but not Game Two. As thrilling as Sunday night's win was, the Orioles weren't just to roll over and give New York the rest of the series. They were hot on their tails for the division in September and aren't going to go away quietly.
One similarity between Games One and Two of the series is that Chris Davis has really put a hurting on the Yankees. He went 2-for-4 in both games (all singles), and all four hits came off lefties CC Sabathia and Andy Pettitte. The 26-year-old Davis actually didn't show much of a platoon split in the regular season, posting a 121 wRC+ against righties and a 111 mark against lefties. For his career, those numbers are 104 and 86, respectively, but there are sample size issues (only 416 plate appearances against southpaws).
Davis performed well against same-side pitchers this year (and last year for that matter), so he shouldn't be considered a platoon bat despite his strikeout woes. He hits for big time power and as we've seen these last two days, he can also slap some singles. If you go back to the last three weeks of the regular season, Davis hit .352/.418/.746 with eight homers in Baltimore's final 20 regular season games. The guy finished the season on fire and he's carried it over into the postseason, and right now he's making the Yankees pay.
In the first two games of the ALDS, Davis has seen a total of 18 pitches in his eight plate appearances. Ten of those 18 pitches were sliders, the other eight some kind of fastball (four-seamer, cutter, etc.). Davis has taken just six pitches in the series — three fastballs on the inner half and three pitches in the dirt (two fastballs and a slider). Here is a plot of the dozen pitches he's offered at (via Texas Leaguers)…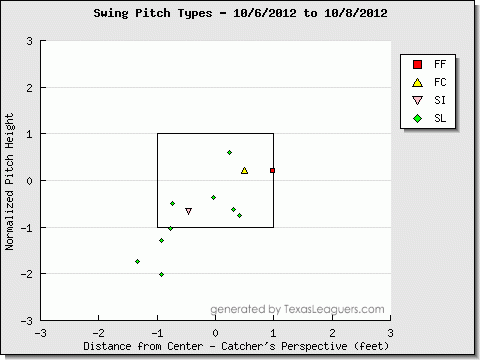 The two hits in Game One came on fastballs — the red square and upside pink triangle, to be exact — while the two hits in Game Two came on sliders, including that one just hanging up near the top of the zone. That was the two-run third inning single off Pettitte. Davis has swung and missed three times in the series, all three times on those down-and-away sliders. Based on his heat map against lefties (blue is good for pitchers, red is bad), throwing him fastballs up-and-in and sliders down-and-away is a pretty good plan of attack for left-handed pitchers. Pettitte hung some sliders and got burned while that inside fastball Davis hit for a single was actually just a broken bat bloop. Can't really blame Sabathia for that.
With both Clay Rapada and Boone Logan in the bullpen, the Yankees should have no trouble matching up with the Orioles' big left-handed batter in the later innings. Hiroki Kuroda and Phil Hughes are scheduled to start the next two games though, so the whole fastball up-and-in and slider down-and-away approach goes out the window for the right-handers. Here is Davis' heat map against righties (via Baseball Heat Maps)…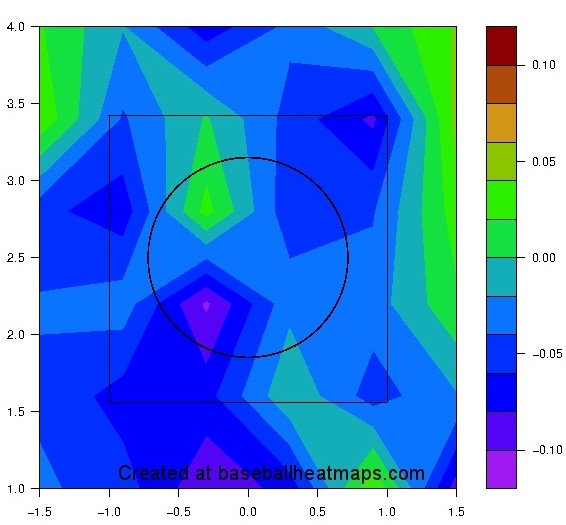 As I said before, blue is good for the pitchers and red (or in this case, green) is bad. What the map is telling us is how Davis performs on pitches in these locations compared to the league average, so he's been effective on pitches up in the zone but not so much down at the knees, particularly away. Kuroda should have no trouble getting the ball down with his splitter, but it will be a challenge for Hughes. He pitches up in the zone with his fastball, which is why he gets so many fly balls and swings and misses. Phil will have to be careful with Davis come Game Four.
The Yankees have done a pretty good job of keeping Adam Jones (1-for-8), Matt Wieters (also 1-for-8), and J.J. Hardy (1-for-7 with a walk) in check during the first two games of the series, but Davis is the one guy who has really given them trouble each time through the lineup. He will strike out a bunch (30.1% strikeouts this year), so going after him with offspeed pitches down in the zone will be important these next two games. Catching too much of the plate like Sabathia and Pettitte did could result in big problems given Yankee Stadium's short right field porch.