We've just about wrapped up our 2012 Season Preview. We've covered various aspects of the Yankees as a team, and have even examined the competition. There's only one thing left: the National League. Of course, since the Yankees play just 18 games against Senior Circuit competition, we needn't go into great detail. But, since we always look forward to the Yankees making a World Series trip — especially now that Kentucky has won the NCAA basketball title — a little closer look at the NL is warranted.
Cincinnati Reds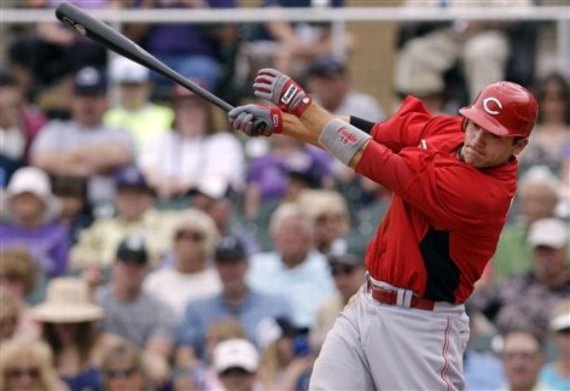 Every year MLB has one stray interleague series in May. This usually pits geographic against one another: Giants vs. A's, Dodgers vs. Angels, Cubs vs. White Sox, and of course Yankees vs. Mets. This year, however, things have changed a bit. The Yanks will still play two series against the Mets, but they'll bookend the 5-series interleague run in June. For the stray May series, they'll face the Cincinnati Reds at The Stadium.
Last year the Yanks traveled to Cincinnati for a three game series, including a rainout and a doubleheader. The Yanks took the first two contests, but got demolished in the nightcap of the doubleheader. That was, if you'll remember, Brian Gordon's final start in pinstripes. The Reds have changed a bit after their disappointing 2011 season. They'll prove formidable in 2012.
Their offense is headed by the fabulously wealthy Joey Votto, who just signed a 10-year contract extension, which will keep him in Cincinnati through 2023. It will cost the Reds a total of more than $250 million, but they apparently consider Votto, a perennial MVP candidate, worthy of the cost. He'll also have Jay Bruce and Brandon Phillips to provide some production around him. If secondary guys such as Drew Stubbs, Zack Cozart, and Chris Heisey step up, the Reds will be in fine shape offensively.
On the mound the Reds have added a potential ace to go along with Johnny Cueto. They sent a huge package of players to San Diego this winter, and in return got Mat Latos. They'll also have Mike Leake, Bronson Arroyo, and Homer Bailey to round out the rotation. In the bullpen the Reds are strong, despite the loss of Ryan Madson before he threw a pitch for them. Sean Marshall is one of the league's best relievers, and he has Aroldis Chapman, Jose Arredondo, and Bill Bray setting up for him. With both the Brewers and the Cardinals losing a bit this off-season, the Reds could certainly step up in 2012.
Atlanta Braves
While the Yankees got to break in the new Marlins ballpark this week, they won't face the Fish during the regular season. Instead, they'll play two series against the Braves. Despite their late-season collapse out of what was thought to be a sure playoff spot in 2011, the Braves come back with few changes on the surface. They essentially signed no significant players during the off-season, leaving them with an older version of last year's team. Considering the ages of some of their most important parts, however, that might not be a bad thing.
Their biggest issue is the loss of Chipper Jones, though he could be back by mid-April following surgery to repair a meniscus tear in his left knee. Once he's back the Braves offense will be solid at worst. Along with Jones in the heart of the lineup, they'll have Brian McCann and Dan Uggla. Freddie Freeman could continue making strides this year. If Jason Heyward fixes his swing and starts to fulfill his promise, the Braves should have few problems scoring runs at an above-average clip.
On the mound they're missing Tim Hudson, who will miss at least April following back surgery. The Braves do have plenty of depth in the minors, though, and they'll start to exercise that at season's start by slotting Randall Delgado into the fifth starter spot. He'll be joined by fellow youngster Mike Minor. The other three starters — Tommy Hanson, Jair Jurrjens, and Brandon Beachy — are also young. In fact, no Braves starter in April will be above age 26. Mix that with a powerful bullpen built on 2011 NL Rookie of the Year Award winner Craig Kimbrel, and you have a young and exciting pitching staff.
Washington Nationals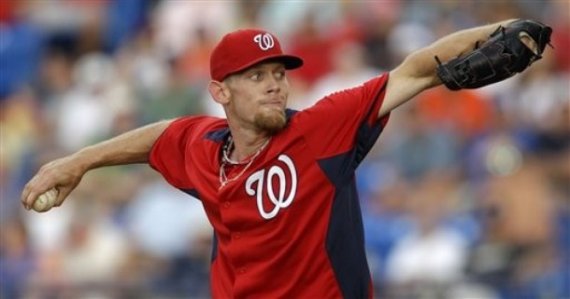 One of the bigger series this year for Yankees fans takes place from June 15th through the 17th in Washington, D.C. The Yanks make a trip to the nation's capital to play a strengthened Nationals team. After finishing at .500 in their first year since moving from Montreal, the Nationals have failed to reach that mark for the last six seasons. This year figures to be different for a number of reasons, not least of which is their revamped pitching staff.
Last year the Nationals starters allowed 3.99 runs per game, which was a tick better than the league average. This year, however, only two pitchers who started more than 15 games will return to the rotation. Jordan Zimmermann enters his age-26 season with plenty of potential, especially after his 3.18 ERA in 2011 — which included a phenomenal 1.7 per nine walk rate. The other is John Lannan, though he's just keeping a seat warm while Chien-Ming Wang recovers from yet another injury.
Taking the spots of retreads such as Jason Marquis and Livan Hernandez are Stephen Strasburg, Gio Gonzalez, and Edwin Jackson. All three should certainly produce above-average numbers, and all three could conceivably rank among the NL's top 15 or 20 starters. That will give them an immediate boost. Add in their relatively strong bullpen, and you have a much-improved pitching staff in a pitching-heavy division.
On offense they might struggle to score runs. They lack a true leadoff hitter, and stand to get below-average performances from two key up-the-middle spots, shortstop and center field. That could change when Bryce Harper makes his debut, though. Missing Mike Morse at the start of the season will also hurt a bit. But if they really do have something in Danny Espinosa, he could eventually take over at short and strengthen that position. Ryan Zimmerman's steady production will certainly help as well. There's certainly potential there, though not everything seems to be in place right now.
New York Mets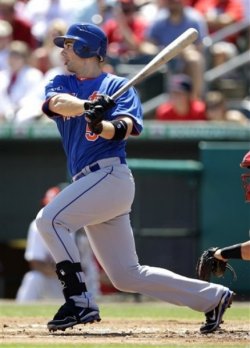 As they have since the start of interleague play, the Yanks and Mets will square off twice in 2012. It's too easy to rip the Mets at this point. They have owners with documented financial issues. They lost their star shortstop this past off-season. Their pitching staff is pieced together with superglue and duct tape. Yet there might be a glimmer of hope for the Mets; their season might not be all terrible.
They need a lot to break their way. Jonathon Niese needs to take a step forward in terms of results, though his peripherals signal positive developments. Andres Torres needs to be more 2010 than 2011. David Wright needs to stay healthy and make more consistent contact than he has since CitiField opened. Jason Bay needs to bounce back. Ike Davis needs to prove that his 2011 injury and his bout of Valley Fever are behind him. Johan Santana needs to figure out how to succeed with diminished stuff. Mike Pelfrey needs to avoid being a punching bag.
While there are a lot of big question marks in there, every one is do-able to some extent. The chances of all them breaking right, however, are slim to nil, which means the Mets will likely struggle at many points throughout the season. But they do have some upside. It might not be division-winning upside, but it definitely includes a non-disaster season.
Arizona Diamondbacks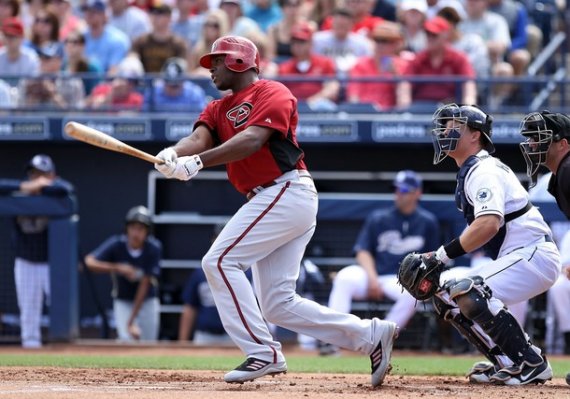 No, the Yankees don't play the Diamondbacks in 2012. They are, however, my pre-season pick to make the World Series. In a division full of highly flawed teams, they're the clear favorites. While the Reds, Phillies, and Braves could do some serious damage, I still like the Diamondbacks for their well-rounded approach. They have weapons on both sides of the ball that could propel them to their first pennant since winning the World Series in 2001.
Justin Upton leads an offense that, while probably not leading the league in runs scored, will provide a balanced attack. They have Chris Young and Willie Bloomquist to provide some speed. Miguel Montero is a pro hitter that adds some power at a mostly powerless position. Paul Goldschmidt can also add some power to the fold, as can Jason Kubel. Aaron Hill performed better once he left Toronto, and could be in for a big 2012. If Ryan Roberts's breakout season is remotely for real, the Diamondbacks should have little trouble scoring at an above average clip.
In the rotation former Yankee Ian Kennedy looks to repeat his breakout 2011. He might not do quite as well — that's a high bar he set — but he figures to produce above-average numbers at least. Daniel Hudson pitches behind him, and should also produce above average marks. The bottom three in the rotation are decent if unspectacular. Trevor Cahill has a lot to prove now that he doesn't pitch in an enormous ballpark. Josh Collmenter had a decent 2011, and could build on it. Joe Saunders is nothing but filler. But it's the reinforcements that could push the Diamondbacks over the top.
At some point during the season we could see pitchers Trevor Bauer and Tyler Skaggs, both of whom come with plenty of hype. They're the kind of pitchers who have the potential to make an immediate impact. This goes especially for Bauer, who seems major-league ready in terms of stuff and makeup. It might be a little while, but they could turn a good rotation into a very good one.
* * *
The Yanks get an interesting bag of interleague opponents in 2012. There has been much talk about the NL East starting to rival the AL East in terms of divisional dominance. I don't quite buy that; the AL East features three of the best teams in the AL, with a fourth that would fare pretty well in another division. The NL East has some new talent, but they're not quite to the point where they have four teams of the AL East's caliber. Still, it makes for some good match-ups, especially the dual series against the Braves.
Overall, it's hard to see how the AL isn't the superior league again in 2012. True, they've been the better league for many years now. Maybe it's a matter of sending a more worthy representative than Texas to the World Series. In 2012, the Yankees could be just that team.