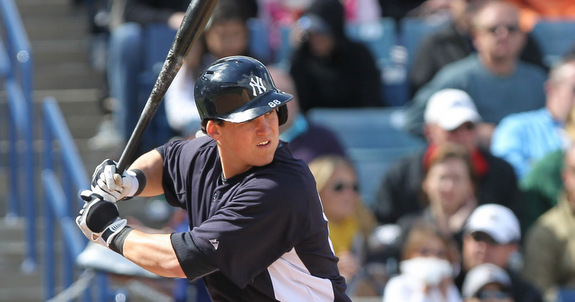 The Yankees opened their regular season on Monday afternoon, and the club's four full season minor league affiliates will do the same tomorrow night. Given the recent increase in long-term contract extensions for star players, the Yankees will need their farm system to start producing more big league players in the very near future. They pump out relievers and complementary players pretty much every year, but the need now is legitimate everyday guys.
On the eve of the minor league season, here is a look at the various affiliates and the dispersal of the team's top 30 prospects (in my opinion).
Triple-A Scranton/Wilkes-Barre RailRiders (full roster)
Top 30 Prospects: RHP Mark Montgomery (#10), RHP Brett Marshall (#13), IF David Adams (#18), C Austin Romine (#19), IF Corban Joseph (#20), RHP Dellin Betances (#23), OF Melky Mesa (#26)
Other Notables: OF Zoilo Almonte, RHP Preston Claiborne, OF Cody Johnson, OF Thomas Neal, LHP Vidal Nuno
Armed with a newly renovated stadium and a new team nickname/logo, the Triple-A squad will return to Scranton after spending all of last season on the road. Montgomery and Marshall feel like mortal locks to wear pinstripes at some point in the second half while Mesa should be the first outfielder recalled in case of injury. Adams, who was recently released and re-signed, lags behind Joseph as the extra infielder since he's no longer on the 40-man roster.
Marshall, Betances, and Nuno (the scheduled Opening Day starter) will anchor a rotation that will welcome Adam Warren (#17) back into the fold as soon as Phil Hughes rejoins the big league rotation. The fifth starter figures to be old buddy Chien-Ming Wang, who will spend some time getting himself into pitching shape in Tampa after after signing late. Looking at the roster, I'm not quite sure who the fifth starter in the meantime, maybe Chris Bootcheck or Ryan Pope? Either way, the Triple-A club is basically an extension of the 25-man roster, where the extra depth players reside.